This season always makes me feel grateful, and not just because of the Thanksgiving Holiday. I love soccer games and pumpkin patch visits with my kids, big meals with friends, and dressing up in crazy costumes.
Please make sure Retirement Connection is a big part of your 2018 marketing budget. We are a full package- and we have you covered with print, web, and networking.

We are expecting a good turnout at the Asante Rogue Regional Medical Center case management resource fair next week and all spaces have been filled. Next month we have a case management fair at Asante Three Rivers Medical Center, and space is still available- sign up quickly if you have not done so already.
NOV 16
9 AM
Southern Oregon Networking Association Resource (S.O.N.A.R.)
Suncrest Place
300 Suncrest Rd, Talent, 97540
Topic: Legislative Update on Senior Referral Agencies in Oregon
---
NOV & DEC
9:30 AM
Douglas County Senior Resource Coalition
No November or December Meetings!
NOV 9
4 PM
Weatherly Court Groundbreaking Ceremony
Weatherly Court Site
2184 Poplar Dr, Medford, 97504

NOV 15
11:30 AM
Asante Rogue Regional Medical Center Vendor Fair
2825 E Barnett Rd, Medford
Register Online
---
DEC 20
11:30 AM
Asante Three Rivers Vendor Fair
500 SW Ramsey Ave, Grants Pass, 97527
ACOH (Asante Center for Outpatient Health) rooms 5
Register Online
"You never know how strong you are, until being strong is your only choice." ~ Bob Marley

Life will present us with challenges, sometimes the challenge can be much more than we thought we were ready for. Take a moment to breathe, refocus, prioritize, and just put one foot in front of the other. Eventually you will be in the middle of the stream and have no choice but to continue. Once on the other side- you know you could do it again if needed. Feel the fear and do it anyway!

~ Amy Schmidt
Retirement Connection
503-505-5865
amy@retirementconnection.com

---
Job Postings
The following positions have been posted in the last month. (Some position are outside the Southern Oregon)
Advertising Sales Reps
Marketing/ Community Outreach
Community Assistant Manager
Resident Care Manager
Health Services Director
Marketing Director
Charge Nurse

Apply or submit new positions online through Retirement Connection's Job Board.
---
Need More Guides?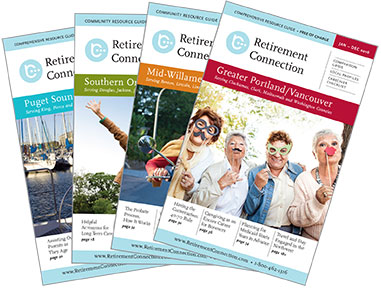 Additional copies of the Guide are available at no cost and are the perfect resource for health fairs, workshops and your marketing packets.
Guides are located at EVERY Senior Center, Hospital, Library and Meals-on-Wheels sites.
You can order as many as you need to serve the families in your community.
Add a label to the cover to highlight your business and use the guide as a giveaway.