There is limited time to take advantage of the early bird 10% discount. If you know of a company that you would like to see included in our guide, please let them know that NOW is a great time to reserve their future ad space. Payments are not due until 2018, but they can save 10% by reserving early. The next edition will hit the streets in April and will run for a full year.  

This season always makes me feel grateful, and not just because of the Thanksgiving Holiday. I love soccer games and pumpkin patch visits with my kids, big meals with friends, and dressing up in crazy costumes
. As we wrap up the next Portland/Vancouver edition, I am thankful that you have made our guide possible and allowed us to be a resource to you and your community. I hope you can find more of what makes you grateful this season.
NOV 7
8:30 AM
Senior Care Coalition (North End)
University House Wallingford
4400 Stone Way N, Seattle, 98103

---
NOV 15
8:15 AM
South End Coalition
Burien Nursing and Rehab
1031 SW 130th St, Burien, 98146

---
NOV 15
11:30 AM
Coordinators of Patient Services (COPS)
Maggiano's Bellevue
10455 NE 8th St, Bellevue, 98004

---
NOV 17
9 AM
NW LGBT Senior Care Providers Network Meeting
Quail Park of Lynnwood
4015 164th Street SW, Lynnwood, 98087

---
NOV 21
8:30 AM
Senior Care Coalition (East Side)
Aegis Newcastle
13056 SE 76th St, Newcastle, 98056

NOV 2
8 AM
Aging and LTC Providers Network
Mid-County Community Center
10205 44th Ave E, Tacoma, 98446

---
NOV 9
7:30 AM
Health Care Providers Council (HCPC)
Narrows Glen
8201 6th Ave, Tacoma, 98046
(Last month at this location)

NOV 9
11:30 AM
ElderNet Annual Auction and Luncheon
Arlington Health & Rehab (Annual Gift Exchange)
620 Hazel St, Arlington, 98223

NOV 1
ALL DAY
Stress Management for Elders
Aegis of Madison
2200 E Madison St Seattle, 98112

---
NOV 1
9 AM
SASH Coffee and Networking - Tacoma
La Quinta Inn Tacoma - Ports of Call Restaurant
1425 E 27th St, Tacoma, 98421

---
NOV 3
9 AM
SASH – Snohomish County
Best Western Cascadia Inn
2800 Pacific Ave, Everett, 98201

---
NOV 6
8 AM
Activity Director Workshop
Peoples Retirement Community
1720 E 67th St Tacoma, 98404

---
NOV 9
9 AM
SASH Coffee and Networking – Eastside Bellevue
Crossroads Shopping Ctr ( Community Rm)
15600 NE 8th St, Bellevue, 98007

---
NOV 9
3 PM
Sunrise of Bellevue – Resources to Remember Event
Sunrise of Bellevue
15928 NE 8th St Bellevue, 98008

---
NOV 9
4 PM
Resources to Remember at Sunrise of Northgate
Sunrise of Northgate
11039 17th Ave NE Seattle, 98125

---
NOV 10
9 AM
SASH Coffee and Networking – Kent
Stafford Suites
112 Kennebeck Ave N, Kent, 98030

---
NOV 17
9 AM
SASH Coffee and Networking – North King
Shoreline City Hall - 3rd Fl Conference Rm
17500 Midvale Ave N, Shoreline, 98133

"You never know how strong you are, until being strong is your only choice." ~ Bob Marley

Life will present us with challenges, sometimes the challenge can be much more than we thought we were ready for. Take a moment to breathe, refocus, prioritize, and just put one foot in front of the other. Eventually you will be in the middle of the stream and have no choice but to continue. Once on the other side- you know you could do it again if needed. Feel the fear and do it anyway!

~ Amy Schmidt
Retirement Connection
503-505-5865
amy@retirementconnection.com

---
Job Postings
The following positions have been posted in the last month. (Some position are outside the Puget Sound area)
Advertising Sales Reps
Marketing/ Community Outreach
Community Assistant Manager
Resident Care Manager
Health Services Director
Marketing Director
Charge Nurse

Apply or submit new positions online through Retirement Connection's Job Board.
---
Need More Guides?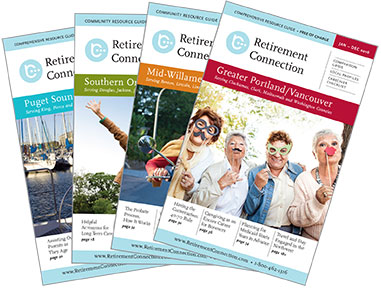 Additional copies of the Guide are available at no cost and are the perfect resource for health fairs, workshops and your marketing packets.
Guides are located at EVERY Senior Center, Hospital, Library and Meals-on-Wheels sites.
You can order as many as you need to serve the families in your community.
Add a label to the cover to highlight your business and use the guide as a giveaway.