Last week we had a guest speaker for our staff meeting. There were many many great takeaways- but my favorite was "What if the things that happened TO us, actually happened FOR us?" At times we have all wondered why me. What if we saw each stumble as an opportunity to learn, become stronger, find another route, or see support from an unlikely source? I am not the person I have become in spite of circumstances, I am this person because of them. A great example at work is when I think of competition-this can be a great opportunity to look for innovation. Without competition, we may rest on our laurels and not push ourselves to be greater. Competition can be a gift.

Last week was our Release Party, please

take a look at the photos

, tag yourself and share. We continue to be so touched by the support we receive from our community. I want to share one of the testimonials we received at the event…  It wasn't all that long ago (February 2018) that my 92-year-old mother – a 7-time cancer survivor, indelibly independent, feisty female – passed.  It was a difficult time for our family.  Although my husband Joe and I lived only a few miles away we couldn't provide Mom with all the assistance she needed. Then one of Mom's doctors gave us a copy of Retirement Connection and everything changed. For example, Mom insisted on an attorney who truly understood seniors and thanks to Retirement Connection we were able to find an elder law specialist who specifically reached out to, and focused on, her age group.  Thanks to Retirement Connection we found a hospice that had a pet care coordinator – who even knew that was a thing?   Retirement Connection even helped us find care providers who patiently and graciously provided Mom with cognitive, behavioral, functional and social support (Mom described her primary caregiver as "the second daughter I never had").  Without Retirement Connection's clear, concise (but complete), the easy-to-access info we could not have found the exceptional people and programs that made Mom's last few months a positive-as-possible experience. Thank you from the bottom of our less-stressed heart muscles.
-Lynn Tylczak, Albany, OR



Retirement Connection is the ONLY comprehensive local resource in our area. If you are marketing to seniors and their families, how else do you consistently stay in front of 50,000 families and providers? If you are not a sponsor, but use the guide in your business or share it with families- please refer to our sponsors when possible; without them, we would not have this resource. We are already working on the next edition, and right now you can save 10% by reserving your ad space early. We are never too busy to be a resource to you. Let me know if we can help you post an event, post an article or news, deliver guides, or just be a sounding board.
NOV 6
9 AM
Senior Service Network (SSN-Linn/Benton)
Samaritan Albany General Hospital
1046 6th Avenue SW Albany, 97321
Meeting Room: Reimer Conference Room, located right near parking lot
Topic: How to win in the game of business

---
NOV 14
9 AM
Salem Senior Lifestyles Network
Orchard Heights
695 Orchard Heights Rd NW, Salem, 97304

---
NOV 15
9 AM
Yamhill Networking Meeting
Cherrywood Memory Care – McMinnville
2750 NE Doran Dr, McMinnville, 97128
Topic: Palliative Care vs Hospice
---
NOV 21
9:30 AM
NWSDS Senior Network
Senior Boomer News
4923 Indian School Rd NE, Salem, 97305

---
NOV 28
9 AM
Senior Service Network (SSN-Salem)
Salem Hospital
Creekside Dining Overflow- first floor
890 Oak St SE, Salem, 97301
Topic: Superstar!
---
DEC 19
9 AM
Save the date!
Senior Service Network (SSN-Salem)
Please note the location change for December!
South Salem Senior Center
6450 SE Fairway St, Salem, 97306
Topic: Holiday Gathering & White Elephant Gift Exchange
NOV 13
ALL DAY
20th Annual McGinty Conference on Alzheimer's
Oregon Convention Center
777 NE Martin Luther King Jr Blvd, Portland, 97232

---
NOV 15
ALL DAY
Fall OSRAA Conference
Rose Schnitzer Manor at Cedar Sinai Park
6140 SW Boundary St Portland, 97221

---
NOV 16
11:30 AM
Understanding VA Benefits
Cascade Park
950 N Cascade Dr Woodburn, 97071

Do you know someone that has recently changed positions? Send us an update to share in the monthly newsletter, helping everyone stay connected and informed about community changes.
"Things turn out best for people who make the best of the way things turn out." – John Wooden

I have never believed that everything happens for a reason, but I very much believe that you can find a reason for everything that happens. I know it is a subtle difference. We may experience hardship and other moments of extreme joy. The tough times can teach us how resilient we can be, and bring support from others we never would have reached out to. It is easier to find the good when you look for it.

~ Amy Schmidt
Retirement Connection
503-505-5865
amy@retirementconnection.com

---
Job Postings
The following positions have been posted in the last month. (Some position are outside the Mid-Willamette Valley area)
Driver Positions
Client Service Coordinator
Mobility Specialist
Full Time RN
Home Care Liaison

Apply or submit new positions online through Retirement Connection's Job Board.
---
Need More Guides?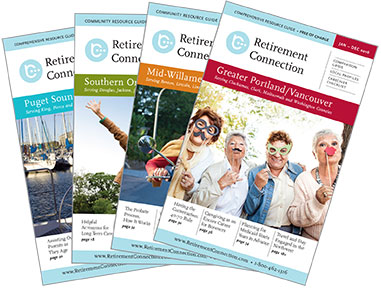 Additional copies of the Guide are available at no cost and are the perfect resource for health fairs, workshops and your marketing packets.
Guides are located at EVERY Senior Center, Hospital, Library and Meals-on-Wheels sites.
You can order as many as you need to serve the families in your community.
Add a label to the cover to highlight your business and use the guide as a giveaway.