The guide continues to grow in Snohomish, King, and Pierce counties. Last month we ran an early bird 10% discount for ad space in the next edition and were so excited to see the volume of businesses that took advantage of the offer. We have other guides in Oregon, but the Puget Sound edition continues to outpace the other guides in ad space, the amount of resources, and distribution. 
Thank you for helping us provide the most comprehensive resource possible for our community. 
This month we are also hosting the case management resource fair at Valley Medical on June 15th. There are about 5 spaces remaining if you wish to participate and 
register now
;
 the registration will close automatically once full. 100% of the registration fee goes to low-income patients at the hospital. 
Please remember we want to be more than another print guide. The 3 dots of our logo represent the guide, website, and network. Let us find more ways to network and be a resource for you and your business.
JUN 6
8:30 AM
Senior Care Coalition- North King County Meeting
Ballard Merrill Gardens
2418 NW 56th St, Seattle, WA 98107

---
JUN 20
8:30 AM
Senior Care Coalition- East King County Meeting
Fairwinds Brittany Park
17143 133rd Ave NE, Woodinville, 98072

---
JUN 21
8:15 AM
South End Coalition
Farrington Court
516 Kenosia Ave, Kent, 98030

---
JUN 23
9 AM
NW LGBT Senior Care Providers Network Meeting
Era Living, Aljoya Thornton Place
450 NE 100th Street, Seattle, 98125

---
JUL 19
11:30 AM
Coordinators of Patient Services (COPS)
Maggiano's Bellevue
10455 NE 8th St, Bellevue, 98004

JUN 1
8 AM
Aging and LTC Providers Network
Mid-County Community Center
10205 44th Ave E, Tacoma, 98446

---
JUN 8
7:30 AM
Health Care Providers Council (HCPC)
Narrows Glen
8201 6th Ave, Tacoma, 98046

JUN 8
11:30 AM
ElderNet
Regency of Everett
5129 Hilltop Rd, Everett, 98203

JUN 1
8:30 AM
Suicide Assessment, Treatment & Management Training
Embassy Suites, Tukwila
15920 W Valley Hwy, Seattle, 98188

---
JUN 2
9 AM
SASH Coffee and Networking– Snohomish
Bob's Burgers and Brew
1611 SE Everett Mall Wy, Everett, 98208

---
JUN 7
ALL DAY
Grab N Go
Cristwood Park Retirement
19th Ave NE, Shoreline, 98155

---
JUN 7
8:30 AM
SASH Coffee and Networking - Tacoma
La Quinta Inn Tacoma - Ports of Call Restaurant
1425 E 27th St, Tacoma, 98421

---
JUN 8
9 AM
SASH Coffee and Networking - Eastside Bellevue
Crossroads Shopping Ctr ( Community Rm)
15600 NE 8th St, Bellevue, 98007

---
JUN 9
9 AM
SASH Coffee and Networking – Kent
Kent Senior Center
600 E Smith St, Kent, 98030

---
JUN 13
11:30 AM
Sunrise Tour of Homes
Sunrise of Northgate
11039 17th Ave NE, Seattle, 98125

---
JUN 16
9 AM
SASH Coffee and Networking - North King
Shoreline City Hall - 3rd Fl Conference Rm
17500 Midvale Ave N, Shoreline, 98133

---
JUN 23
9 AM
SASH Coffee and Networking- Federal Way
Marlene's Market & Deli
2565 S Gateway Center Plaza, Federal Way

---
JUN 28
9 AM
SASH Coffee and Networking-Puyallup
Willow Gardens
4502 6th St SE, Puyallup, 98374

"The less you respond to rude, critical, argumentative people…the more peaceful your life will become." ~Mandy Hale

We can not control the thoughts and words of others, but we can control how we chose to respond. Seek first to understand that the other person may be struggling or in pain themselves and you were simply a more accessible target. Be strong enough to take the hit, because the hurtful person may have needed that from you and feel good about yourself for helping them get it out.

~ Amy Schmidt
Retirement Connection
503-505-5865
amy@retirementconnection.com

---
Job Postings
The following positions have been posted in the last month. (Some position are outside the Puget Sound area)
Sales Manager
RN Positions
Resident Services Associate
Manager of Marketing Development
Home Care Community Relations Coordinator
Community Relations Director
Director of Nursing

Apply or submit new positions online through Retirement Connection's Job Board.
---
Need More Guides?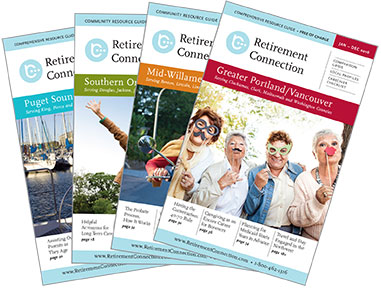 Additional copies of the Guide are available at no cost and are the perfect resource for health fairs, workshops and your marketing packets.
Guides are located at EVERY Senior Center, Hospital, Library and Meals-on-Wheels sites.
You can order as many as you need to serve the families in your community.
Add a label to the cover to highlight your business and use the guide as a giveaway.