Last week we had a guest speaker for our staff meeting. There were many many great takeaways- but my favorite was "What if the things that happened TO us, actually happened FOR us?" At times we have all wondered why me. What if we saw each stumble as an opportunity to learn, become stronger, find another route, or see support from an unlikely source? I am not the person I have become

in spite

of circumstances, I am this person

because

of them. A great example at work is when I think of competition-this can be a great opportunity to look for innovation. Without competition, we may rest on our laurels and not push ourselves to be greater. Competition can be a gift.
Our team is prepping for the next edition for Portland/Vancouver. The homecare and Housing grid emails have been sent and we are calling those that have not replied. The ads have all been sent to our sponsors for their approvals. Retirement Connection is the ONLY comprehensive local resource in our area. If you are marketing to seniors and their families, please make sure you are included and your listing is accurate, how else do you consistently stay in front of 75,000 families and providers?

We cannot wait to release the 2019 guide, and we are planning the celebration- mark your calendars for the Release Party on

January 24th

(

we had over 400 guests last year

).
We are never too busy to be a resource for you. Let me know if we can help you post an event, deliver guides, or just be a sounding board.
NOV 7
8 AM
Metropolitan Senior Network (MSN)
Sunset Presbyterian
14986 NW Cornell Rd, Portland, OR 97229
Topic: Sticking to your Goals

---
NOV 12
3 PM
SPIN – Portland
Pacific University Health Professions Campus
190 SE 8th Ave #165, Hillsboro, 97123
Topic: Addressing Polypharmacy: Reducing the Risk of Falls

---
NOV 13
3 PM
East County Marketing Exchange
Tanner Springs
23000 Horizon Dr West Linn, 97068

---
NOV 15
3 PM
Clackamas County Senior Networking (CCSN)
Sunnyside Little Chapel of Chimes
11667 SE Stevens Rd Happy Valley, 97086

---
NOV 20
3 PM
Westside Referral Network (WRN)
The Springs at Tanasbourne
1950 NW 192nd Ave, Hillsboro, 97006
Topic: Gratitude: what are you thankful for this year?
---
JAN 24
8 AM
Save the date!
Clackamas County I & R Networking

NOV 1
3:30 PM
SSN – Clark County Happy Hour Meeting
Koelsch Communities – Cascade Inn
11613 SE 7th St Vancouver, 98683
Topic: Marketing & Sales Ethics

---
NOV 16
9 AM
Senior Service Network (SSN-Clark)
Peace Health Medical Center – Health Education Center
400 NE Mother Joseph Pl – Vancouver WA (92nd & Mill Plain Ave)
Topic: Understanding Human Behavior with the DISC Test and Profile

FEB 13
12 PM
Legacy Salmon Creek Medical Center Resource Fair
Legacy Salmon Creek Medical Center
2211 NE 139th St Main Lobby Vancouver, 98686

---
APR 11
11 AM
Legacy Meridian Park Resource Fair
Legacy Meridian Park Medical Center-CHEC (Community Health Education Center)
19300 SW 65th Ave Tualatin, OR 97062

NOV 3
ALL DAY
17th Annual OMCMG Fall Conference and Expo
Wilsonville Holiday Inn
25425 SW 95th Ave Wilsonville, 97070

---
NOV 8
9 AM
Ready or not Here it Comes— Your Older Years: Prepare Your Tool Belt!
West Linn Community Center
1180 Rosemont Rd West Linn, 97068

---
NOV 13
ALL DAY
20th Annual McGinty Conference on Alzheimer's
Oregon Convention Center
777 NE Martin Luther King Jr Blvd Portland, 97232

---
NOV 14
ALL DAY
Hospice and Palliative Care Appreciation Luncheon
Sunnyside Little Chapel of the Chimes
11667 SE Stevens Rd Happy Valley, 97086

---
NOV 15
ALL DAY
Fall OSRAA Conference
Rose Schnitzer Manor at Cedar Sinai Park
6140 SW Boundary St Portland, 97221

---
NOV 16
10 AM
ALCA presents: The Senior Loneliness Line
Prestige Assisted Living at Summerplace
15727 NE Russell St Portland, 97230

---
NOV 20
5 PM
Happy Hour to launch CLT at Home LLC
CLT at Home
15640 NE 4th Plain Rd Vancouver, 98682

Do you know someone that has recently changed positions? Send us an update to share in the monthly newsletter, helping everyone stay connected and informed about community changes.
"Things turn out best for people who make the best of the way things turn out." – John Wooden

I have never believed that everything happens for a reason, but I very much believe that you can find a reason for everything that happens. I know it is a subtle difference. We may experience hardship and other moments of extreme joy. The tough times can teach us how resilient we can be, and bring support from others we never would have reached out to. It is easier to find the good when you look for it.

~ Amy Schmidt
Retirement Connection
503-505-5865
amy@retirementconnection.com

---
Job Postings
The following positions have been posted in the last month. (Some position are outside the Portland/ Vancouver area)
Driver Positions
Client Service Coordinator
Mobility Specialist
Full Time RN
Home Care Liaison

Apply or submit new positions online through Retirement Connection's Job Board.
---
Need More Guides?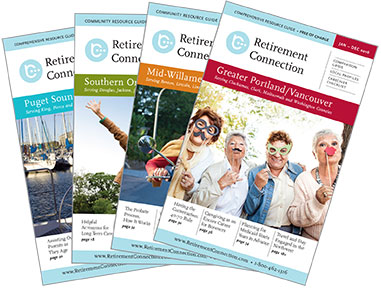 Additional copies of the Guide are available at no cost and are the perfect resource for health fairs, workshops and your marketing packets.
Guides are located at EVERY Senior Center, Hospital, Library and Meals-on-Wheels sites.
You can order as many as you need to serve the families in your community.
Add a label to the cover to highlight your business and use the guide as a giveaway.