I just returned from a week-long family vacation, and it was awesome. Not because of the excursions or elaborate adventures- but because of the uninterrupted family time together. Sometimes I can get busy with events, responsibilities at work, or other distractions, and I can forget my "why". I think it is important for all of us to take a minute and remember the "why". Why do we choose to work with seniors; why do they choose to work with us; what can we do to make things better for their families and the others we work with?
I know you may be great at taking care of your customers, but remember to also take care of the people you surround yourself with each and every day. Many of us spend more waking hours with our co-wokers, than we do with our own families. Make sure that you make those relationships matter. I owe a big thank you to my work team for holding down the fort, not just last week, but for the entire year. Meghan, Dale, Kyle, Barret, Brittany, Jill, Becky, and of course, Lyman (but he is my husband in real life)- each of you are amazing and a big part of my "why". Thank you!
I hope you join us for the Sponsor Picnic in SE Portland on July 23. Big your friends/family and be a bigger part of our "why".

RSVP
JUL 10
3 PM
East County Marketing Exchange (ECME)
Calaroga Terrace (Summer fun on the patio!)
1400 NE 2nd Ave, Portland, 972321
Topic: Infomercial Networking
---
JUL 11
8 AM
Metropolitan Senior Network (MSN)
Sunset Presbyterian
14986 NW Cornell Rd, Portland, 97229
Topic: Presenting your best Professional Self

---
JULY 17
3 PM
Westside Referral Network
Rosewood Park
2405 SE Century Blvd, Hillsboro, 97123

---
JUL 19
3 PM
Clackamas County Senior Networking (CCSN)
Miramont Pointe
11520 SE Sunnyside Road, Clackamas, 97015
Topic: Retirement Connection Staff, Barret, Kyle and Brittany, will discuss how to optimize your business by being present on Retirement Connection, attending networking & CEU events, and much more
Speakers: Retirement Connection Panel
---
JUL 23
3 PM
Senior Provider Information Network (SPIN-Portland)
Pacific University in Hillsboro
190 SE 8th Ave Hillsboro, 97123

---
JUL 26
3 PM
Clackamas County I & R Networking
Development Services Building
150 Beavercreek Rd, Room 119, Oregon City, 97045

JUL 5
3:30 PM
SSN – Clark County Happy Hour Meeting
Keller Williams Reality Office
2211 E Mill Plain Blvd, Vancouver, 98661
Topic: Cliques, Politics, and Gossip

---
JUL 20
9 AM
Senior Service Network (SSN-Clark)
Peace Health Medical Center – Health Education Center
400 NE Mother Joseph Pl – Vancouver WA (92nd & Mill Plain Ave)
Topic: Team Building Made Simple, Not Easy

JUL 23
6 PM
Retirement Connection – Summer Sponsor Picnic/BBQ
Sellwood River Waterfront Park
205 Southeast Spokane St Portland, 97202

---
JUL 26
4 PM
OMCMG Summer Mixer
Oswego Hills Vineyard and Winery
450 Rosemont Rd, West Linn, 97068

---
JUL 28
7 AM
ACMA Oregon Chapter Conference
Hilton Portland & Executive Tower
921 SW 6th Ave Portland, 97204

Registration is now open for 2018 Portland/Vancouver Sponsors to reserve their CEU space.



SEPT 11
12:30 PM
Providence Portland Medical Center Resource Fair
Providence Portland Medical Center- Social Room
4805 NE Glisan St, Portland, OR 97213

---
OCT 4
12 PM
Providence St. Vincent Medical Center Resource and Education Vendor Fair
Providence St. Vincent Medical Center-Souther Classrooms
9135 SW Barnes Rd, Portland, 97225

---
OCT 30
12 PM
Legacy Good Samaritan Hospital Resource Fair
Legacy Good Samaritan Hospital- Wister Morris Room
1015 NW 22nd Ave Portland, OR 97210

---
OCT 31
12 PM
PeaceHealth Medical Center Resource Fair
Peace Health Medical Center- Community Education
400 NE Mother Joseph Place Vancouver, WA 98664

Do you know someone that has recently changed positions? Send us an update to share in the monthly newsletter, helping everyone stay connected and informed about community changes.
"The test of our progress is not whether we add more to the abundance of those who have much; it is whether we provide enough for those who have too little."
— Franklin D. Roosevelt

Happy Independence Day. Let us all remember those who fought to provide and protect our independence. Let us honor them by becoming great stewards of their efforts with benevolence to others. We can be great, while still being kind.

~ Amy Schmidt
Retirement Connection
503-505-5865
amy@retirementconnection.com

---
Job Postings
The following positions have been posted in the last month. (Some position are outside the Portland/ Vancouver area)
Leasing Specialist
Client Care Coordinator
Fiscal Specialist
Senior Housing & Care Coordinator
Community Relations Representative
Manager, Utilizations Management
Supervisor, Case Management

Apply or submit new positions online through Retirement Connection's Job Board.
---
Need More Guides?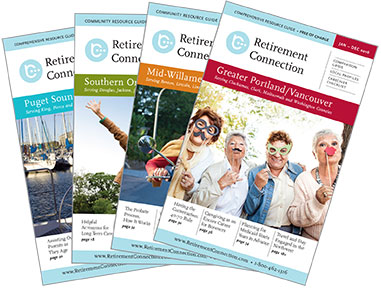 Additional copies of the Guide are available at no cost and are the perfect resource for health fairs, workshops and your marketing packets.
Guides are located at EVERY Senior Center, Hospital, Library and Meals-on-Wheels sites.
You can order as many as you need to serve the families in your community.
Add a label to the cover to highlight your business and use the guide as a giveaway.