The new Southern Oregon guide is hot off the press and our team has been busy distributing the new guides! Every hospital received guides and many asked for extra boxes so that each unit could keep its own supply. Meghan and I are connecting with our current sponsors, as we are offering a 10% early bird discount for reserving your 2022 ad space early. Ad copy and billing are not needed until next year, this is just a small thank you for saving your space early. The good news is you get better ad placement as well, for planning in advance!
What was the best part of your week? Seriously- Tell me!!!! I want some happy news because this pandemic makes every day feel like the movie "Ground Hog Day". Last month, the team and I had left the office for a busy three-day work retreat. We shared personal struggles; celebrated successes; planned for the next year; and just supported each other. The best part of my week was playing kickball with my work family (and it was NOT because of our athletic prowess- Becky actually fell down running to 3rd base- FOR NO REASON).

Save the date for our Southern Oregon Release Party at the Roxy Anne Winery on

June 17th

! We can't wait to celebrate with you!
Please continue to check our website for meeting and event updates! We are updating our website multiple times a day trying to help notify our contacts of cancellations and rescheduled meetings.


May 11
10 AM
Transitions of Care Monthly Meeting Southern Oregon
Online Meeting
The goal of this meeting is to improve communication between case management and community providers, especially related to readmissions and start of care following a hospital visit.
Add this link to your calendar or share with others– https://us02web.zoom.us/j/82598888408  
---
---
May 27
9:30 AM
Douglas County Senior Resource Coalition
Instead of a Zoom meeting in May, you're invited to attend the Resource Fair at Linus Oakes either as a vendor or a guest!
The event is on May 25 – 27 from 10 am to 2 pm
Linus Oakes is located at 2665 Van Pelt Blvd.
(behind Mercy Medical Center).
For more information, please call 541-677-4800.
All CEU Events have been postponed. Please check our CEU Page for updates.
MAY 20
9 AM
OHCA Marketing Symposium
Online Meeting
SONAR attendees can receive a 10% discount,
email Melodie King
mking@ohca.com
---
MAY 25-27
10 AM
Senior Resource Fair at Linus Oakes Village
Linus Oakes Retirement Center
2665 NW Van Pelt Blvd, Roseburg, 97471
---
JUN 17
3:30PM
Southern Oregon Retirement Connection Release Party
RoxyAnn Winery
3283 Hillcrest Rd, Medford, 97504
RSVP View Invite
Do you know someone that has recently changed positions? Send us an update to share in the monthly newsletter, helping everyone stay connected and informed about community changes.
"I didn't have time to write a short letter, so I wrote a long one instead." - Blaise Pascal

Sometimes it is easier to share a lot of words quickly, rather than to say something briefly but to the point with more meaning. Brevity forces us to cut ambiguity and conditional language. A concise message has both value and challenges.

Amy Schmidt
Retirement Connection
503-505-5865
amy@retirementconnection.com

---
Job Postings
The following positions have been posted in the last month. (Some position are outside the Southern Oregon area)

Business Development Specialist

Apply or submit new positions online through Retirement Connection's Job Board.
---
Need More Guides?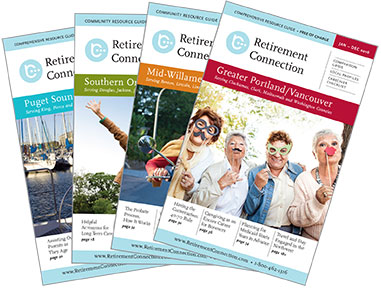 Additional copies of the Guide are available at no cost and are the perfect resource for health fairs, workshops and your marketing packets.
Guides are located at EVERY Senior Center, Hospital, Library and Meals-on-Wheels sites.
You can order as many as you need to serve the families in your community.
Add a label to the cover to highlight your business and use the guide as a giveaway.