Last week marked the halfway mark for Lyman's chemo treatment (6 down, 6 to go). He is definitely a warrior. He has not missed a single day of work, although sometimes we think he should; but there is something awesome about coming to work with people you know care for you like family.  A month ago, I shared that we kept any cancer diagnosis private within our work team- because we wanted to remain as normal as possible and did not want every conversation to be "how are you?". I just have to say thank you for helping us maintain "normal". Everything is looking very positive and our whole team has really appreciated the feelings of support from the community. We have felt the good vibes, without the burden of a "health" discussion. Thank you for that.
In celebration and appreciation, we have 2 events coming up for our sponsors-
1) Retirement Connection Summer Picnic on
July 15th
2) 10-year anniversary celebration/ Holiday party on
November 8th
.
Knowing that everyone doesn't read the newsletter, please help us spread the word to all Retirement Connection sponsors.
JUL 3
8 AM
Metropolitan Senior Network
Sunset Presbyterian Church
14986 NW Cornell Rd, Portland, 97229
Topic: The Abundant Life
---
JUL 9
3 PM
East County Marketing Exchange
Providence Willamette Falls Community Center
519 15th Street, Oregon City, 97045
Topic: Christmas in July!
---
JUL 16
3 PM
Westside Referral Network (WRN)
Touchmark in the West Hills
840 SW Touchmark Way, Portland, 97225

---
JUL 18
3 PM
Clackamas County Senior Networking (CCSN)
Location: TBA
---
JUL 22
3 PM
SPIN – Portland
Parkinson's Resources of Oregon
8880 SW Nimbus Ave #B, Beaverton, 97008
Topic: Estate Planning

---
JUL 25
8 AM
Clackamas County I & R Networking
Red Soils Campus, Development Services Building, Room 119
150 Beavercreek Rd, Oregon City, 97045

JUL 11
3:30 PM
SSN Clark Happy Hour
**Date change due to Fourth of July**
Fort Vancouver Post Acute
8507 NE 8th Wy, Vancouver, 98664

---
JUL 19
9 AM
Senior Service Network (SSN-Clark)
Peace Health Medical Center – Health Education Center
400 NE Mother Joseph Pl – Vancouver WA
(92nd & Mill Plain Ave)
Topic: Palliative Care
Registration is now open for Retirement Connection Sponsors.


SEPT 26
12:30 PM
Providence Portland Medical Center Resource Fair
Providence Portland Medical Center
Located in the Social Room
4805 NE Glisan St, Portland, 97213

JUL 10
2 PM
Caregiving GEMS
West Linn Adult Community Center
The Quarry Senior Living - The Diamond Theater
415 SE 177th Ave, Vancouver, 98693


---
JUL 11
2 PM
Art in the Park
Edgewood Downs
7799 Sw Scholls Ferry Rd, Beaverton, 97008


---
JUL 15
6 PM
Retirement Connection – Summer Sponsor Picnic/BBQ
Sellwood Park
SE Miller St & SE 7th Ave, Portland, OR 97202
Please allow extra time for neighborhood parking. The event is at the Sellwood Park near the pool this year NOT at the Riverfront.
RSVP


---
JUL 17
4 PM
Concert in the Round
Cherry Park Plaza
1323 SW Cherry Park Rd, Troutdale, 97060

---
JUL 27
11:30 AM
Car Show & BBQ
Marquis Tualatin
19945 SW Boones Ferry Rd, Tualatin, 97062

Do you know someone that has recently changed positions? Send us an update to share in the monthly newsletter, helping everyone stay connected and informed about community changes.

Maria Cura-Castro is now Regional Director of Sales & Marketing,
Koelsch Communities

Deborah Elliott is now Community Relations Director,
Fieldstone Cornell Landing

Cassie DeLozier is now Community Relations Director,
Avamere at Park Place

Kathy LeClerc is now Community Relations Director,
Avamere at Sherwood

Cassie DeLozier is now Community Relations Director,
Avamere at Park Place

"Our country is not the only thing to which we owe our allegiance. It is also owed to justice and to humanity. Patriotism consists not in waving the flag, but in striving that our country shall be righteous as well as strong." – James Bryce

I wish you all a Happy 4th of July. Let us embrace the power we have in the land of the free to let our actions and influence better our country, communities, and lives. So many of us across our industry demonstrate the daily importance of representing and fulfilling the values we cherish and the standards we set. Excellence is not an appearance, it's a passionate lifestyle that guides us towards providing the best services possible for our communities.

~ Amy Schmidt
Retirement Connection
503-505-5865
amy@retirementconnection.com

---
Job Postings
The following positions have been posted in the last month. (Some position are outside the Portland/ Vancouver area)
Community Relations Director
Maintenance Supervisor
Travel Navigator (Customer Service Representative)
Weekend Admissions Coordinator
Executive Director

Apply or submit new positions online through Retirement Connection's Job Board.
---
Need More Guides?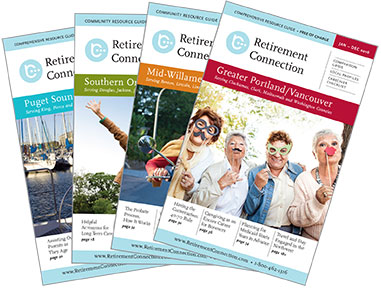 Additional copies of the Guide are available at no cost and are the perfect resource for health fairs, workshops and your marketing packets.
Guides are located at EVERY Senior Center, Hospital, Library and Meals-on-Wheels sites.
You can order as many as you need to serve the families in your community.
Add a label to the cover to highlight your business and use the guide as a giveaway.