As you plan your marketing budget for 2021, please make sure that Retirement Connection and

CareAvailability.com

are included in your plans. We have 2 prime spots open, in case you are interested in more increased exposure.  We only print 1 time each year- don't miss the deadline. Although our lives have been a bit on hold during this pandemic, many seniors are actively looking for care, housing and service. As their needs adapt and change- make sure you remain front and center.  Retirement Connection remains the primary resources in the community and now we have a second resource for families to search

CareAvailability.com

each day and connect with providers. If you have not searched recently- take a look and make sure to visit those providers with photos to view their profiles.


Today is election day, and no matter who "wins"- I hope we find ourselves moving forward as positive as possible. Just because some of us disagree, we do not need to be disagreeable. No matter who our elected officials are, there is still so much that we have control over in providing care and services to our seniors and with our own families. Don't be discouraged by the negativity- look for the helpers!
Please continue to check our website for meeting and event updates! We are updating our website multiple times a day trying to help notify our contacts of cancellations and rescheduled meetings.



NOV 5
8 AM
Aging and LTC Providers Network
Online Meeting
Join the meeting online: https://piercecountywa.zoom.us/j/94876832066
Join the meeting by phone: 253-215-8782 or 888-788-0099 or 877-853-5247
Webinar ID: 948 7683 2066
Press *9 to ask a question over the phone

---
---
---
NOV 18
9 AM
South End Coalition Meeting
Online Meeting

---
NOV 19
10 AM
MPN – Millennial Provider's Network
Online Meeting

---
NOV 20
9 AM
NW LGBT Senior Care Providers Network Meeting
Online Meeting
1 week early due to Thanksgiving
All 2020 CEU events have been postponed until 2021. Please check our CEU Page for updates.
NOV 6
6:30 PM
Parkinson's Resources 40 Year Celebration Live Stream Event
Register
Do you know someone that has recently changed positions? Send us an update to share in the monthly newsletter, helping everyone stay connected and informed about community changes.
"You can disagree without being disagreeable."
- Ruth Bader Ginsburg

With the election results looming, this seemed like a fitting reminder for all of us. We do not need to agree, we don't even need to debate, but we should try for a bit more civility. I don't agree with most of my family on political issues, but that does not mean that I don't love them. We can still value the person, and dissent with an opinion.

However, I do wish people would fact check what they post- but that is a meme for a different time. :)

~ Amy Schmidt
Retirement Connection
503-505-5865
amy@retirementconnection.com

---
Job Postings
The following positions have been posted in the last month. (Some position are outside the Puget Sound area)

Resident Program Director

Apply or submit new positions online through Retirement Connection's Job Board.
---
Need More Guides?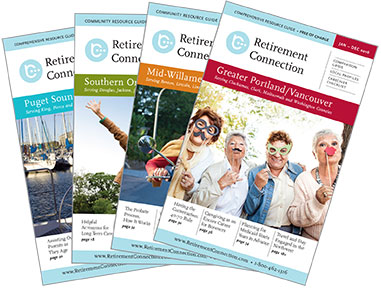 Additional copies of the Guide are available at no cost and are the perfect resource for health fairs, workshops and your marketing packets.
Guides are located at EVERY Senior Center, Hospital, Library and Meals-on-Wheels sites.
You can order as many as you need to serve the families in your community.
Add a label to the cover to highlight your business and use the guide as a giveaway.