The newest edition of Retirement Connection will hit the streets- TODAY! I hope you can join us at one of our two upcoming events to help us celebrate:
April 24th
, 3:30pm
The Release Party at Mercer Island Event Center
More than 150 people expected for the now
ANNUAL
event.
April 26th
, 3:30-6pm
The After Party at CI Shenanigans in Tacoma, in partnership with HCPC, and more than 50 expected.
Or join us for both- that is ideal!
I use this newsletter to share upcoming events, deadlines, news and meeting information. Recently, we have had a few people tell us they did not know about upcoming case manager events or other events we coordinate. Upon investigation, I found that they received, but do not read/open this newsletter. This made me want to stress to everyone that - THIS NEWSLETTER IS THE BEST WAY TO FIND OUT WHAT IS HAPPENING. If ever you feel we neglected to share an important event, our staff always wants to know, but I promise we are trying to keep you informed of upcoming information.
APR 3
8:30 AM
Senior Care Coalition Seattle Meeting
Aljoya Thornton Place
450 NE 100th St, Seattle, 98125

---
APR 17
8:30 AM
Senior Care Coalition Eastside Meeting
Regency Newcastle
7454 Newcastle Golf Club Rd, Newcastle, 98059

---
APR 18
8:15 AM
South End Coalition
Village Concepts El Dorado West
1010 SW 134th St, Burien, 98146

---
MAY 16
11:30 AM
Coordinators of Patient Services (COPS)
Maggiano's Bellevue
10455 NE 8th St, Bellevue, 98004

APR 5
8 AM
Aging and LTC Providers Network
Mid-County Community Center
10205 44th Ave E, Tacoma, 98446

---
APR 12
7:30 AM
Health Care Providers Council (HCPC)
(Note- New Location )
Mountain View Funeral Home
4100 Steilacoom Blvd SW, Lakewood, 98499

---
APR 26
3:30-6PM
Health Care Providers Council (HCPC) After Hours
C.I. Shenanigans
3017 Ruston Way, Tacoma, 984029

APR 12
11:30 AM
ElderNet
Quail Park
4015 164th St SW, Lynnwood, 98087

---
APR 27
9 AM
NW LGBT Senior Care Providers Network Meeting
Aegis at Callahan House
15100 1st Ave NE, Shoreline, 98155

APR 4
9 AM
SASH Coffee and Networking – Tacoma
La Quinta Inn Tacoma - Ports of Call Restaurant
1425 E 27th St Tacoma, 98421

---
APR 6
9 AM
SASH – Snohomish County
Best Western Cascadia Inn
2800 Pacific Ave, Everett, 98201

---
APR 12
9 AM
SASH Coffee and Networking – Eastside Bellevue
Crossroads Shopping Ctr ( Community Rm)
600 E Smith St, Kent, 98030

---
APR 13
9 AM
SASH Coffee and Networking – Kent
Kent Senior Activity Center
600 E Smith St, Kent, 98030

---
APR 18
6 PM
Social Workers Continuing Education
Overlake Terrrace
2956 152nd Ave NE Redmond, 98052

---
APR 19
9 AM
Callahan Networking Breakfast
Aegis at Callahan House
15100 1st Ave NE Shoreline, 98155

---
APR 19
11 AM
Parkinson's Awareness Month: April Expo
Life Care Center of Puyallup
511 10th Ave SE Puyallup, 98372

---
APR 20
9 AM
SASH Coffee and Networking – North King
Shoreline City Hall - 3rd Fl Conference Rm
17500 Midvale Ave N Shoreline, 98133

---
APR 24
3:30 PM
Puget Sound Retirement Connection Guide Release Party
Mercer Island Community and Event Center
8236 SE 24th St, Mercer Island, 98040
RSVP

---
APR 25
9 AM
SASH Coffee and Networking – Puyallup
Willow Gardens
4502 6th St SE Puyallup, 98374

---
APR 26
3:30 PM
HCPC After Hours and Tacoma Retirement Connection Guide "After Party"
C.I. Shenanigans
3017 Ruston Way, Tacoma, WA 98402
RSVP

---
APR 27
8:30 AM
Alzheimer's Discovery Conference
Washington State Convention Center- 6th Floor
705 Pike St Seattle, 98101

---
APR 27
9 AM
SASH Coffee and Networking – Federal Way
Marlene's Market & Deli
2565 S Gateway Center Plaza Federal Way, 98003

---
APR 27
10 AM
Edmonds Healthy Living Fair
Edmonds Senior Center
220 Railroad Ave, Edmonds, 98020

---
APR 28
5:30 PM
APDA Magic of Hope Gala
Seattle Design Center
5701 6th Ave S, Seattle, 98108

Do you know someone that has recently changed positions? We want to know… Each month we will share the updates in our monthly newsletter, helping you stay connected and keep informed about community changes." Click Here to send us any updates.
"Sometimes when you're in a dark place you think you've been buried, but you've actually been planted." – Christine Caine

It can be hard to see the silver lining when it is very, very cloudy. You don't see the strength you can provide others because you don't even know you have enough for yourself. But when we stop thinking, planning, and fighting, and just take a minute to "be present", maybe a new normal can be found.

~ Amy Schmidt
Retirement Connection
503-505-5865
amy@retirementconnection.com

---
Job Postings
The following positions have been posted in the last month. (Some position are outside the Puget Sound area)
Sign and Print Design
Alzehimer's Respite Program Coordinator
Memory Care Health Services Director
Regional Marketing Manager
Senior Move Assistant

Apply or submit new positions online through Retirement Connection's Job Board.
---
Need More Guides?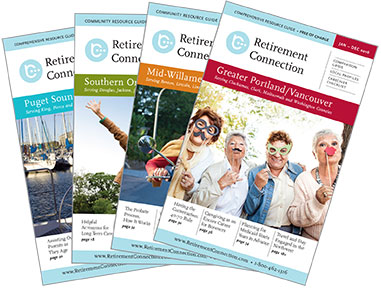 Additional copies of the Guide are available at no cost and are the perfect resource for health fairs, workshops and your marketing packets.
Guides are located at EVERY Senior Center, Hospital, Library and Meals-on-Wheels sites.
You can order as many as you need to serve the families in your community.
Add a label to the cover to highlight your business and use the guide as a giveaway.