It's October? What? How?
Case Management Week is October 11th. Our team is very excited to have been able to coordinate with so many providers in the community this month, to support hospital case managers. We are working with 135+ providers to deliver gift bags to more than 1400 case managers at 40 different hospitals. During COVID we have had to reschedule so many face-to-face opportunities and it forced our team to be more creative on how to better serve our sponsors and the referral sources we work with. Case Management Week is one example of how we have "found a way" to bring our community resources together. In addition to the gift bags, our team also facilitated and scheduled 40 different hospital lunches/breakfasts to serve almost 1200 case managers meals at participating hospitals. It is amazing what we are able to accomplish when we all work together to serve our communities. It's not too late if you would like to contribute! Please see details below.

During the wildfires last month, many volunteers shared Retirement Connection Guides and Care Availability with displaced families to help as a much needed resource. Retirement Connection is more than a print guide. We email you this newsletter each month to keep you up to date; post community events, coordinate resource fairs; facilitate introductions; post when there are job changes among providers; now we also post real-time availability online; and so much more. As you plan your 2021 budgets, I hope you see the value we bring and want to support Retirement Connection in your community.

Please continue to check our website for meeting and event updates! We are updating our website multiple times a day trying to help notify our contacts of cancellations and rescheduled meetings.



 
---
OCT 15
9 AM
Southern Oregon Networking And Resource (S.O.N.A.R.)
Online Meeting
Speaker: Amir Fatizadeh, Coaching Collaborative LLC
Topic: Gossip in the Work Place
Add this link to your calendar or share with others- https://us02web.zoom.us/j/87040290002  
---
All 2020 CEU Events have been postponed until 2021. Please check our CEU Page for updates.
National Case Management Week is October 11th!
So far, we have a total of 1,247 case managers at 40 hospitals receiving items from over118 local providers that are participating. WOW!!!!!

Case Manager Goodie Bags: View short Goodie Bag informational Video. If you'd like to be included in the goodie bag delivery or add new hospitals, please signup here: Goodie Bag Form. If a hospital has 30 staff- you will provide 30 items for that hospital. Ideas include: handwritten notes, logo freezer/heat packs, $5 Starbucks cards, kind bars, other snacks, etc. Each hospital needs to be packaged separately when you leave at the sponsor drop location (NOT the hospital). All items for each hospital will be combined in a single bag for each case manager to receive during case management week.

*Please note, all items must be dropped at the Drop Locations NOT NOT NOT the hospital. Items delivery has been extended for Roseburg until Oct 8th and Southern Oregon until October 12th- due to fires in September. Thank you to all who have already delivered their items for the other areas! Each hospital needs to be packaged separately when you leave items at the drop location (NOT the hospital). Please label your items with 1) Hospital name 2) # of items 3) your company name. Retirement Connection will pick up the items and consolidate all items for each hospital into bags for each case manager to receive during case management week. You can participate in as many hospitals as you wish.

Case Manager Meals: If you would like to provide a NO CONTACT drop-off lunch for the hospitals, the only hospital with remaining openings are, Asante Ashland, Asante Rogue Regional, and Asante Three Rivers.


OCT 17-DEC 31

Walk to End Alzheimer's Southern Oregon
Walk anytime between October 17th & December 31st
Register
Do you know someone that has recently changed positions? Send us an update to share in the monthly newsletter, helping everyone stay connected and informed about community changes.
Last month's analytics show:
4,421 Site visitors (19.68% increase)

1,964 New visitors (18.57% increase)
The a

ve

rage time on the site increased by 49.38% to 5.46 minutes.

Bounce rate decreased by 2.17% to industry best standard of 24%
27,857 pages viewed! (34.65% increase)
Organic search traffic increased by 32.71%
Traffic from social campaigns grew by 312.50

We are pleased to see increased site visits and new users progressing quickly while spending substantial time searching or updating availability.



Testimonial:

My staff and I love the site and use it daily for our patients. The site is easy to update and is free to providers to be listed and to update. I'd like to ask that all providers utilize CareAvailability.com to update your availability. Samaritan Hospitals utilize this tool more than ever during this time. We direct our patients and families to view this site and expect accuracy. This cannot be used properly when it's not being updated. I must press the issue that your company may be losing referrals if it is not up to date, as we are directing our team to reach out to those showing availability updated within the last 24 hours.



- Candy Sawyer, Regional Manager-IP Case Management
"A rising tide lifts all boats." - John F Kennedy

This quote was shared with me after our last sponsor breakfast call, and I think it really speaks to our efforts surrounding case management week, managing COVID updates online, and postings about Fire resources this past month. When we all work together- every one of us benefits. Not every provider is able to be a sponsor in our Retirement Connection Guide, but everyone of us has an opportunity to be a resource.

~ Amy Schmidt
Retirement Connection
503-505-5865
amy@retirementconnection.com

---
Job Postings
The following positions have been posted in the last month. (Some position are outside the Southern Oregon area)

Community Relations Director
Memory Care Administrator

Apply or submit new positions online through Retirement Connection's Job Board.
---
Need More Guides?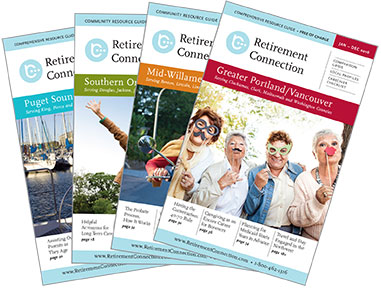 Additional copies of the Guide are available at no cost and are the perfect resource for health fairs, workshops and your marketing packets.
Guides are located at EVERY Senior Center, Hospital, Library and Meals-on-Wheels sites.
You can order as many as you need to serve the families in your community.
Add a label to the cover to highlight your business and use the guide as a giveaway.