I wanted to take a moment to thank all of you who have reached out and supported our team as we continue to feel the great loss of Krista Davis Tonn. She would have been so touched to know how cherished she was in our community and how many lives she impacted. With that being said, her Celebration of Life will be Saturday, May 12 at 2:00 PM and we have posted updates and supporting information on our

Facebook page

. The way to keep people present in your life is to remember them and all they did to make this a better place.
I know that our team was made better because of her.
MAY 1
9 AM
Senior Service Network (SSN-Linn/Benton)
Samaritan Albany General Hospital
1046 6th Avenue SW Albany, 97321
Meeting Room: Reimer Conference Room, located right near parking lot
Topic: Success is Messy

---
MAY 9
9 AM
Salem Senior Lifestyles Network
The Ridge at Madrona Hills
660 Ratcliff Dr SE, Salem, 97302

---
MAY 16
9:30 AM
NWSDS Senior Network
First Call Home Health
2608 Cascadia Industrial St SE, Salem, 97302

---
MAY 17
9 AM
Yamhill Networking Meeting
Mcminnville Senior Living Apartments
219 NE Fircrest Dr, McMinnville, 97128


 

---

MAY 23
9 AM
Senior Service Network (SSN-Salem)
Creekside Dining Overflow- first floor
890 Oak St SE, Salem, 97301
Topic: Medicaid Spend Down and Planning
MAY 12
11:30 AM
Mother's Day Lunch
Farmington Square Salem
960 Boone Rd SE, Salem, 97306

Do you know someone that has recently changed positions? Send us an update to share in the monthly newsletter, helping everyone stay connected and informed about community changes.
"Grief is the price we pay for love." – Queen Elizabeth II

Grief can come in waves, sometimes the things that you believe should affect you are more manageable than expected, and other times a simple happening can start a wave of emotions. I am learning that being sad and crying is not a sign of weakness, but it means that I care and it means that someone I cared for mattered greatly.

~ Amy Schmidt
Retirement Connection
503-505-5865
amy@retirementconnection.com

---
Job Postings
The following positions have been posted in the last month. (Some position are outside the Mid-Willamette Valley area)
Client Care Coordinator
Community Outreach Representative
Marketing Director
Program Director
Executive Director
Sales Manager
Senior Services Superintendent

Apply or submit new positions online through Retirement Connection's Job Board.
---
Need More Guides?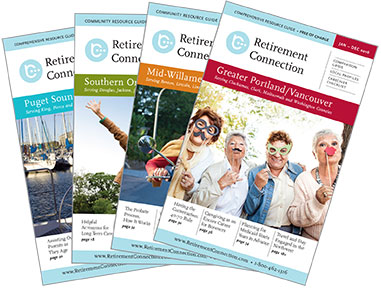 Additional copies of the Guide are available at no cost and are the perfect resource for health fairs, workshops and your marketing packets.
Guides are located at EVERY Senior Center, Hospital, Library and Meals-on-Wheels sites.
You can order as many as you need to serve the families in your community.
Add a label to the cover to highlight your business and use the guide as a giveaway.