I just returned from a week-long family vacation, and it was awesome. Not because of the excursions or elaborate adventures- but because of the uninterrupted family time together. Sometimes I can get busy with events, responsibilities at work, or other distractions, and I can forget my "why". I think it is important for all of us to take a minute and remember the "why". Why do we choose to work with seniors; why do they choose to work with us; what can we do to make things better for their families and the others we work with?
I know you may be great at taking care of your customers, but remember to also take care of the people you surround yourself with each and every day. Many of us spend more waking hours with our co-wokers, than we do with our own families. Make sure that you make those relationships matter. I owe a big thank you to my work team for holding down the fort, not just last week, but for the entire year. Meghan, Dale, Kyle, Barret, Brittany, Jill, Becky, and of course, Lyman (but he is my husband in real life)- each of you are amazing and a big part of my "why". Thank you!
JUL 19
9 AM
Southern Oregon Networking Association Resource (S.O.N.A.R.)
Pioneer Village
805 N 5th St, Jacksonville, 97530
Topic: Behavioral Health Partners
---
AUG 23
9:30 AM
Douglas County Senior Resource Coalition
The July meeting is canceled this month!
Save the date for August
JUL 19
3:30 PM
Josephine County Task Force
Asante Center for Outpatient Health (ACOH) Room # 6
537 Union Ave Grants Pass, 97527

Do you know someone that has recently changed positions? Send us an update to share in the monthly newsletter, helping everyone stay connected and informed about community changes.

Jessica Treat is now Community Relations Director,
Josephine Caring Community
"The test of our progress is not whether we add more to the abundance of those who have much; it is whether we provide enough for those who have too little."
— Franklin D. Roosevelt

Happy Independence Day. Let us all remember those who fought to provide and protect our independence. Let us honor them by becoming great stewards of their efforts with benevolence to others. We can be great, while still being kind.

~ Amy Schmidt
Retirement Connection
503-505-5865
amy@retirementconnection.com

---
Job Postings
The following positions have been posted in the last month. (Some position are outside the Southern Oregon area)
Leasing Specialist
Client Care Coordinator
Fiscal Specialist
Senior Housing & Care Coordinator
Community Relations Representative
Manager, Utilizations Management
Supervisor, Case Management

Apply or submit new positions online through Retirement Connection's Job Board.
---
Need More Guides?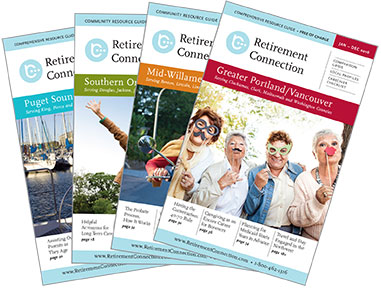 Additional copies of the Guide are available at no cost and are the perfect resource for health fairs, workshops and your marketing packets.
Guides are located at EVERY Senior Center, Hospital, Library and Meals-on-Wheels sites.
You can order as many as you need to serve the families in your community.
Add a label to the cover to highlight your business and use the guide as a giveaway.