I hope everyone is enjoying the falls leaves and the change in weather; this is my favorite time of the year. The Walk to End Alzheimer's in Roseburg was a huge success and so many families will be helped. The Medford Walk was moved to October 21 and will be "Record Breaking"!!!
Our staff is in full swing scheduling resource fairs at the local hospitals and we currently have

Rogue Regional Medical Center is on November 15th

, and Three Rivers in Grants Pass Scheduled for December 20th.  Please register ASAP, registration will close automatically once full. We are always looking for more opportunities to connect our community to resources, feel free to share any of your ideas.
OCT 19
9 AM
Southern Oregon Networking Association Resource (S.O.N.A.R.)
The Springs at Veranda Park
1641 Veranda Park Dr, Medford, OR 97504
Topic: Infection Control
---
OCT 26
9:30 AM
Douglas County Senior Resource Coalition
Douglas County Health Department
621 W Madrone St, Roseburg, 97470

OCT 21
10 AM
Walk to End Alzheimer's Southern Oregon
U.S. Cellular Community Park
300 Lowry Ln, Medford, 97501

---
OCT 26
11:30 AM
SOCCA (Southern Oregon Continuing Care Alliance) Meeting
Taprock NW Grill
971 SE 6th St, Grants Pass, 97526

NOV 15
11:30 AM
Asante Rogue Regional Medical Center Vendor Fair
2825 E Barnett Rd, Medford
Register Online
---
DEC 20
11:30 AM
Asante Three Rivers Vendor Fair
500 SW Ramsey Ave, Grants Pass, 97527
ACOH (Asante Center for Outpatient Health) rooms 5
Register Online
"Be thankful for what you have; you'll end up having more. If you concentrate on what you don't have, you will never, ever have enough" ~ Oprah Winfrey

This summer I took 30 days to focus on gratitude. I found that verbalizing at least one thing that I was thankful for each day made me realize how abundant my life really is. Even as my best friend went onto hospice, I have been grateful for every extra day we have together. These past few months have changed me forever- for the better. Be grateful for at least one thing every day!

~ Amy Schmidt
Retirement Connection
503-505-5865
amy@retirementconnection.com

---
Job Postings
The following positions have been posted in the last month. (Some position are outside the Southern Oregon area)
Recruiting and Retention Coordinator
Sales Manager
Outside Marketing Director
Care Coordinator
Health Services Director
Community Relations Director/ Sales

Apply or submit new positions online through Retirement Connection's Job Board.
---
Need More Guides?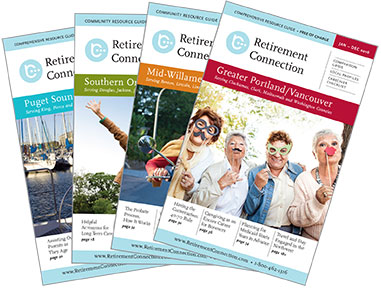 Additional copies of the Guide are available at no cost and are the perfect resource for health fairs, workshops and your marketing packets.
Guides are located at EVERY Senior Center, Hospital, Library and Meals-on-Wheels sites.
You can order as many as you need to serve the families in your community.
Add a label to the cover to highlight your business and use the guide as a giveaway.