I jinxed us last month with my en
thusiasm to meet in person for network meetings.  Really sorry about that. I am excited to be the speaker this month at the
COPS meeting
(Coordinators of Patient Services) and my topic is "The 5 love languages/ Appreciation in the workplace". At a time when the world is short-staffed, I feel it important to find ways to recognize those that show up every day.
Case Management Week is October 10-16th. I am excited that several local hospitals will be participating,
Click here for more details
or sign up to donate items for goodie bags or to provide lunches. Not every hospital is participating again this year, for different reasons, but we tried to capture at least a few in each area we cover.
I need to send a special
THANK YOU TO OUR SPONSORS. We know that the past year has been tough on everyone, and advertising may not have been on your mind or budget, but I need to take a moment and recognize that ALL we do at Retirement Connection (the printed guide, the 2 websites, the events, the network meetings, etc) is only possible because of our sponsors/advertisers. I hope you will choose to support those that support us. In case you wondered if it is worth it, we have a few
new testimonials
.
Please continue to check our website for meeting and event updates! We are updating our website multiple times a day trying to help notify our contacts of cancellations and rescheduled meetings.




 
---
SEPT 9
8 AM
Health Care Providers Council
Location: Mountain View Funeral Home
Address: 4100 Steilacoom Blvd SW, Lakewood, 98499


---
---
SEPT 9
11:30 AM
ElderNet
In Person Meeting
Location: Morningstar Senior Living at Silver Lake
Address: 520 112th St SW, Everett, 98204


---
SEPT 15
11:30 AM
Coordinators of Patient Services (COPS)
Location: Maggianos
Address: 10455 NE 8th St, Bellevue, 98004
Speaker: Amy Schmidt, Retirement Connection | Care Availability
Topic: The 5 love languages/ Appreciation in the workplace


---
SEPT 21
9 AM
Senior Care Coalition
Check website for details

---
SEPT 24
9 AM
NW LGBT Senior Care Providers Network
Check website for details
Do you know someone that has recently changed positions? Send us an update to share in the monthly newsletter, helping everyone stay connected and informed about community changes.
"We are not all in the same boat. We are in the same storm. Some have yachts, some canoes, and some are drowning."
- Adapted quote by Damian Barr

As I managed my own stress and anxiety, sometimes I do not show enough grace to others, and I can compare my burden to others.  On my personal Facebook page, I recently posted an update following my husband's surgery and many commented that it was "inspiring".  As much as I appreciated that- I am fortunate to have a great support system in place- that helps my boat weather the storm.  You know what is really inspiring-offering help to others and admitting when we need help.

Amy Schmidt
Retirement Connection
503-505-5865
amy@retirementconnection.com
---
Job Postings
The following positions have been posted in the last month. (Some position are outside the Puget Sound Area)
Admissions Director
Executive Assistant
Sales Counselor
Hospital Liaison

Apply or submit new positions online through Retirement Connection's Job Board.
---
Need More Guides?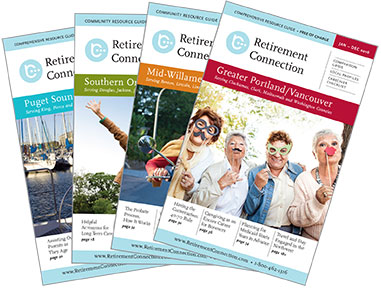 Additional copies of the Guide are available at no cost and are the perfect resource for health fairs, workshops and your marketing packets.
Guides are located at EVERY Senior Center, Hospital, Library and Meals-on-Wheels sites.
You can order as many as you need to serve the families in your community.
Add a label to the cover to highlight your business and use the guide as a giveaway.