I have had a GREAT summer - personally and professionally. The newest edition came out in April and it is awesome to receive so very many reorders from physician offices, senior centers, and hospitals that have already shared the guides with families and now need more. I am thankful that Dale has agreed to help us for a few weeks while getting caught up on the numerous requests for more guides. I am most excited that almost 50% of our current sponsors took advantage of the early bird savings and already reserved their ad space for 2020. Retirement Connection maintains about a 97% renewal rate among our current advertisers and I love creating long term relationships with you and others in the industry.
In working with case managers at hospitals:
1) We are excited to participate in the ACMA conference on August 8th and look forward to seeing many of our sponsors that day.
2) The WMCMA conference email went out and our sponsors can also sign up to be a CEU poster presenter at no additional charge.
3) The next event Retirement Connection coordinates is the Providence Everett event on October 2 (listed below) and the registration is open to our sponsors at this time.
On a personal note, it has been nice summer so far and my 13 and 15 years olds seem more interested in spending a few moments with me - or maybe they are faking it well and I haven't figured out their ulterior motives yet. I remain optimistic. I hope you are also having a great summer and I look forward to connecting with you soon!
AUG 6
8 AM
Senior Care Coalition Westside Meeting
University House Wallingford
4400 Stone Way N, Seattle, 98103

---
AUG 20
8:30 AM
Senior Care Coalition Eastside Meeting
Aegis Mercer Island
7445 SE 24th St, Mercer Island, 98040

---
AUG 21
8:15 AM
South End Coalition
Mission Health in Renton
17420 106th Pl SE, Renton, 98055

---
AUG 23
9 AM
NW LGBT Senior Care Providers Network Meeting
Mountlake Terrace
23303 58th Ave West, Mountlake Terrace, 98043

---
SEPT 18
11:30 AM
Coordinators of Patient Services (COPS)
Maggiano's Bellevue
10455 Northeast 8th St, Bellevue, 98004

AUG 1
8 AM
Aging and LTC Providers Network
Mid-County Community Center
10205 44th Ave E, Tacoma, 98446

---
AUG 8
7:30 AM
Health Care Providers Council (HCPC)
Mountain View Funeral Home
4100 Steilacoom Blvd SW, Lakewood, 98499

AUG 8
11:30 AM
ElderNet
Location: TBA
OCT 2
12 PM
Providence Regional Medical Center Everett
Medical Office Building
1700 13th St, Everett, 98201
AUG 1
2 PM
Boomer Plus Meeting – Northgate
Aegis Ravenna
8511 15th Ave NE, Seattle, 98115

---
AUG 7
3 PM
50th Anniversary Celebration
Cottesmore of Life Care
2909 14th Ave NW, Gig Harbor, 98335

---
AUG 8
8 AM
WA Medical Care Management Association CEU Event
Warm Beach Post-Acute Care & Rehab - Beachwood Lounge
20420 Marine Dr, Stanwood, 98292

---
AUG 9
9 AM
Sash – Coffee Time Kent
Arbor Village
24121 116th Ave SE, Kent, 98030

---
AUG 15
10:30 AM
Boomer Plus Meeting – Bellevue
Mission Health Care
2424 156th Ave NE, Bellevue, 98007

---
AUG 27
2 PM
Boomer Plus – West Seattle
Aegis of West Seattle
4700 SW Admiral Wy, Seattle, 98116

---
AUG 28
2 PM
Boomer Plus Meeting – Kenmore
Sunrise Senior Living
7221 NE 182nd St, Kenmore, 98028


Do you know someone that has recently changed positions? Send us an update to share in the monthly newsletter, helping everyone stay connected and informed about community changes.
"If work isn't fun, you're not playing on the right team."
– Franks Sonnenberg"

We spend more awake hours with the people we work with than our own family members. Let's make sure we treat these relationships with the care and attention deserved. With any relationship, we get out of it what we put into it.

~ Amy Schmidt
Retirement Connection
503-505-5865
amy@retirementconnection.com

---
Job Postings
The following positions have been posted in the last month. (Some position are outside the Puget Sound area)
Business Office Director
Wellness Director and RN
Program Specialist Senior
Finance Supervisor
Day Center Director
Community Relations Director

Apply or submit new positions online through Retirement Connection's Job Board.
---
Need More Guides?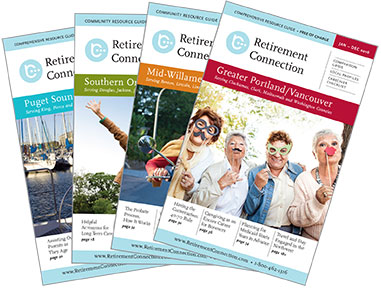 Additional copies of the Guide are available at no cost and are the perfect resource for health fairs, workshops and your marketing packets.
Guides are located at EVERY Senior Center, Hospital, Library and Meals-on-Wheels sites.
You can order as many as you need to serve the families in your community.
Add a label to the cover to highlight your business and use the guide as a giveaway.