Last month, our team gathered for a few days together with our families. It was a time to reflect on what we most appreciate, and what are our hopes are moving forward. My favorite part of the week was when we took the time to share our "last will" and what we would give to or leave each other. Most of us cried at least once and we all realized that our strength lies in the support we receive from those around us. Make sure that you invest in your team- whether it be the personal or professional players around you.
The Retirement Connection Guide is prepped for print and will hit the streets starting Sept 24th.  We will deliver to all hospitals, libraries, senior centers, area agencies on aging and many other locations in Mid Willamette Valley.
Let us know if you would like additional copies
; it is a great resource to share and use as the trusted advisor for those you serve.
Last, but not least, we hope to see you at the big Release Party on October 25th at Willamette Heritage Center! We are expecting more than 150+ attendees. Please

RSVP
to assist us with food and beverage counts.

View Invite
SEPT 4
9 AM
Senior Service Network (SSN-Linn/Benton)
Samaritan Albany General Hospital
1046 6th Avenue SW Albany, 97321
Meeting Room: Reimer Conference Room, located right near parking lot
Topic: Medicare

---
SEPT 12
9 AM
Salem Senior Lifestyles Network
ComForCare Home Care
3470 Pipebend Pl NE, Suite 100, Salem, 97301

---
SEP 19
9:30 AM
NWSDS Senior Network
Labor and Industries Bldg
(The conference room is in the basement)
350 Winter Street NE, Salem, 97301

---
SEPT 20
9 AM
Yamhill Networking Meeting
Hillside Retirement Community (The Grill Restaurant)
300 NW Hillside Pkwy, McMinnville, 97128


 

---

SEPT 26
9 AM
Senior Service Network (SSN-Salem)
Salem Hospital
Creekside Dining Overflow- first floor
890 Oak St SE, Salem, 97301
Speakers: Amy Schmidt & Barret West
Topic: Dressing for Success. How to get the best from your "Dress"!
SEPT 7
8:30 AM
Portland/Vancouver Retirement Connection Sponsor Breakfast
Providence St. Vincent Medical Center (Souther Classroom)
9205 SW Barnes Rd, Portland, 97225
RSVP
---
SEPT 11
1:30 PM
Understanding and Responding to Dementia Related Behavior
Albany Public Library
2450 14th Ave SE Albany, 97322

---
OCT 25
3:30 PM
Save the date!
Mid-Willamette Valley Retirement Connection Guide Release Party
Willamette Heritage Center
1313 Mill St SE, Salem, 97301
RSVP
Do you know someone that has recently changed positions? Send us an update to share in the monthly newsletter, helping everyone stay connected and informed about community changes.
"The strength of the team is each individual member. The strength of each member is the team." - Phil Jackson

I am very grateful to be surround by awesome team members- personally and professionally. But it doesn't happen without effort. Make sure you learn from your all stars, compensate for injured players, and work to strengthen your new players. You will only be as strong as your weakest link and sometimes realize that link may be you.

~ Amy Schmidt
Retirement Connection
503-505-5865
amy@retirementconnection.com

---
Job Postings
The following positions have been posted in the last month. (Some position are outside the Mid-Willamette Valley area)
Travel Trainer-Wilsonville
Instructor
Fiscal Specialist
Fitness Coordinator
Home Care Liaison
Manager of Market Development
Resident Experience Coordinator
Marketing Specialist

Apply or submit new positions online through Retirement Connection's Job Board.
---
Need More Guides?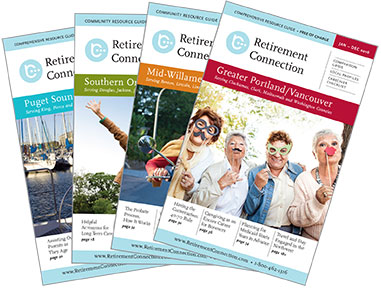 Additional copies of the Guide are available at no cost and are the perfect resource for health fairs, workshops and your marketing packets.
Guides are located at EVERY Senior Center, Hospital, Library and Meals-on-Wheels sites.
You can order as many as you need to serve the families in your community.
Add a label to the cover to highlight your business and use the guide as a giveaway.