We are excited to welcome a new team member to Retirement Connection. Kyle Manning joins our team as a Marketing Coordinator and will support our outreach efforts with e-mail marketing, web support, and administrative help.  You may not see him out and about as often as our other staff, but I assure you he is hard at work and an awesome addition to our Retirement Connection family. Kyle was already helping as a volunteer at the Memories in the Making event prior to his start date. Awesome! With that- we wish Claudette much success in her next chapter, as she was an important part of our growth in the past year.
Other Big News- We are excited to be working with SAGE and adding an additional question to the housing grids in the guide labeled "GLBT Designated" in hopes that it will highlight more choices for the GLBT older adult consumer when shopping for safe, welcoming housing. 
Click here for more details.
Please remember that we want to be more than another print guide. The 3 dots of our logo represent: the guide, website, and network. Let us find more ways to network and be a resource for you and your business.
JUN 7
8 AM
Metropolitan Senior Network (MSN)
YWCA
3609 Main St, Vancouver, 98663
Topic: The internet, reviews and social media, how to manage
---
JUN 13
3 PM
East County Marketing Exchange (ECME)
Cherry park plaza
1323 SW Cherry Park Rd, Troutdale, 97060

---
JUN 15
3 PM
Clackamas County Senior Networking (CCSN)
Tanner Springs
23000 Horizon Dr, West Linn, 97068
Topic: Move Ins
---
JUN 20
3 PM
Westside Referral Network
Rose Schnitzer Manor
6140 SW Boundary St, Portland, 97221

---
JUN 26
3 PM
SPIN-Portland
Location: Elderplace Gresham
Address: 17727 E Burnside St, Portland, 97233
JUN 1
3:30 PM
SSN Clark Happy Hour
Columbia Ridge Senior Living
2300 W 9th St, Washougal, 98671

---
JUN 7
8 AM
Metropolitan Senior Network (MSN)
YWCA
3609 Main St, Vancouver, 98663
Topic: The internet, reviews and social media, how to manage
---
JUN 16
9 AM
Senior Service Network (SSN-Clark)
Peace Health Medical Center – Health Education Center
400 NE Mother Joseph Pl, Vancouver WA
(92nd and Mill Plain Ave)
Topic: Transportation Options within Clark County

JUN 1
11:30 AM
OMCMG Educational Event
Vibra Specialty Hospital
10300 NE Hancock St, Portland, 97220

---
JUN 6
8:15 AM
Aging Network Breakfast Forum
Waterhouse Ridge Memory Care
1115 NW 158th Ave, Beaverton, 97006

---
JUN 6
12 PM
SAGE Metro Portland Awards Lunch
The Nines Hotel
525 SW Morrison St, Portland, 97204

---
JUN 9
7 AM
Breakfast to Go
Brookdale Mt Hood Assisted Living
25200 SE Stark St, Gresham, 97030

---
JUN 15
4 PM
Summer Solstice Celebration
Portland Paragon
1309 NW Hoyt St, Portland, 97209

---
JUN 15
11 AM
iPhone and iPad: Level 1 – All The Basics
CityMac
12310 NE Whitaker Way, Portland, 97230

"The less you respond to rude, critical, argumentative people…the more peaceful your life will become." ~Mandy Hale

We can not control the thoughts and words of others, but we can control how we chose to respond. Seek first to understand that the other person may be struggling or in pain themselves and you were simply a more accessible target. Be strong enough to take the hit, because the hurtful person may have needed that from you and feel good about yourself for helping them get it out.

~ Amy Schmidt
Retirement Connection
503-505-5865
amy@retirementconnection.com

---
Job Postings
The following positions have been posted in the last month. (Some position are outside the Portland/ Vancouver area)
Sales Manager
RN Positions
Resident Services Associate
Manager of Marketing Development
Home Care Community Relations Coordinator
Community Relations Director
Director of Nursing

Apply or submit new positions online through Retirement Connection's Job Board.
---
Need More Guides?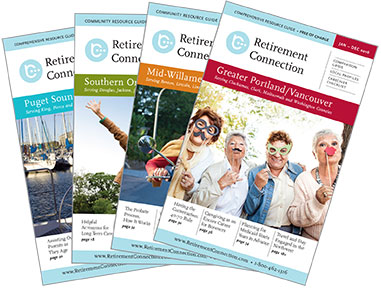 Additional copies of the Guide are available at no cost and are the perfect resource for health fairs, workshops and your marketing packets.
Guides are located at EVERY Senior Center, Hospital, Library and Meals-on-Wheels sites.
You can order as many as you need to serve the families in your community.
Add a label to the cover to highlight your business and use the guide as a giveaway.