Have you noticed when you put more meaning into what you do you find yourself more motivated? At Retirement Connection, we begin our weekly team meeting with a "magic moment". A magic moment is when we made a difference, felt a positive impact, improved a connection, or acted as a catalyst for something greater. Our staff believes that we are doing more than listing resources and selling ads. Sometimes we are the voice on the phone when a lonely senior is frustrated looking for answers, help when an overwhelmed family doesn't know where to start, or a resource when a provider simply dropped their phone in a toilet and lost their contact list and know we probably have that name and phone number needed. We all have the opportunity to create a magic moment every day, or at least weekly. It starts with gratitude.
Rather than empty New Year resolutions, instead, resolve
to be grateful.
Begin each day with what you are grateful for and then follow it with what you "intend" to do. End your day with a reflection of how you did. Don't make a resolution to lose 10 lbs and make more money. Instead, make the resolution to be healthier and do the most with what you have. You will actually have a better chance of accomplishing your goals. For those interested, these are my intentions for the upcoming year.
I am also grateful that the newest Retirement Connection Guide of Portland / Vancouver has been printed and is now available. I remain very impressed with how our team stayed focused last year while one member managed chemo and cancer and the rest of the group stepped up. Everyone is now healthy and we never missed a beat. 2020 is already looking great as we continue to grow. Please help us celebrate at the
Annual Release Party
at a new location on January 30th. This is the best networking event of the year with 350-400 guests expected.
JAN 8
8 AM
Metropolitan Senior Network
Sunnyside Little Chapel of the Chimes
11667 SE Stevens Rd, Happy Valley, 97086
Topic: The Funeral Culture: Demystifying the Myths, Stigmas, and Misunderstandings
---
JAN 14
3 PM
East County Marketing Exchange
Elmcroft at Sellwood
8517 SE 17th Ave, Portland, 97202
Topic: 2020 Resolutions--Go Clint Eastwood on yourself with The Good, The Bad and The Ugly from 2019 and your Cleansing Breath for 2020!
---
JAN 16
3 PM
Clackamas County Senior Networking (CCSN)
Miramont Pointe
11520 SE Sunnyside Rd, Clackamas, 97015
---
JAN 21
3 PM
Westside Referral Network (WRN)
The Ackerly at Timberland
11795 NW Cedar Falls Dr, Portland, 97229

---
JAN 27
3 PM
SPIN – Portland
The Ackerly in NW Portland
11795 NW Cedar Falls Dr, Portland, 97229
JAN 17
9 AM
Senior Service Network (SSN-Clark)
Peace Health Medical Center – Health Education Center
400 NE Mother Joseph Pl – Vancouver WA
(92nd & Mill Plain Ave)
Topic: Systematic Referral and Testimonial Building that cost you nothing
---
FEB 6
3:30 PM
SSN Clark Happy Hour
Location: TBA
Registration is now open for Retirement Connection Sponsors.


JAN 8
11:30 AM
Legacy Emanuel Medical Center Resource Fair
Legacy Emanuel Medical Center - Atrium
2801 N Gantenbein, Portland, 97227

---
FEB 6
12 PM
Legacy Salmon Creek Medical Center Resource Fair
Legacy Salmon Creek Medical Center
2211 NE 139th St, Vancouver, 98686
Main Lobby
---
APR 14
11 AM
Legacy Meridian Park Resource Fair
Legacy Meridian Park Medical Center
19300 SW 65th Ave, Tualatin, 97062
CHEC (Community Health Education Center)

JAN 30
3:30 PM
Portland/Vancouver Retirement Connection Release Party
The Keep PDX
615 SE Alder St #B, Portland, 97214
RSVP

---
Do you know someone that has recently changed positions? Send us an update to share in the monthly newsletter, helping everyone stay connected and informed about community changes.
"If you want to find happiness, find gratitude."
– Steve Maraboli

We will never ever be happy if we focus on what we want and do not have. We can always find something to be grateful for. This does not mean we are not hurt when someone goes on hospice or fights disease. However, we can choose to be grateful for the opportunity to tell them how much we love and appreciate them before it is too late. Not everyone gets that chance; and we can learn how much more we can manage beyond what we previously believed.

~ Amy Schmidt
Retirement Connection
503-505-5865
amy@retirementconnection.com

---
Job Postings
The following positions have been posted in the last month. (Some position are outside the Portland/ Vancouver area)
Community Relations Director
Training Specialist
Verification Specialist
Travel Trainer
Marketing Coordinator
Senior Move Manager

Apply or submit new positions online through Retirement Connection's Job Board.
---
Need More Guides?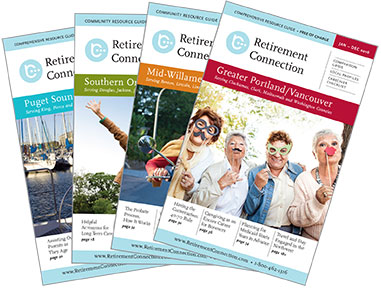 Additional copies of the Guide are available at no cost and are the perfect resource for health fairs, workshops and your marketing packets.
Guides are located at EVERY Senior Center, Hospital, Library and Meals-on-Wheels sites.
You can order as many as you need to serve the families in your community.
Add a label to the cover to highlight your business and use the guide as a giveaway.