This holiday season is bringing a flurry of emotions for me, and I have a better understanding of how stressful this time can be in the families we serve. Lately, it has been a reminder of special people that are no longer sitting across the table from me, and family members that live too far away to see daily. But I am trying instead- to use this opportunity to become more mindful and present in the moments I do have with those I care about. We don't have to celebrate Thanksgiving to be grateful; we can do that every day. I am grateful for the memories I have and for the new ones that will be filled with new personalities.



In my professional life- I am grateful for our sponsors that make our work possible. Every year, our sponsors make a financial decision to part with some of their hard-earned dollars and support a comprehensive guide for the families in our community. This is just more than just a marketing piece. Would you notice if there was not a Retirement Connection? Would you miss: having one convenient guide with every community and support listed; posting of the networking meetings in a single newsletter; attending the Release Party- the largest networking event of the year;  connecting with case managers at the hospital resource fairs? If you benefit from any of this- please thank the many sponsors of Retirement Connection and refer to their businesses when possible.




The next edition of Retirement Connection will hit the streets in less than 1 month. If you know a business that should be included that is not- please let us know today, as we are prepping for print. Also, save the date for our Annual Release Party on January 24th. Last year we had more than 400 guests and it was amazing; take a look at last year's photos and see for yourself.

RSVP today.
DEC 10
3 PM
SPIN – Portland
Hillsboro Senior Center
750 SE 8th Ave, Hillsboro, 97123

---
DEC 12
8 AM
Metropolitan Senior Network Awards Breakfast
Multnomah Athletic Club
1849 SW Salmon St, Portland, 97205

---
JAN 8
3 PM
Save the date!
East County Marketing Exchange
Miramont Point
11520 SE Sunnyside Rd, Clackamas, 97015
Topic: Senior Industry, what is an elder law attorney and why do we need them?

---
JAN 15
3 PM
Save the date!
Westside Referral Network (WRN)

---
JAN 17
3 PM
Save the date!
Clackamas County Senior Networking (CCSN)

---
JAN 24
8 AM
Save the date!
Clackamas County I & R Networking

DEC 6
3:30 PM
SSN – Clark County Happy Hour Meeting
Clearwater Springs
201 NW 78th St, Vancouver, 98665
Topic: Holiday Stress with clients, staff, and families

---
DEC 21
9 AM
Senior Service Network (SSN-Clark)
Peace Health Medical Center – Health Education Center
400 NE Mother Joseph Pl – Vancouver WA (92nd & Mill Plain Ave)
Topic: White Elephant Holiday Gift Exchange

FEB 13
12 PM
Legacy Salmon Creek Medical Center Resource Fair
Legacy Salmon Creek Medical Center
2211 NE 139th St Main Lobby Vancouver, 98686

---
APR 11
11 AM
Legacy Meridian Park Resource Fair
Legacy Meridian Park Medical Center-CHEC (Community Health Education Center)
19300 SW 65th Ave Tualatin, OR 97062

DEC 5
11:30am
OMCMG Holiday Meeting
Oregon Medical Association (OMA) office
11740 SW 68th Pkwy, Portland, 97223

---
DEC 6
7 AM
Referral Appreciation
Coffee & Muffins
2205 Gilman Dr, Oregon City, 97045

---
DEC 6
5:30 PM
Holiday Tree Lighting Ceremony
The Hampton at Salmon Creek Memory Care
2305 NE 129th St Vancouver, 98686

---
JAN 24
3:30 PM
Save the date!
Retirement Connection Release Party
The Armory
128 Northwest 11th Avenue Portland, 97209
RSVP

Do you know someone that has recently changed positions? Send us an update to share in the monthly newsletter, helping everyone stay connected and informed about community changes.
"Be thankful for what you have; you'll end up having more. If you concentrate on what you don't have, you will never, ever have enough." – Oprah Winfrey

Sometimes gratitude can just be a matter of perspective.
I Am Thankful For..

...the mess to clean after a party because it means I have been surrounded by friends.

...the taxes I pay because it means that I am employed.

...the clothes that fit a little too snug because it means I have enough to eat.

...my shadow who watches me work because it means I am out in the sunshine.

...a lawn that needs mowing, windows that need cleaning and gutters that need fixing because it means that I have a home.

...the spot I find at the far end of the parking lot because it means I am capable of walking.

...all the complaining I hear about our government because it means we have freedom of speech.

...my huge heating bill because it means that I am warm.

...the lady behind me in church who sings off key because it means I can hear.

...the piles of laundry and ironing because it means my loved ones are nearby.

...the alarm that goes off in the early morning hours because it means that I'm alive.

...weariness and aching muscles at the end of the day because it means I have been productive.

Family Circle - November 1999
(no commentary from Amy, mic drop)

~ Amy Schmidt
Retirement Connection
503-505-5865
amy@retirementconnection.com

---
Job Postings
The following positions have been posted in the last month. (Some position are outside the Portland/ Vancouver area)
Director of Health Services
Business Development Strategist
Sales Manager
Branch Manager
Marketing Director
Senior Living Advisor
Client Services Coordinator

Apply or submit new positions online through Retirement Connection's Job Board.
---
Need More Guides?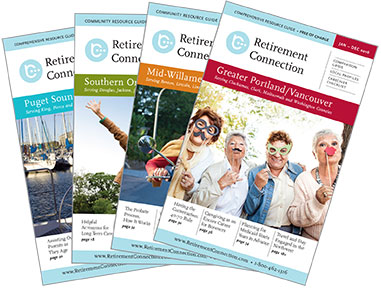 Additional copies of the Guide are available at no cost and are the perfect resource for health fairs, workshops and your marketing packets.
Guides are located at EVERY Senior Center, Hospital, Library and Meals-on-Wheels sites.
You can order as many as you need to serve the families in your community.
Add a label to the cover to highlight your business and use the guide as a giveaway.