Holy Cow- what a great turnout we had at our events last week! Here are the photos of the
Seattle Party
and the
Tacoma Party
if you missed them. I am so excited to see so many friendly and supportive people in the industry. My favorite quote from the week was,  "If I knew this event was so great, I would have attended sooner". Well, no matter if you joined us for the first time, or now you have plans to join us for the next big event, we are thankful to have your support. The new guide is out and we hope you find it to be a helpful, quality resource.
Click here
to order more guides for those you serve.
MAY 1
8:30 AM
Senior Care Coalition Seattle Meeting
Brookdale Queen Anne
805 4th Ave N, Seattle, 98109

---
MAY 15
8:30 AM
Senior Care Coalition Eastside Meeting
Aegis Gardens
13056 SE 76th St, Newcastle, WA 98056

---
MAY 16
8:15 AM
South End Coalition
Merrill Gardens at Renton Centre
104 Burnett Ave S, Renton, 98057

---
MAY 16
11:30 AM
Coordinators of Patient Services (COPS)
Maggiano's Bellevue
10455 NE 8th St, Bellevue, 98004

MAY 3
8 AM
Aging and LTC Providers Network
Mid-County Community Center
10205 44th Ave E, Tacoma, 98446

---
MAY 10
7:30 AM
Health Care Providers Council (HCPC)
(Note- New Location )
Mountain View Funeral Home
4100 Steilacoom Blvd SW, Lakewood, 98499

MAY 10
11:30 AM
ElderNet
Solie Funeral Home
3301 Colby Ave, Everett, 98201

---
MAY 25
9 AM
NW LGBT Senior Care Providers Network Meeting
Senior Center of West Seattle
4217 SW Oregon St, Seattle, 98116

May 1
8:30 AM
Blooming with the Boomers – WACA 11th Annual Conference
Embassy Suites SeaTac
15920 W Valley Hwy Seattle, 98188

---
MAY 2
9 AM
SASH Coffee and Networking – Tacoma
La Quinta Inn Tacoma - Ports of Call
1425 E 27th St Tacoma, 98421

---
MAY 4
9 AM
SASH – Snohomish County
Best Western Cascadia Inn
2800 Pacific Ave Everett, 98201

---
MAY 10
7:45 AM
WMCMA Spring Conference & Expo 2018 – "Changes in Case Management"
Hotel RL Olympia
2300 Evergreen Park Dr SW Olympia, 98502

---
MAY 10
9 AM
SASH Coffee and Networking – Eastside Bellevue
Crossroads Shopping Ctr ( Community Rm)
15600 NE 8th St Bellevue, 98007

---
MAY 15
7:30 AM
Providing Support Through Active Listening
The Gardens at Town Square
933 111th Ave NE Bellevue, 98004

---
MAY 17
2 PM
The P.A.N.E.L. Senior Education Seminar
Covington Library
27100 164th Ave SE Covington, 98042

---
MAY 18
9 AM
SASH Coffee and Networking – North King
Shoreline City Hall - 3rd Fl Conference Rm
17500 Midvale Ave N Shoreline, 98133

---
MAY 23
9 AM
SASH Coffee and Networking – Puyallup
Willow Gardens
4502 6th St SE, Puyallup, 98374

---
MAY 25
9 AM
SASH Coffee and Networking – Federal Way
Marlene's Market & Deli
2565 S Gateway Center Plaza Federal Way, 98003

Do you know someone that has recently changed positions? We want to know… Each month we will share the updates in our monthly newsletter, helping you stay connected and keep informed about community changes." Click Here to send us any updates.
"Grief is the price we pay for love." – Queen Elizabeth II

Grief can come in waves, sometimes the things that you believe should effect you are more manageable than expected, and other times a simple happening can start a wave of emotions. I am learning that being sad and crying is not a sign of weakness, but it means that I care and it means that someone I cared for mattered greatly.

~ Amy Schmidt
Retirement Connection
503-505-5865
amy@retirementconnection.com

---
Job Postings
The following positions have been posted in the last month. (Some position are outside the Puget Sound area)
Client Care Coordinator
Community Outreach Representative
Marketing Director
Program Director
Executive Director
Sales Manager
Senior Services Superintendent

Apply or submit new positions online through Retirement Connection's Job Board.
---
Need More Guides?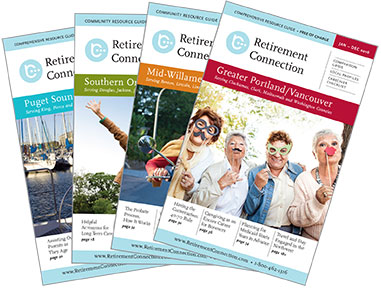 Additional copies of the Guide are available at no cost and are the perfect resource for health fairs, workshops and your marketing packets.
Guides are located at EVERY Senior Center, Hospital, Library and Meals-on-Wheels sites.
You can order as many as you need to serve the families in your community.
Add a label to the cover to highlight your business and use the guide as a giveaway.