Happy New Year!  We are starting off the new year with a bang… the guide continues to grow, website traffic is increasing, and more providers are posting events and using

RetirementConnection.com

as their resource.

Thank you for using the guide and website, and for sharing a comprehensive and unbiased resource with the families you serve.
We started a new Senior Service Network meeting for providers in Linn and Benton counties. The meeting will be held on the 1st Tuesday each month at

Samaritan Albany General Hospital, please help spread the word (details below).  
Please save the date for the next Salem Hospital Case Manager Resource Fair on March 14th (details below). Registration is currently open for Retirement Connection sponsors and CEU registrations are a priority, the registration will open up to other providers in a few short weeks.
JAN 2
9 AM
New Meeting Starting 2018!
Senior Service Network (SSN-Linn/Benton)
Samaritan Albany General Hospital
1046 6th Avenue SW Albany, 97321
Meeting Room: Reimer Conference Room, located right near parking lot
Topic: Priority Management vs Time Management
Speaker: Amy Schmidt, Retirement Connection
---
JAN 10
9 AM
Salem Senior Lifestyles Network
Center 50+
2615 Portland Rd NE, Salem, 97301

---
JAN 17
9:30 AM
NWSDS Senior Network
Northwest Human Services
1235 Edgewater St NW, Salem, 97304

---
JAN 18
9 AM
Yamhill County Network
Brookdale Town Center
775 NE 27th Ave, McMinnville, 97128
Topic: VA Benefits
---
JAN 24
9 AM
Senior Service Network Salem (SSN- Salem)
Salem Hospital
890 Oak Street SE, Salem, 97301- Bldg. D
Meeting Room: Creekside Dining Overflow- first floor
Topic: Communication Styles- Working Within their Comfort Styles
Speaker: Amy Schmidt, Retirement Connection
JAN 24
9 AM
Alzheimer's Network Education Conference
Keizer Civic Center
930 Chemawa Rd NE Keizer, 97303

Registration is now open for 2018 Portland/Vancouver Sponsors to reserve their CEU space. Registration will open for the public in January (space permitting)



Do you know someone that has recently changed positions? Send us an update to share in the monthly newsletter, helping everyone stay connected and informed about community changes.
"Be strong enough to stand alone, be yourself enough to stand apart but be wise enough to stand together when the time comes."

It is challenging to be all of these, and an even bigger challenge to know when is the right time for each. It is incredibly gratifying when you have the courage to stand alone, then turn to see so many others standing with you.

~ Amy Schmidt
Retirement Connection
503-505-5865
amy@retirementconnection.com

---
Job Postings
The following positions have been posted in the last month. (Some position are outside the Mid-Willamette Valley Area)
Memory Care Associate Director
Scheduling Manager
Client Care Coordinator
Business, Community and Development Coordinator

Apply or submit new positions online through Retirement Connection's Job Board.
---
Need More Guides?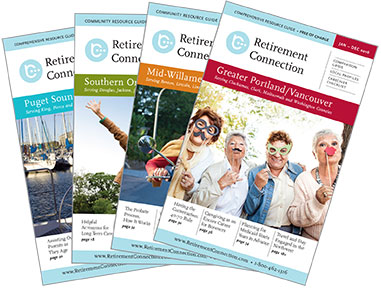 Additional copies of the Guide are available at no cost and are the perfect resource for health fairs, workshops and your marketing packets.
Guides are located at EVERY Senior Center, Hospital, Library and Meals-on-Wheels sites.
You can order as many as you need to serve the families in your community.
Add a label to the cover to highlight your business and use the guide as a giveaway.