The Retirement Connection Guide is prepped for print and this is the last week for sales before hitting the streets starting October 1st.  We will deliver to all hospitals, libraries, senior centers, area agencies on aging and many other locations in Mid Willamette Valley.
Let us know if you would like additional copies
; it is a great resource to share and use as the trusted advisor for those you serve.
We wish Barret success in his next adventure, as he is leaving our team in October to relocate to California. We have loved working with him and know he will be successful!
Last, but not least, we hope to see you at the big Release Party on October 25th at Willamette Heritage Center! We are expecting more than 150+ attendees. Please

RSVP
to assist us with food and beverage counts.
SEPT 3
9 AM
Senior Service Network (SSN-Linn/Benton)
Samaritan Albany General Hospital
Reimer Conference Room
1046 6th Ave SW, Albany, 97321

---
SEPT 3
10:45 AM
Transitions of Care Monthly Meeting
Samaritan Albany General Hospital
Reimer Conference Room
1046 6th Ave SW, Albany, 97321

---
SEPT 11
9 AM
Salem Senior Lifestyles Network
Avamere Court at Keizer
5210 River Rd N, Keizer, 97303

---
SEPT 18
9:30 AM
NWSDS Senior Network
Location: TBA
---
SEPT 19
9 AM
Yamhill Network Meeting
McMinnville Senior Apartments
213 NE Fircrest Dr, McMinnville, 97128

---
SEPT 25
9 AM
Senior Service Network (SSN-Salem)
Salem Hospital-Creekside Dining Overflow- first floor
890 Oak Street SE, Salem, 97301

OCT 23
3:30 PM
Mid-Willamette Valley Retirement Connection Guide Release Party
Willamette Heritage Center
1313 Mill St SE, Salem, 97301
RSVP

Do you know someone that has recently changed positions? Send us an update to share in the monthly newsletter, helping everyone stay connected and informed about community changes.
"Good, better, best. Never let it rest. 'Til your good is better and your better is best. "
– St. Jerome

This quote is printed in the hallway of our office. Two years ago when interviewing Barret, we asked "what do you want us to remember about you after you leave and we meet with other applicants". He shared this quote and what it means to him and how it is reflected in his work ethic. He continues to live up to the expectation.

~ Amy Schmidt
Retirement Connection
503-505-5865
amy@retirementconnection.com

---
Job Postings
The following positions have been posted in the last month. (Some position are outside the Mid-Willamette Valley area)
IT Director
Senior Move Manager
Senior Care Referral, Advisory and Placement Specialist
Day Center Director
Memory Care RN

Apply or submit new positions online through Retirement Connection's Job Board.
---
Need More Guides?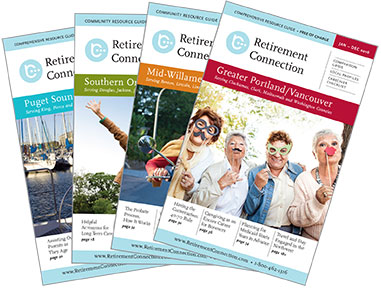 Additional copies of the Guide are available at no cost and are the perfect resource for health fairs, workshops and your marketing packets.
Guides are located at EVERY Senior Center, Hospital, Library and Meals-on-Wheels sites.
You can order as many as you need to serve the families in your community.
Add a label to the cover to highlight your business and use the guide as a giveaway.