Last week our team provided lunch for the Asante Rogue Regional case management team and received more feedback on our new website feature reporting housing availability.  Please check out the communities that have logged on to

retirementconnection.com/availability

. Case Managers and SNF social workers have asked for additional features and filters and we are now beta testing these. I hope to see more communities claim their listings and report their availability in the near future- it is free after all.  

Speaking of case managers- In Medford and Grants Pass, we have the next round of Case Manager resource fairs scheduled (listed below). Registration is now open for our May 2020 sponsors. We ran out of space last time, so please don't wait until the last minute to register.


Most important, please save the date for the

Release Party

- May 28th at EdenVale Winery!
FEB 13
11:30 AM
SOCCA Meeting
Taprock NW Grill – Evergreen Room
971 SE 6th St, Grants Pass, 97526

---
FEB 20
9 AM
Southern Oregon Networking And Resource (S.O.N.A.R.)
Maple Ridge
550 Business Park Dr, Medford 97504
Topic: Teepa Snow's Positive Approach to Care
---
FEB 27
9:30 AM
Douglas County Senior Resource Coalition
Compass Behavioral Health
621 W Madrone, Roseburg, 97471
Registration is now open for May 2020 Retirement Connection Sponsors.


MAY 26
11:30 AM
Asante Rogue Resource Fair
Asante Rogue Regional Medical Center
2825 E Barnett Rd, Medford, 97504
Carpenter Rooms
---
OCT 14
11 AM
Asante Rogue Resource Fair
Asante Rogue Regional Medical Center
2825 E Barnett Rd, Medford, OR 97504
Carpenter Rooms

---
NOV 18
12 PM
Asante Three Rivers Resource Fair
Asante Center for Outpatient Health (ACOH)
537 Union Ave,Grants Pass, OR 97527
Rooms 5 & 6

FEB 20
All DAY
Professional Mixer Sneak Preview
Weatherly Court
2184 Poplar Dr, Medford, 97504

---
FEB 20
5 PM
Professionals Cocktail Hour Dash & Dine
Pioneer Village
805 N 5th St, Jacksonville, 97530
---
MAY 28
3:30 PM
Save the date!
Southern Oregon Retirement Connection Guide Release Party
EdenVale Winery
2310 Voorhies Rd, Medford, 97501
Do you know someone that has recently changed positions? Send us an update to share in the monthly newsletter, helping everyone stay connected and informed about community changes.
"There are two ways of spreading light: to be the candle or the mirror that reflects it." – Edith Wharton

I have been fortunate to receive praise at times simply for the proximity of excellence. I did not always directly accomplish myself but was part of a group. I try very hard to surround myself with people that are focused, motivated, and kind. It is much easier to be a mirror for that behavior. Of all the things that are in my "job description," I feel the most important is being the mirror to my team, so they shine.

~ Amy Schmidt
Retirement Connection
503-505-5865
amy@retirementconnection.com

---
Job Postings
The following positions have been posted in the last month. (Some position are outside the Southern Oregon area)

Registered Nurse RN Senior Move Manager
Apply or submit new positions online through Retirement Connection's Job Board.
---
Need More Guides?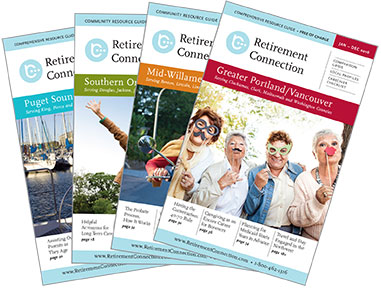 Additional copies of the Guide are available at no cost and are the perfect resource for health fairs, workshops and your marketing packets.
Guides are located at EVERY Senior Center, Hospital, Library and Meals-on-Wheels sites.
You can order as many as you need to serve the families in your community.
Add a label to the cover to highlight your business and use the guide as a giveaway.