HAPPY SUMMER! June was busy - in a very positive way. Our team raised over $2,300 during the Alzheimer's Association Longest Day on June 21st, it was also a great way for us to support our friend Krista with her favorite charity! The summer will only get busier and HOTTER!
We are working with Center 50+ to coordinate the resource fair and 
KEEP ON TRUCKING "Summer End Celebration" September 8, 2017.

Register

for your booth now, because space is limited to the first 35.
If you have a professional event that you would like included online at NO CHARGE- let's get that posted for you, it is quick and easy with the online 
Post an Event Form

.
JUL 12
9 AM
Salem Senior Lifestyles Network
The Woods at Willow Creek
4398 Glencoe St NE, Salem, 97301

---
JUL 19
9 AM
Senior Network
Meadow Creek Village
3988 12th St Cuttoff SE, Salem, 97302

---
JUL 20
9 AM
Yamhill County Network
Rock of Ages/ Valley View Retirement Village
15600 SW Rock of Ages Rd McMinnville, 97128

---
JUL 26
9 AM
Senior Service Network Salem (SSN-Salem)
Location: Salem Hospital
Address: 890 Oak Street SE, Salem, 97301- Bldg. D
Meeting Room: Creekside Dining Overflow- first floor
Topic: Emotional Intelligence

JUL 14
11 AM
Annual Western BBQ
Avamere Court at Keizer
5210 River Rd N, Keizer, 97303

---
JUL 14
2 PM
Veteran's Aid & Attendance Seminar
Farmington Square Eugene
2730 Bailey Ln, Eugene, 97401

---
JUL 17
6 PM
Retirement Connection – Summer Sponsor Picnic/BBQ
Sellwood River Waterfront Park
205 Southeast Spokane St, Portland, 97202

---
JUL 20
9 AM
A Taste of the Valley
Cedar Village Assisted Living & Memory Care
4452 Lancaster Dr NE, Salem, 97305

---
JUL 28
7:45 AM
American Medical Response 24th Annual Charity Golf Tournament
Langdon Farms
Aurora, OR 97002

---
SEP 8
3 PM
Save the Date!"
KEEP ON TRUCKING "Summer End Celebration"
Center 50+
2615 Portland Rd NE, Salem, 97301

"May we think of freedom, not as the right to do as we please, but as the opportunity to do what is right." ~Peter Marshall

Happy 4th of July! I wanted the quote this month to be patriotic, but not political. I think it is important for all of us to remember the difference. No matter our politics, I hope we can find common ground to create a safe, healthy, inclusive country where we are proud to raise the next generation. God Bless.

~ Amy Schmidt
Retirement Connection
503-505-5865
amy@retirementconnection.com

---
Job Postings
The following positions have been posted in the last month. (Some position are outside the Mid-Willamette Valley area)
Community Relations Director
RN Positions
Health Services Director
Health and Wellness Coordinator
Clinical Care Coordinator
Speech Language Pathologist
Occupational Therapist
Wellness Director
Client Care Coordinator
Resident Care Coordinator

Apply or submit new positions online through Retirement Connection's Job Board.
---
Need More Guides?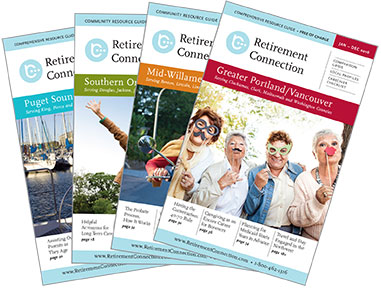 Additional copies of the Guide are available at no cost and are the perfect resource for health fairs, workshops and your marketing packets.
Guides are located at EVERY Senior Center, Hospital, Library and Meals-on-Wheels sites.
You can order as many as you need to serve the families in your community.
Add a label to the cover to highlight your business and use the guide as a giveaway.