The new edition is hot off the press and hopefully you have already received your copies. Please let us know if you need more guides and how many you would like. We are honored once again to be the official resource guide for the Alzheimer's Association, Asante Hospitals, Mercy Hospital, and the Rogue Valley Council of Governments.

We hope you can join on May 17th at Edenvale Winery in Medford to celebrate the Retirement Connection Guide of Southern Oregon and May 24th in Roseburg! The Release Parties are a great way to network, connect, and meet new referral sources- don't miss out on the largest networking events of the year! Please

RSVP

and make sure to invite your referral sources and colleagues to join you.

Thank you to all of our sponsors and to each of you that use the guide and website.
We are now already starting on next year, and as a thank you for including us in your 2019 budget planning you save 10% for reserving your ad space in advance. Ad copy and billing are not needed until next year, this is simply to reserve best placement.
MAY 17
3:30 PM
Release Party for Retirement Connection Guide of Southern Oregon
Edenvale Winery
2310 Voorhies Rd, Medford,97501

---
MAY 24
3:30 PM
Retirement Connection Roseburg After Party
McMenamins Roseburg Station Pub & Brewery
700 SE Sheridan St, Roseburg, 97470

JUNE 21
9 AM
No May SONAR due to Release Party
Save the Date for June!
Southern Oregon Networking Association Resource (S.O.N.A.R.)
Signature Home Health and Hospice
760 Spring St, Medford, 97504
Topic: Legislative Update
---
JUNE 28
9:30 AM
No May Douglas County meeting due to Roseburg After Party. Save the date for June!
Douglas County Senior Resource Coalition

Do you know someone that has recently changed positions? Send us an update to share in the monthly newsletter, helping everyone stay connected and informed about community changes.
"Grief is the price we pay for love." – Queen Elizabeth II

Grief can come in waves, sometimes the things that you believe should affect you are more manageable than expected, and other times a simple happening can start a wave of emotions. I am learning that being sad and crying is not a sign of weakness, but it means that I care and it means that someone I cared for mattered greatly.

~ Amy Schmidt
Retirement Connection
503-505-5865
amy@retirementconnection.com

---
Job Postings
The following positions have been posted in the last month. (Some position are outside the Southern Oregon area)
Client Care Coordinator
Community Outreach Representative
Marketing Director
Program Director
Executive Director
Sales Manager
Senior Services Superintendent

Apply or submit new positions online through Retirement Connection's Job Board.
---
Need More Guides?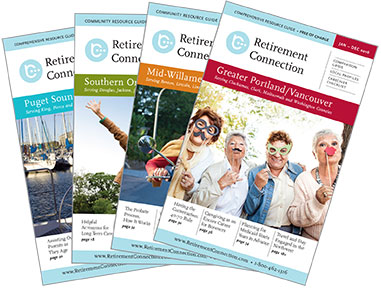 Additional copies of the Guide are available at no cost and are the perfect resource for health fairs, workshops and your marketing packets.
Guides are located at EVERY Senior Center, Hospital, Library and Meals-on-Wheels sites.
You can order as many as you need to serve the families in your community.
Add a label to the cover to highlight your business and use the guide as a giveaway.