The Annual Case Management Resource Fair at Salem Health is coming up in May, as well as the 2nd event for Good Samaritan in Corvallis. We love these events because they are a great example that Retirement Connection is so much more than a print guide. The " 3 dots" on our logo represent- the guide, the website, and the network. Our relationship with local hospitals highlights this well-
1) Patients are given the print guide at discharge
2) Case managers can navigate the website and email sponsors directly if needed
3) The hospital resource fairs bring everyone together to matchresources and serve our community better. The funds raised support patients in need.
In addition to the hospital events coming up, we host a Senior Service Network meeting in Salem, as well as Albany. More information on both are below and feel free to invite others. Thank you for using the guide, website and the network!
MAR 5
9 AM
Senior Service Network (SSN-Linn/Benton)
Samaritan Albany General Hospital
1046 6th Avenue SW Albany, 97321
Topic: CHANGE – Recognizing Opportunities and Challenges
---
MAR 13
9 AM
Salem Senior Lifestyles Network
Willamette Valley Hospice
1015 3rd St NW, Salem, OR 97304

---
MAR 20
9:30 AM
NWSDS Senior Network
Location: TBA
---
MAR 21
9 AM
Yamhill Networking Meeting
Parkland Village Retirement Community
Community Center
3121 NE Cumulus Ave, McMinnville, 97218

---
MAR 27
9 AM
Senior Service Network (SSN-Salem)
Salem Hospital-Bldg D
Creekside Dining Overflow-first floor
890 Oak St SE, Salem, 97301
Topic: Dementia and Home Safety
MAR 4
4PM
Walk to End Alzheimer's Volunteer Kick-Off
Cascade Grill
110 Opal Ct, Albany, 97322

---
MAR 13
9:30 AM
American Red Cross Blood Drive
Gresham Manor
2895 SE Powell Valley Rd, Gresham, 97080

---
MAR 14
1 PM
My Beautiful Life Story Monthly Photo Organization Workshop
South Salem Senior Center
6450 Fairway Ave SE, Salem, 97306

---
MAR 16
11:30 AM
Saint Patrick's Day Celebration!
Farmington Square Salem
960 Boone Rd SE, Salem, 97306

Registration is open for Retirement Connection sponsors.


APR 11
11 AM
Good Samaritan Regional Medical Ctr Resource Fair
Good Samaritan Regional Medical Center
Conference Room A & B
3600 NW Samaritan Dr, Corvallis, 97330
---
MAY 29
11:30 AM
Salem Health Resource Fair
Salem Health Campus - Bldg. C
ABC COM Room
875 Oak St SE, Salem, 97301
Do you know someone that has recently changed positions? Send us an update to share in the monthly newsletter, helping everyone stay connected and informed about community changes.
"Courage is not the lack of fear. It is acting in spite of it."
- Mark Twain

If you are fearful, it likely means you have something to lose. Ask yourself, if the possibility of what you may gain is more important. If so- feel the fear and do do it anyway!

~ Amy Schmidt
Retirement Connection
503-505-5865
amy@retirementconnection.com

---
Job Postings
The following positions have been posted in the last month. (Some position are outside the Mid-Willamette Valley area)
Social Services Director
Volunteer Outreach Specialist
Health Services Director
Travel Navigator
Director of Nursing
Full Time Community Liaison
Accountant
Teacher-Early Head Start Applegate

Apply or submit new positions online through Retirement Connection's Job Board.
---
Need More Guides?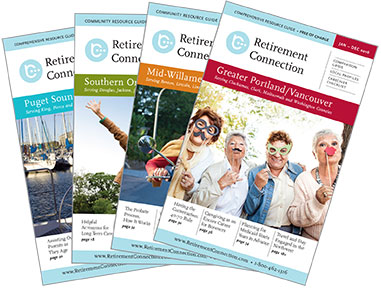 Additional copies of the Guide are available at no cost and are the perfect resource for health fairs, workshops and your marketing packets.
Guides are located at EVERY Senior Center, Hospital, Library and Meals-on-Wheels sites.
You can order as many as you need to serve the families in your community.
Add a label to the cover to highlight your business and use the guide as a giveaway.