HAPPY SUMMER! June was busy - in a very positive way, our team with MSN raised over $2,300 during the Alzheimer's Association Longest Day event at Edgefield! The summer will only get busier, so it's not too late to recommend changes or additions for the next edition. Start sending them early.
Our whole team is excited about our next big sponsor event on July 17th, Music in the Park. We really hope that every sponsor can join us for dinner and entertainment with friends and family down at the Sellwood River Waterfront Park. Each year this event grows and has become a fun summer tradition for everyone!

View pictures

from last year's sponsor picnic. 
JUL 5
8 AM
Metropolitan Senior Network (MSN)
Sunset Presbyterian Church
14986 NW Cornell Rd, Portland, 97229
Topic: How to Succeed in Business
---
JUL 11
3 PM
East County Marketing Exchange (ECME)
Amada Senior Care
5933 NE Win Sivers Dr #201, Portland, 97220
Topic: Storytelling
---
JUL 18
3 PM
Westside Referral Network
The Springs at Carman Oaks
3800 Carman Dr, Lake Oswego, 97035

---
JUL 20
3 PM
Clackamas County Senior Networking (CCSN)
Miramont Pointe
11520 SE Sunnyside Rd, Clackamas, 97015

---
JUL 24
3 PM
SPIN-Portland
Location: Metro West Ambulance
Address: 5475 NE Dawson Creek Dr, Hillsboro, 97007
---
JUL 27
8 AM
Clackamas County I & R Networking
Location: TBA

JUL 6
3:30 PM
SSN Clark Happy Hour
Wendel Museum of Animal Conservation
8303 SE Evergreen HWY, Vancouver, USA 98664
Topic: Social Media and Your Marketing Plan

---
JUL 21
9 AM
Senior Service Network (SSN-Clark)
Peace Health Medical Center – Health Education Center
400 NE Mother Joseph Pl, Vancouver WA
(92nd and Mill Plain Ave)
Topic: Word Candy

JUL 7
ALL DAY
Home Matters Caregiving Open House
Home Matters Caregiving
4875 SW Franklin Ave, Beaverton, 97005

---
JUL 12
3 PM
Home Instead & Thelma's Place present: Give 65 Fundraising Event
Thelma's Place
352 NW 2nd Ave, Canby, 97013

---
JUL 17
6 PM
Retirement Connection – Summer Sponsor Picnic/BBQ
Sellwood River Waterfront Park
205 Southeast Spokane St, Portland, 97202

---
JUL 27
4:30 PM
FREE Wine Tasting Fundraiser for the Alzheimer's Association
Tanner Spring Assisted Living and Memory Care
23000 Horizon Dr, West Linn, 970684

---
JUL 27
5 PM
OMCMG Summer Mixer
Aquariva
470 SW Hamilton Ct, Portland, 97239

"May we think of freedom, not as the right to do as we please, but as the opportunity to do what is right." ~Peter Marshall

Happy 4th of July! I wanted the quote this month to be patriotic, but not political. I think it is important for all of us to remember the difference. No matter our politics, I hope we can find common ground to create a safe, healthy, inclusive country where we are proud to raise the next generation. God Bless.

~ Amy Schmidt
Retirement Connection
503-505-5865
amy@retirementconnection.com

---
Job Postings
The following positions have been posted in the last month. (Some position are outside the Portland/ Vancouver area)
Community Relations Director
RN Positions
Health Services Director
Health and Wellness Coordinator
Clinical Care Coordinator
Speech Language Pathologist
Occupational Therapist
Wellness Director
Client Care Coordinator
Resident Care Coordinator

Apply or submit new positions online through Retirement Connection's Job Board.
---
Need More Guides?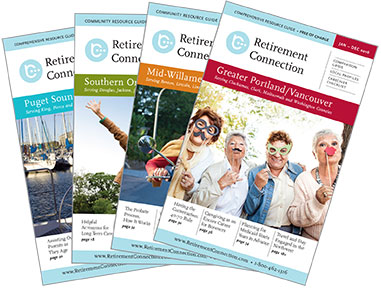 Additional copies of the Guide are available at no cost and are the perfect resource for health fairs, workshops and your marketing packets.
Guides are located at EVERY Senior Center, Hospital, Library and Meals-on-Wheels sites.
You can order as many as you need to serve the families in your community.
Add a label to the cover to highlight your business and use the guide as a giveaway.