HAPPY SUMMER! June was busy - in a very positive way. Our team raised over $2,300 during the Alzheimer's Association Longest Day on June 21, it was also a great way for us to support our friend Krista with her favorite charity! The summer will only get busier and HOTTER!
We are looking forward to supporting the Southern Oregon Senior Resource Fair in September and have the event posted online if you would like more information or to

register

. If you
have an event that you would like included online at NO CHARGE- let's get that posted for you, it is quick and easy with the online 

Post an Event Form

.
JUL 20
9 AM
Southern Oregon Networking Association Resource (S.O.N.A.R.)
Asante Rogue Regional Medical Center-Smullin Center
2825 E Barnett Rd, Medford, 97504
Topic: Bridging a Relationship Through Introduction Pt 1
---
JUL 27
9:30 AM
Douglas County Senior Resource Coalition
Douglas County Senior Services
1036 SE Douglas, Room 210, Roseburg, 97470
JUL 26
1 PM
4th Annual OLLI (Osher Lifelong Learning Institute) Open House
SOU Stevenson Union
1118 Siskiyou Blvd, Ashland, OR 97520

---
JUL 27
4:30 PM
Art Gala featuring Patrick Beste
Pioneer Village
805 N 5th St, Jacksonville, 97530

---
SEP 9
8 AM
Save the date!
Southern Oregon Senior Resource Fair
Boys and Girls Club in Grants Pass
203 SE 9th St, Grants Pass, 97526

"The less you respond to rude, critical, argumentative people…the more peaceful your life will become." ~Mandy Hale

We can not control the thoughts and words of others, but we can control how we chose to respond. Seek first to understand that the other person may be struggling or in pain themselves and you were simply a more accessible target. Be strong enough to take the hit, because the hurtful person may have needed that from you and feel good about yourself for helping them get it out.

~ Amy Schmidt
Retirement Connection
503-505-5865
amy@retirementconnection.com

---
Job Postings
The following positions have been posted in the last month. (Some position are outside the Southern Oregon area)
Community Relations Director
RN Positions
Health Services Director
Health and Wellness Coordinator
Clinical Care Coordinator
Speech Language Pathologist
Occupational Therapist
Wellness Director
Client Care Coordinator
Resident Care Coordinator

Apply or submit new positions online through Retirement Connection's Job Board.
---
Need More Guides?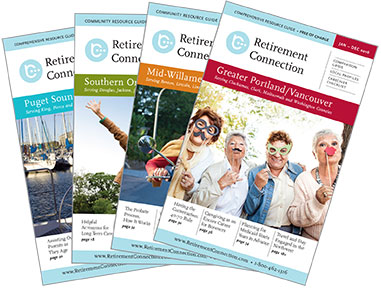 Additional copies of the Guide are available at no cost and are the perfect resource for health fairs, workshops and your marketing packets.
Guides are located at EVERY Senior Center, Hospital, Library and Meals-on-Wheels sites.
You can order as many as you need to serve the families in your community.
Add a label to the cover to highlight your business and use the guide as a giveaway.