I honestly do not have much to report this month that is earth-shaking or out of the ordinary, and I consider that a blessing! I am thankful for a normal month of work with people that I am truly honored to work with, this includes my teammates, our sponsors, those in the community that serve our seniors, and those that teach me things each month. So this month I will "just keep swimming".
We have just over 1 month to reserve ad space in the Southern Oregon edition, and it is shaping up to be a great year. The SONAR meeting in Medford has also had incredible attendance the last few months and I am excited to keep meeting new people and connect with familiar faces.Thank you for helping us provide a comprehensive resource for our community.
FEB 15
9 AM
Southern Oregon Networking Association Resource (S.O.N.A.R.)
Horton Plaza
1122 Springs Street, Medford, 97504
Topic: Elder Law, overview POA
---
FEB 22
9:30 AM
Douglas County Senior Resource Coalition
Oak Park – Bonaventure Senior Living
1400 NE Rocky Ridge Dr, Roseburg, 97470
FEB 24
7:30 PM
OCA Music presents: Expanse Ensemble performing "Then and Now"
Music Recital Hall at Southern Oregon University
Located in the Music Hall
450 S Mountain Ave, Ashland, 97520

---
FEB 28
ALL DAY
Fundamentals of Mediation (5-Day Training)
RCC/SOU Higher Education Center
101 S Bartlett St, Medford, OR 97501

---
MAY 17
3:30 PM
Save the date!
Release Party for Retirement Connection Guide of Southern Oregon
Edenvale Winery
2310 Voorhies Rd, Medford,97501

Do you know someone that has recently changed positions? Send us an update to share in the monthly newsletter, helping everyone stay connected and informed about community changes.
"If you want to walk fast, walk alone. If you want to walk far, walk together."

A team or network is more than just the group you surround yourself with. It is those that you rely on and trust to carry the load and encourage you when you are too exhausted to even ask for help. The tribe or family of people you surround yourself with will help you go further than you ever imagined traveling on your own.

~ Amy Schmidt
Retirement Connection
503-505-5865
amy@retirementconnection.com

---
Job Postings
The following positions have been posted in the last month. (Some position are outside the Southern Oregon area)
Activities Manager
Senior Serviced Manager
Marketing Director
Inside Sales Representative
Healthcare Sales Senior Care Consultant

Apply or submit new positions online through Retirement Connection's Job Board.
---
Need More Guides?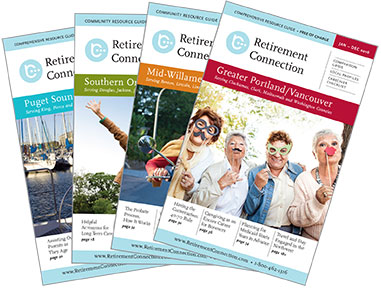 Additional copies of the Guide are available at no cost and are the perfect resource for health fairs, workshops and your marketing packets.
Guides are located at EVERY Senior Center, Hospital, Library and Meals-on-Wheels sites.
You can order as many as you need to serve the families in your community.
Add a label to the cover to highlight your business and use the guide as a giveaway.