This season always makes me feel grateful, and not just because of the Thanksgiving Holiday. I love soccer games and pumpkin patch visits with my kids, big meals with friends, and dressing up in crazy costumes.
We had such a great time at the Release Party, I appreciate that you have made our guide possible and allowed us to be a resource to you and our community. Take a moment to
tag yourself and share the photos
with friends.
This week starts the 10% early bird discounts for reserving ad space in the next edition.  I am so impressed that so many current sponsors have already signed their ad reservation for next year. We are off to an incredible start. Make sure we are part of your 2018 budget.
NOV 8
9 AM
Salem Senior Lifestyles Network
Alzheimer's Network
2673 12th Street SE, Salem, 97302

---
NOV 15
9:30 AM
Senior Network
Heartwood Place
2325 Boones Ferry Rd, Woodburn, 97071

---
NOV 16
9 AM
Yamhill County Network
Vineyard Heights Assisted Living & Retirement Cottages
345 SW Hill Rd, McMinnville, 97128

---
NOV 22
9 AM
Senior Service Network Salem (SSN-Salem)
Salem Hospital
890 Oak Street SE, Salem, OR 97301- Bldg. D
Meeting Room: Creekside Dining Overflow- first floor

NOV 7
4 PM
Effective Communication Strategies
Center 50+
2615 Portland Rd NE Salem, 97301

---
NOV 8
5:30 PM
Drinks with Pacifica Senior Living McMinnville's New Executive Director
Pacifica Senior Living McMinnville
320 SW Hill Rd S, McMinnville, 97128

---
NOV 30
3 PM
Senior Health Fair hosted by Pacifica Senior Living McMinnville
Pacifica Senior Living McMinnville
320 SW Hill Rd S, McMinnville, 97128

"You never know how strong you are, until being strong is your only choice." ~ Bob Marley

Life will present us with challenges, sometimes the challenge can be much more than we thought we were ready for. Take a moment to breathe, refocus, prioritize, and just put one foot in front of the other. Eventually you will be in the middle of the stream and have no choice but to continue. Once on the other side- you know you could do it again if needed. Feel the fear and do it anyway!

~ Amy Schmidt
Retirement Connection
503-505-5865
amy@retirementconnection.com

---
Job Postings
The following positions have been posted in the last month. (Some position are outside the Mid-Willamette Valley Area)
Client Care Coordinator
Advertising Sales Rep
Marketing/ Community Outreach
Community Assistant Manager
Resident Care Manager
Health Services Director
Marketing Director

Apply or submit new positions online through Retirement Connection's Job Board.
---
Need More Guides?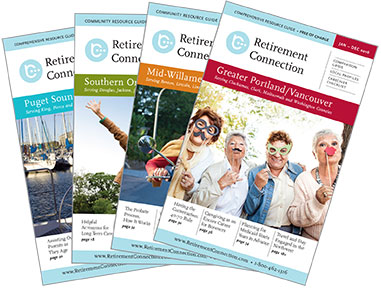 Additional copies of the Guide are available at no cost and are the perfect resource for health fairs, workshops and your marketing packets.
Guides are located at EVERY Senior Center, Hospital, Library and Meals-on-Wheels sites.
You can order as many as you need to serve the families in your community.
Add a label to the cover to highlight your business and use the guide as a giveaway.