I am so appreciative for the positive energy and camaraderie that has been sent to our team this summer! I really have no idea where the summer has gone, and it seems way too soon for my kids to be back in school and our team to be working on the next edition of the guide already. Heidi and 

I are both excited to be speaking at the

 OHCA Annual Convention & Trade Show

 on September 18-19th. This is always a great time for continued education and to connect with those we haven't seen in a few months.





For our sponsors: September 13th is our quarterly sponsor breakfast at Providence St Vincent Medical Center. We will discuss recent updates and share all the upcoming case managers events for early registration. Please 

RSVP

 to assist us with food and beverage counts. If you are not already a sponsor, please

 

let us know

 i

f you want to connect and learn more about Retirement Connection- the guide, website and the network.



SEPT 6
8 AM
Metropolitan Senior Network (MSN)
Valley View Evangelical Church
11501 SE Sunnyside Rd, Clackamas, 97015
Topic: Communication
---
SEPT 12
3 PM
East County Marketing Exchange (ECME)
Healthcare at Foster Creek
6003 SE 136th Ave, Portland, 97236
Topic: First Impressions and Why they Matter
---
SEPT 19
3 PM
Westside Referral Network
Brookdale Forest Grove
3110 19th Avenue, Forest Grove, 97116

---
SEPT 21
3 PM
Clackamas County Senior Networking (CCSN)
Royalton Place
5555 SE King Rd, Milwaukie, 97222
Topic: Senior Center Panel Discussion

---
SEPT 25
3 PM
SPIN-Portland
Pacific University – ITF classroom
711 SE Baseline, Hillsboro, 97123
Topic: Hearing Loss & the Elderly
---
SEPT 28
8 AM
Clackamas County I & R Networking
Clackamas County Development Services Building
150 Beavercreek Rd, Oregon City
Topic: Housing Resources

SEPT 7
3:30 PM
SSN Clark Happy Hour
Brookdale Fisher's Landing
17171 SE 22nd Dr, Vancouver, 98683
Topic: What continuing education and self-development do you participate in?

---
SEPT 15
9 AM
Senior Service Network (SSN-Clark)
Peace Health Medical Center – Health Education Center
400 NE Mother Joseph Pl, Vancouver WA
(92nd and Mill Plain Ave)
Topic: Productivity Apps

SEPT 13
6 PM
Retirement Connection Sponsor Breakfast
Providence St Vincent Medical Center
9205 SW Barnes Rd, Portland, OR 97225

---
SEPT 22
4:30 PM
Parkinson's Long Term Care Training for Professionals
Parkinson's Resources of Oregon
8880 SW Nimbus Ave, Beaverton, 97008

"Life becomes easier when you learn to accept an apology you never got." ~Robert Brault

An apology or a lack thereof is a reflection of the other person's character, not your value. An apology does not erase hurt, but it does acknowledge a possible wrong and allow for healing to start. We do not need an apology to move on, and we don't need to a perpetrator to do anything for us to move on. So tell yourself you are already worth enough.

~ Amy Schmidt
Retirement Connection
503-505-5865
amy@retirementconnection.com

---
Job Postings
The following positions have been posted in the last month. (Some position are outside the Puget Sound area)
Community Relations Director
Health Services Director
Full Time Activity Assistant
Home Care Liaison
Physical Therapy
Occupational Therapist
Dining Director

Apply or submit new positions online through Retirement Connection's Job Board.
---
Need More Guides?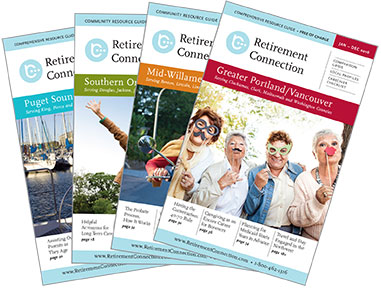 Additional copies of the Guide are available at no cost and are the perfect resource for health fairs, workshops and your marketing packets.
Guides are located at EVERY Senior Center, Hospital, Library and Meals-on-Wheels sites.
You can order as many as you need to serve the families in your community.
Add a label to the cover to highlight your business and use the guide as a giveaway.