We are in the final week before printing the Puget Sound edition of Retirement Connection Guide. If you have any changes you would like to see or additions that would benefit the community, please email me right away, so that we can include those. We will send a final PDF to every housing, home health, and home care agency at the end of the week to confirm that we have your grid changes exactly how you planned.
The guide continues to grow with each edition and we are so thankful for each of you that provided content for the guide or shared a copy with a family you are helping.
IMPORTANT- Many people do not realize, we welcome you to add your label to the cover with "Compliments of…" and to share the guide with others. We will give you as many copies as you will use. You do not have to be a sponsor to share the guide. We want all families to have access to resources and services as soon as a need arises.  Please let us know if you need additional guides.
Save the dates for the Release Parties -

April 24th @ Mercer Island

and

April 26th in Tacoma

.
MAR 6
8:30 AM
Senior Care Coalition Seattle Meeting
Aegis of Queen Anne at Rodgers Park
2900 3rd Ave W, Seattle, 98119

---
MAR 20
8:30 AM
Senior Care Coalition Eastside Meeting
The Gardens at Town Square
933 111th Ave NE, Bellevue, 98004

---
MAR 21
8:15 AM
South End Coalition
Wesley Homes Lea Hill
32049 109th Pl SE, Auburn, 98092

---
MAR 21
11:30 AM
Coordinators of Patient Services (COPS)
Maggiano's Bellevue
10455 NE 8th St, Bellevue, 98004

MAR 8
7:30 AM
Health Care Providers Council (HCPC)
(Note- New Location )
Mountain View Funeral Home
4100 Steilacoom Blvd SW, Lakewood, 98499

MAR 8
11:30 AM
ElderNet
Mukilteo Memory Care
4686 Pointes Drive Mukilteo, 98275

---
MAR 23
9 AM
NW LGBT Senior Care Providers Network Meeting
Aegis of Queen Anne on Galer
223 West Galer St, Seattle, 98119

MAR 7
9 AM
SASH Coffee and Networking – Tacoma
La Quinta Inn Tacoma - Ports of Call Restaurant
1425 E 27th St Tacoma, 98421

---
MAR 7
11 AM
Taste of Sunrise Grab 'n Go Lunch!
Sunrise of Northgate
11039 17th Ave NE Seattle, 98125

---
MAR 8
11 AM
WMCMA presents "Managed Care Education Series: Multiple Sclerosis"
Lynnwood Convention Center
3711 196th St SW Lynnwood, 98036

---
MAR 8
9 AM
SASH Coffee and Networking – Eastside Bellevue
Crossroads Shopping Ctr ( Community Rm)
600 E Smith St, Kent, 98030

---
MAR 9
9 AM
SASH Coffee and Networking – Kent
Kent Senior Activity Center
600 E Smith St Kent, 98030

---
MAR 15
8 AM
Callahan Networking Breakfast
Aegis at Callahan House
15100 1st Ave NE Shoreline, 98155

---
Mar 16
9 AM
SASH Coffee and Networking – North King
Shoreline City Hall - 3rd Fl Conference Rm
17500 Midvale Ave N Shoreline, 98133

---
MAR 23
9 AM
SASH Coffee and Networking – Federal Way
Marlene's Market & Deli
2565 S Gateway Center Plaza Federal Way, 98003

---
MAR 28
9 AM
SASH Coffee and Networking – Puyallup
Willow Gardens
4502 6th St SE Puyallup, 98374

---
MAR 29
4 PM
Cedar Creek Memory Care Community Grand Opening
Cedar Creek Memory Care Community
21006 72nd Ave W Edmonds, 98026

Do you know someone that has recently changed positions? We want to know… Each month we will share the updates in our monthly newsletter, helping you stay connected and keep informed about community changes." Click Here to send us any updates.
"A team is not a group of people who work together. A team is a group of people who trust each other." – Simon Sinek

I sometimes see teams and work groups focus on annual "team building exercises". The building of a quality team doesn't happen because you set aside a few hours once a year, it happens because you set aside time when it is needed and you know and really care about the others on your team. Then these "exercises" are just a fun time with your friends.

~ Amy Schmidt
Retirement Connection
503-505-5865
amy@retirementconnection.com

---
Job Postings
The following positions have been posted in the last month. (Some position are outside the Puget Sound area)
Community Outreach Director
Client Care Coordinator
Health Services Director

Apply or submit new positions online through Retirement Connection's Job Board.
---
Need More Guides?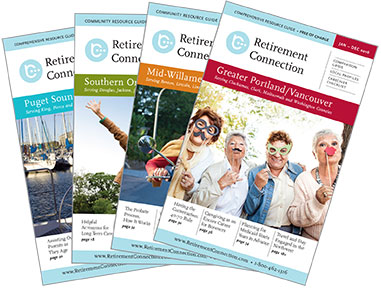 Additional copies of the Guide are available at no cost and are the perfect resource for health fairs, workshops and your marketing packets.
Guides are located at EVERY Senior Center, Hospital, Library and Meals-on-Wheels sites.
You can order as many as you need to serve the families in your community.
Add a label to the cover to highlight your business and use the guide as a giveaway.