It is so hard to believe that it has been a full year that we have navigated this pandemic. We have all learned how to provide our services in new ways and remain vital during the pandemic.
We have all shifted our marketing budgets, made choices, and learned to work differently. Thank you so very much to every sponsor of Retirement Connection. We would not be able to provide a comprehensive resource to the community; or post events, news, and articles online;
or report real-time availability without your support. Our work is made possible because of our sponsors/advertisers. Please return the favor, by referring to their services whenever possible.
Thank you to our sponsors that have already reserved space for 2022 and took advantage of the early bird discount. It means a great deal that half our sponsors already committed to working with us next year.
We have been holding monthly Transitions of Care zoom calls and shared case management feedback. We would love to see an increase in participation on these calls, please encourage your referral sources in housing and homecare and hospice to join. This monthly zoom meeting is a great way to facilitate smoother transitions to/from the hospital and to other levels of care in our community. In the meantime, we would like to encourage housing communities to
use this form
when a resident is sent to the hospital. It would greatly improve communication upon admit to discharge.

Please continue to check our website for meeting and event updates! We are updating our website multiple times a day trying to help notify our contacts of cancellations and rescheduled meetings.



 
---
---
---
APR 16
9 AM
Senior Service Network (SSN-Clark)
Online Meeting
Topic: More Effective Language to Communicate Feelings of Sadness or Anxiety
Speaker: Greg Asbury, Luminous Health
Join us on Zoom- https://us02web.zoom.us/j/85217005074
Do you know someone that has recently changed positions? Send us an update to share in the monthly newsletter, helping everyone stay connected and informed about community changes.
"In the middle of difficulty lies opportunity." - Albert Einstein

When I read this quote, I think about "Mushrooms". You know where mushrooms grow, right? Sometimes we need to grow through a layer of CRAP before we really get to see the light of day. I am optimistic that everyday can be better if I chose to focus on the sunshine of helpers and opportunity to grow, not just the crap that surrounds us. I just need to look a little harder sometimes.

Amy Schmidt
Retirement Connection
503-505-5865
amy@retirementconnection.com

---
Job Postings
The following positions have been posted in the last month. (Some position are outside the Portland/ Vancouver area)

Maintenance Manager
Community Relations Director
Executive Director

Apply or submit new positions online through Retirement Connection's Job Board.
---
Need More Guides?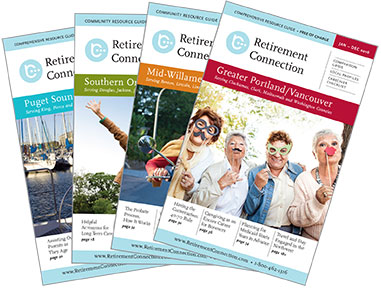 Additional copies of the Guide are available at no cost and are the perfect resource for health fairs, workshops and your marketing packets.
Guides are located at EVERY Senior Center, Hospital, Library and Meals-on-Wheels sites.
You can order as many as you need to serve the families in your community.
Add a label to the cover to highlight your business and use the guide as a giveaway.