The Retirement Connection guide is hot off the press and we are delivering the new Puget Sound edition to all hospitals, libraries, senior centers, area agencies on aging, and many other locations around the Sound. 

Let us know if you would like additional copies

; it is a great resource to share and be the trusted advisor for those you serve. We are the only comprehensive resource in the area. 



We hope to see you at the big Release Party on September 27th on Mercer Island and we expect more than 150+ to attend. Please RSVP to assist us with food and beverage counts. The Release Party is our night to say thank you for using and sharing the Retirement Connection Guide in our community. Thank you and come 

celebrate

 with a few drinks and hors d'oeuvres, and feel free to invite your other referral sources and colleagues. 
RSVP Online
View Invitation
SEPT 5
8:30 AM
Senior Care Coalition (North End)
Ida Culver Broadview
12505 Greenwood Ave N, Seattle, 98133

---
SEPT 19
8:30 AM
Senior Care Coalition (East Side)
Brookdale Bellevue
15241 NE 20th St, Bellevue, 98007

---
SEPT 20
8:15 AM
South End Coalition
Wesley Homes Lea Hill
32049 109th Pl SE, Auburn, 98092

---
SEPT 20
11:30 AM
Coordinators of Patient Services (COPS)
Maggiano's Bellevue
10455 NE 8th St, Bellevue, 98004

---
SEPT 22
9 AM
NW LGBT Senior Care Providers Network Meeting
Aegis on Madison
2200 East Madison St, Seattle, 98112

SEPT 7
9 AM
Aging and LTC Providers Network
Mid-County Community Center
10205 44th Ave E, Tacoma, 98446

---
SEPT 14
7:30 AM
Health Care Providers Council (HCPC)
Narrows Glen
8201 6th Ave, Tacoma, 98046

SEPT 14
11:30 AM
ElderNet
Cascade Valley Senior Living
8400 207th Pl NE, Arlington, 98223

SEPT 6
9 AM
SASH Coffee and Networking - Tacoma
La Quinta Inn Tacoma - Ports of Call Restaurant
1425 E 27th St, Tacoma, 98421

---
SEPT 8
9 AM
SASH Coffee and Networking – Kent
Kent Senior Center
600 E Smith St, Kent, 98030

---
SEPT 14
9 AM
SASH Coffee and Networking - Eastside Bellevue
Crossroads Shopping Ctr ( Community Rm)
15600 NE 8th St, Bellevue, 98007

---
SEPT 15
9 AM
SASH Coffee and Networking - North King
Shoreline City Hall - 3rd Fl Conference Rm
17500 Midvale Ave N, Shoreline, 98133

---
SEPT 16
9 AM
Alzheimer's Caregiver Conference
Emmanuel Lutheran Church
1315 N Stevens St, Tacoma, 98406

---
SEPT 22
9 AM
SASH Coffee and Networking- Federal Way
Marlene's Market & Deli
2565 S Gateway Center Plaza, Federal Way

---
SEPT 27
9 AM
SASH Coffee and Networking-Puyallup
Willow Gardens
4502 6th St SE, Puyallup, 98374

---
SEP 27

SAVE THE DATE!
Retirement Connection Release Party
Mercer Island Community and Event Center
8236 SE 24th St, Mercer Island, 98040
RSVP Online
"Life becomes easier when you learn to accept an apology you never got." ~Robert Brault

An apology or a lack thereof is a reflection of the other person's character, not your value. An apology does not erase hurt, but it does acknowledge a possible wrong and allow for healing to start. We do not need an apology to move on, and we don't need to a perpetrator to do anything for us to move on. So tell yourself you are already worth enough.

~ Amy Schmidt
Retirement Connection
503-505-5865
amy@retirementconnection.com

---
Job Postings
The following positions have been posted in the last month. (Some position are outside the Puget Sound area)
Community Relations Director
Health Services Director
Full Time Activity Assistant
Home Care Liaison
Physical Therapy
Occupational Therapist
Dining Director

Apply or submit new positions online through Retirement Connection's Job Board.
---
Need More Guides?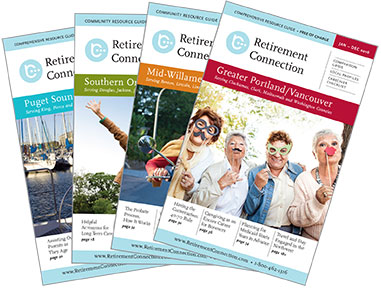 Additional copies of the Guide are available at no cost and are the perfect resource for health fairs, workshops and your marketing packets.
Guides are located at EVERY Senior Center, Hospital, Library and Meals-on-Wheels sites.
You can order as many as you need to serve the families in your community.
Add a label to the cover to highlight your business and use the guide as a giveaway.