I have had a GREAT summer so far- personally and professionally. Two weeks ago we had our Portland summer picnic with sponsors and it is always nice to get to spend time in a more personal relaxed environment (pictures are available on our
Facebook page
.) The team and I are already working on our next big event, save the date- November 8th. Last year marked our 10 year business anniversary, but it did not yet feel like the time to celebrate, but now the time feels right since Lyman should be done with his chemo at that point. For a tribute to Krista, whom we lost last year- we are making sure to have a theme and serve baby quiches (we will explain why at the event). We are hosting a Speakeasy/Prohibition themes anniversary party to thank our sponsors for getting us to this point. We know Portland is a long drive, but we would love to have you
join us
! Let me know if you know of someone that should become a sponsor- we don't want them to miss the big celebration!
In working with case managers at hospitals we have 3 upcoming events and registration is open to our sponsors (links are below). Please register early to reserve your space!

On a personal note, it has been nice summer so far and my 13 and 15-year-olds seem more interested in spending a few moments with me I- or maybe they are faking it well and I haven't figured out their ulterior motives yet. I remain optimistic. I hope you are also having a great summer and I hope to see you in person soon.
AUG 15
9 AM
Southern Oregon Networking And Resource (S.O.N.A.R.)
The Springs at Anna Maria
822 Golf View Dr, Medford, 97504
Topic: Estate Planning Documents 101

---
SEPT
9:30 AM
Douglas County Senior Resource Coalition
NO August Meeting! We will resume in September.
Registration is now open for Southern Oregon Sponsors to reserve their CEU space. Space is limited and the event registration will close automatically once filled. At this time the registration is only open to Retirement Connection sponsors, and priority will be given to those presenting CEU poster content. Please register today.



SEPT 17
11:30 AM
Providence Medford Medical Center Resource Fair
Providence Medford - Mary Norbert Hall
1111 Crater Lake Ave, Medford, 97504

---
OCT 15
11:30 AM
Providence Medford Medical Center Resource Fair
Providence Medford - Mary Norbert Hall
1111 Crater Lake Ave, Medford, 97504

---
NOV 19
12 PM
Asante Three Rivers Resource Fair
Asante Center for Outpatient Health (ACOH)
Rooms 5 & 6
537 Union Ave, Grants Pass, 97527

AUG 11
3 PM
Surf's Up! At Maple Ridge's Vintage Beach Party
Maple Ridge Senior Living
548 Main St Ashland, 97520

---
AUG 15
4 PM
Grab & Go – Spaghetti Dinner
Pioneer Village
805 N 5th St, Jacksonville, 97530

---
AUG 16
4 PM
Family & Friends Bloody Mary Stroll
Callahan Village Assisted Living
1801 NW Garden Valley Blv, Roseburg, 97471

---
AUG 28
10:30 AM
Alzheimer's Association – Fundraiser Event (Car Wash)
Village at Valley View
1071 W Jackson Rd, Ashland, 97520

Do you know someone that has recently changed positions? Send us an update to share in the monthly newsletter, helping everyone stay connected and informed about community changes.


"If work isn't fun, you're not playing on the right team."
– Franks Sonnenberg

We spend more awake hours with the people we work with than our own family members. Let's make sure we treat these relationships with the care and attention deserved. With any relationship, we get out of it what we put into it.

~ Amy Schmidt
Retirement Connection
503-505-5865
amy@retirementconnection.com

---
Job Postings
The following positions have been posted in the last month. (Some position are outside the Southern Oregon area)
Business Office Director
Wellness Director and RN
Program Specialist Senior
Finance Supervisor
Day Center Director
Community Relations Director

Apply or submit new positions online through Retirement Connection's Job Board.
---
Need More Guides?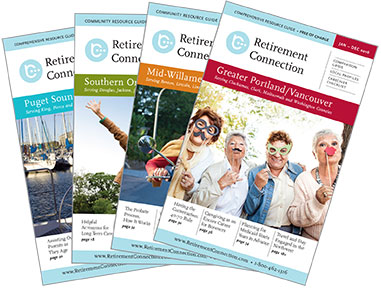 Additional copies of the Guide are available at no cost and are the perfect resource for health fairs, workshops and your marketing packets.
Guides are located at EVERY Senior Center, Hospital, Library and Meals-on-Wheels sites.
You can order as many as you need to serve the families in your community.
Add a label to the cover to highlight your business and use the guide as a giveaway.