Last week we coordinated a lunch for the Good Samaritan case managers. We did this instead of the resource fair, due to space and time constraints, and followed a new format that gave each sponsor 5 minutes to share about their services while the hospital staff enjoyed lunch. I was pleased with the feedback from Candy Sawyer, Regional Manager:
"I have heard nothing but raves about today's session!!! My team LOVED it!! Efficient, great use of time, well organized. Thank you for all you do for our team!!"


Being involved in the community is a big part of what we hold valuable at Retirement Connection. I hope you will join us at one of the Senior Service Network meetings this month, or at the Transitions of Care case management meeting. We are happy to help with introductions.
APR 14
11 AM
Legacy Meridian Park Resource Fair
Legacy Meridian Park Medical Center
19300 SW 65th Ave, Tualatin, 97062
CHEC (Community Health Education Center)

MAR 4
1:30 PM
Your Pathway Toward Retirement
Dallas Retirement- The Lodge Clubhouse
377 NW Jasper St, Dallas, 97338

---
Do you know someone that has recently changed positions? Send us an update to share in the monthly newsletter, helping everyone stay connected and informed about community changes.
"Today I decide to forgive you. Not because you apologized or because you acknowledged the pain that you caused me, but because my soul deserves peace." – Najwa Zebian

Forgiveness helps us take control of our story. The change in outlook moves us beyond feeling like a victim, and prevents negative emotions and resentment from taking over. Not forgiving someone punishes you much more than the offender.

~ Amy Schmidt
Retirement Connection
503-505-5865
amy@retirementconnection.com

---
Job Postings
The following positions have been posted in the last month. (Some position are outside the Mid-Willamette Valley area)

Business Development
Senior Move Manager

Apply or submit new positions online through Retirement Connection's Job Board.
---
Need More Guides?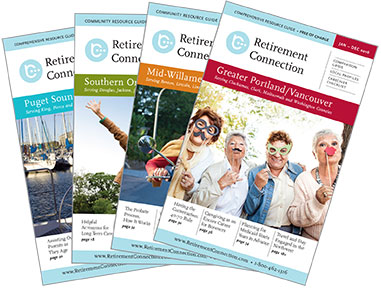 Additional copies of the Guide are available at no cost and are the perfect resource for health fairs, workshops and your marketing packets.
Guides are located at EVERY Senior Center, Hospital, Library and Meals-on-Wheels sites.
You can order as many as you need to serve the families in your community.
Add a label to the cover to highlight your business and use the guide as a giveaway.