Last year taught me a lot of things about dealing with loss and that I should stop focusing so much on "someday", but instead relish every moment of today. Old habits are hard to break, and I often still find myself in between waiting for something to happen and planning for something- both in my personal and business life. This is the advice I give myself, that may help you… when at a networking meeting enjoy the current conversation and make the most of that connection; when at an event be present and choose to enjoy the interactions; and simply be nice to people no matter how hostile they may seem- you never know what they are secretly managing. In the end, I can only manage- me!



Thank you to everyone who is still that "planner" and chose to take advantage of the early bird discount. This was the largest response to our early bird discount EVER. To our sponsors, please join us on April 17th for our sponsor breakfast. If you are not a sponsor, consider becoming one before that date, to take advantage of additional networking. Brittany has set up new Case Manager Resource Fairs at Mt Hood, Providence Portland, and Good Samaritan- registration is now open for our sponsor; space will open to the public 2 weeks prior to event date (space permitting). Now, enough planning… go enjoy the "Right Now".



APR 3
8 AM
Metropolitan Senior Network
Cedar Sinai Park
6125 SW Boundary St, Portland, 97221
Topic: Speed Networking
---
APR 9
3 PM
East County Marketing Exchange
Gresham Senior Center
600 NE 8th St #130, Gresham, 97030
Topic: Our thoughts, experiences, and questions about agencies
---
APR 16
3 PM
Westside Referral Network (WRN)
Waterhouse Ridge
1115 NW 158th Ave, Beaverton, 97006

---
APR 18
3 PM
Clackamas County Senior Networking (CCSN)
Location: TBA
---
APR 22
3 PM
SPIN – Portland
Laurelhurst Village
3060 SE Stark St, Portland, 97214

---
MAY 16
8 AM
Save the date!
Clackamas County I & R Networking
Red Soilis Campus,
Development Service Building, Room 119
150 Beavercreek Rd Oregon City, 97045
APR 4
3:30 PM
SSN Clark Happy Hour
CLT at Home
15640 NE Fourth Plain Blvd, Vancouver, 98682
Topic: Internet Marketing
---
APR 19
9 AM
Senior Service Network (SSN-Clark)
Peace Health Medical Center – Health Education Center
400 NE Mother Joseph Pl – Vancouver WA (92nd & Mill Plain Ave)
Topic: Gossip
Registration is now open for Retirement Connection Sponsors.


APR 11
11 AM
Legacy Meridian Park Resource Fair
(This event is full!)
Legacy Meridian Park Medical Center-CHEC (Community Health Education Center)
19300 SW 65th Ave Tualatin, OR 97062

---
MAY 1
11 AM
Legacy Mount Hood Medical Center Resource Fair
(This event is full!)
Legacy Mount Hood Medical Center
Located in the Cafeteria
24800 SE Stark St, Gresham, 97030

---
MAY 21
12:30 PM
Providence Portland Medical Center Resource Fair
Providence Portland Medical Center Resource Fair
Located in the Social Room
4805 NE Glisan St, Portland, 97213

---
JUN 11
12:00 PM
Legacy Good Samaritan Resource Fair
Legacy Good Samaritan Medical Center
Located in the Wistar Morris Room
1015 NW 22nd Ave Portland,97210

---
SEPT 26
12:30 PM
Providence Portland Medical Center Resource Fair
Providence Portland Medical Center
Located in the Social Room
4805 NE Glisan St, Portland, 97213

APR 3
12 PM
Free Educational Stem Cell Therapy Seminar
Marshall Community Center-Oak Room
1009 East McLoughlin Boulevard, Vancouver, 98663

---
APR 5
ALL DAY
LUNG FORCE Expo
Monarch Hotel and Conference Center
12566 SE 93rd Ave, Clackamas, 97015

---
APR 10
9 AM
Empowered Change – Directing Your Destiny: An educational seminar for those 55+ and better
Core, REALTORS
4808 SW Scholls Ferry Rd, Portland, 97225

---
APR 17
8:30 AM
Portland/Vancouver Retirement Connection Sponsor Breakfast April 2019
Providence St Vincent Medical Center
Stanley Family Rooms 20-22
9205 SW Barnes Rd, Portland, 97225
RSVP

---
APR 17
9 AM
Empowered Change – Directing Your Destiny" Education Seminar for those 55+ and better
Elsie Stuhr Senior Center
5550 Southwest Hall Boulevard, Beaverton, 97005

---
APR 20
9:30 AM
Stride for Seniors
Portland International Raceway
1940 N Victory Blvd, Portland, 97217

---
APR 24
7:30 AM
Tualatin Chamber Health & Wellness Wednesday with Dr. Dorian Quinn
Simple Wellness Clinic
1800 Blankenship Rd #195 West Linn, 97068

---
APR 24
4 PM
2019 SW Washington/Portland Area Healthcare Hiring Event
WorkSource Vancouver
204 SE Stonemill Dr #215, Vancouver, 98684

---
APR 26
5:30 PM
Wish Upon a Starry Night
The Loft at 8th Avenue
2010 SE 8th Ave, Portland, 97214

---
APR 30
6:30 PM
HOPE Educational Presentation: Home Safety – The Unique Role of Occupational Therapy
PeaceHealth Southwest Education Center
400 NE Mother Joseph Pl, Vancouver, 98664

Do you know someone that has recently changed positions? Send us an update to share in the monthly newsletter, helping everyone stay connected and informed about community changes.
"Live in the moment and be present in all that you do. Don't worry yourself with what happened yesterday or what's going to happen tomorrow. Stay focused with what's in front of you."
- Michael Trevino

I often don't enjoy right now enough, because I am busy planning for what comes next. What we thought may be on the horizon can always change- so relish every moment, especially the little things. When I enjoy the little things- the bigger things require less planning.

~ Amy Schmidt
Retirement Connection
503-505-5865
amy@retirementconnection.com

---
Job Postings
The following positions have been posted in the last month. (Some position are outside the Mid-Willamette Valley area)
Memory Care Resident Services Director
Leasing Director
Sales and Marketing Manager
Director of Nursing Services
Senior Living Advisor

Apply or submit new positions online through Retirement Connection's Job Board.
---
Need More Guides?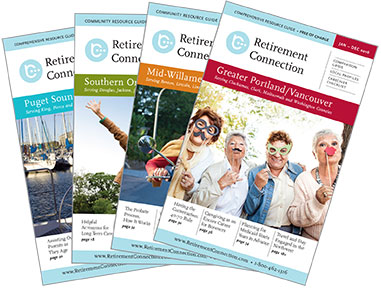 Additional copies of the Guide are available at no cost and are the perfect resource for health fairs, workshops and your marketing packets.
Guides are located at EVERY Senior Center, Hospital, Library and Meals-on-Wheels sites.
You can order as many as you need to serve the families in your community.
Add a label to the cover to highlight your business and use the guide as a giveaway.