I am always grateful when senior, families and other providers call and tell me how much they rely on the Retirement Connection Guide to find care, search for event information online, or find a network meeting location. I feel it necessary to give praise to our sponsors that make it possible. Although we print and use over 90,000 copies each year, the guide is supported by advertising from our sponsors. We would not be able to create the guide, website, or events without the support of our sponsors. Please return the favor by supporting these companies that allow us to provide this resource.

The next event we have planned is the Providence Everett Case Management resource fair on October 2. At this moment registration is only open to our sponsors and I hope many will take this final opportunity to reserve

their space today

! Tomorrow registration will open to all companies.
Remember to use our website to
Order more Guides
,
Post an event
,
Find a Network Meeting
,
Post a management job opening
,
Let us know if you are "on the move" with a new position to include in this newsletter
, or
Share a testimonial
SEPT 17
8 AM
Senior Care Coalition West/East Combined Meeting
Cristwood Park
350 N 190th St, Shoreline, 98133
Topic: Panel Discussion

---
SEPT 18
11:30 AM
Coordinators of Patient Services (COPS)
Maggiano's Bellevue
10455 Northeast 8th St, Bellevue, 98004

---
SEPT 19
8:15 AM
South End Coalition
Foundation House in Federal Way
32290 1st Ave S, Federal Way, 98003

---
SEPT 27
9 AM
NW LGBT Senior Care Providers Network Meeting
Merrill Gardens at Ballard
5601 24th Ave NW, Seattle 98107

SEPT 5
8 AM
Aging and LTC Providers Network
Mid-County Community Center
10205 44th Ave E, Tacoma, 98446

---
SEPT 12
7:30 AM
Health Care Providers Council (HCPC)
Mountain View Funeral Home
4100 Steilacoom Blvd SW, Lakewood, 98499

SEPT 12
11:30 AM
ElderNet
Brookdale of Everett
11333 3rd Pl W, Everett, 98204

OCT 2
12 PM
Providence Regional Medical Center Everett
Medical Office Building
1700 13th St, Everett, 98201
SEPT 12-13
ALL DAY
With a Little Help's 5th Annual Connect & Care Conference
North Seattle College
9600 College Way N, Seattle, 98103

---
SEPT 13
9 AM
Sash – Coffee Time Kent
Arbor Village
24121 116th Ave SE, Kent, 98030

---
SEPT 19
10:30 AM
Boomer Plus Meeting – Bellevue
Mission Health Care
2424 156th Ave NE, Bellevue, 98007

---
SEPT 19
3:30 PM
30th Anniversary Celebration
Weatherly Inn
15101 SE 272nd St, Kent, 98042

---
SEPT 20
9 AM
North End Coffee Time
Mountlake Terrace Plaza/MBK Senior Living
23303 58th Ave W, Mountlake Terrace, 98043

---
SEPT 24
2 PM
Boomer Plus – West Seattle
Aegis of West Seattle
4700 SW Admiral Wy, Seattle, 98116

---
SEPT 26
3:30 PM
30th Anniversary Celebration
Weatherly Inn Tacoma
6016 N Highlands Pkwy, Tacoma, 98406

Do you know someone that has recently changed positions? Send us an update to share in the monthly newsletter, helping everyone stay connected and informed about community changes.
"Good, better, best. Never let it rest. 'Til your good is better and your better is best. "
– St. Jerome

This quote is printed in the hallway of our office. Two years ago when interviewing Barret, we asked "what do you want us to remember about you after you leave and we meet with other applicants". He shared this quote and what it means to him and how it is reflected in his work ethic. He continues to live up to the expectation.

~ Amy Schmidt
Retirement Connection
503-505-5865
amy@retirementconnection.com

---
Job Postings
The following positions have been posted in the last month. (Some position are outside the Puget Sound area)
IT Director
Senior Move Manager
Senior Care Referral, Advisory and Placement Specialist
Day Center Director
Memory Care RN

Apply or submit new positions online through Retirement Connection's Job Board.
---
Need More Guides?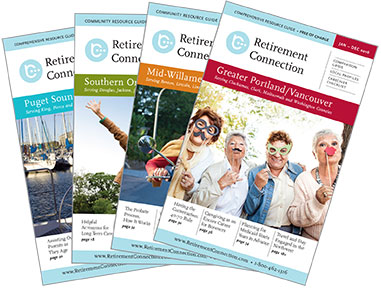 Additional copies of the Guide are available at no cost and are the perfect resource for health fairs, workshops and your marketing packets.
Guides are located at EVERY Senior Center, Hospital, Library and Meals-on-Wheels sites.
You can order as many as you need to serve the families in your community.
Add a label to the cover to highlight your business and use the guide as a giveaway.