Thank you to everyone who joined us Friday to celebrate our 10 year anniversary - it was great seeing so many people dressed in theme! The last 10 years have been such a pleasure working with you all and we wouldn't be where we are today without such great sponsors and partners! We appreciated the kind words shared by Tracy Morgan with the Alzheimer's Association, Dodie Brockamp with Silverton Senior Center, and Max Micozzi with SAGE Portland about the impact of Retirement Connection and how your sponsorship and participation have helped make an impact on the industry as a whole.

View Pictures
NOV 21
9 AM
Southern Oregon Networking And Resource (S.O.N.A.R.)
Suncrest Place
300 Suncrest Rd, Talent, 97540
Co-Host: Mid Rogue Imaging
Topic: Teepa Snow's Positive Approach to Care
---
JAN 23
9:30 AM
Save the Date!
Douglas County Senior Resource Coalition

NOV 19
12 PM
Asante Three Rivers Resource Fair
Asante Center for Outpatient Health (ACOH)
Rooms 5 & 6
537 Union Ave, Grants Pass, 97527

DEC 6
9 AM
Save the Date!
2019 Annual Festival of Trees
Seven Feathers Casino Resort
146 Chief Miwaleta Ln, Canyonville, 97417

Do you know someone that has recently changed positions? Send us an update to share in the monthly newsletter, helping everyone stay connected and informed about community changes.
"When something bad happens, you have three choices: You can either let it define you, let it destroy you or let it strengthen you. " – Dr. Seuss

As I write this newsletter, we are awaiting results from my husband, Lyman's scans last week following six months of chemo; hoping that his cancer has not spread. No matter the result- this will not define or destroy anyone in my circle- including him. And more than anything it has showed us what he is made of, what I am made of, and what my team is made of... for that I remain grateful.

~ Amy Schmidt
Retirement Connection
503-505-5865
amy@retirementconnection.com

---
Job Postings
The following positions have been posted in the last month. (Some position are outside the Southern Oregon area)
Health Services Manager
Food Service Director
HR Generalist
Manager, Walk to End Alzheimer's Regional
Apply or submit new positions online through Retirement Connection's Job Board.
---
Need More Guides?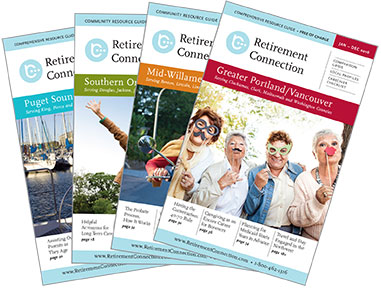 Additional copies of the Guide are available at no cost and are the perfect resource for health fairs, workshops and your marketing packets.
Guides are located at EVERY Senior Center, Hospital, Library and Meals-on-Wheels sites.
You can order as many as you need to serve the families in your community.
Add a label to the cover to highlight your business and use the guide as a giveaway.