I hope you had a wonderful Thanksgiving Holiday and were able to reflect on many blessings this year. Though this year came with physical and emotional challenges, it also allowed for growth and a new vision. 2017 gave our team the opportunity to adjust course and individual responsibilities multiple times as we hired new staff, supported those that were ill, and adapted to new business needs. The year is not over and we have another "change" to share…Heidi Rowell, a valued member of our team, is moving into a new role with the Alzheimer's Association of Oregon as the Program Director. We are very excited that she has found her dream job and that we will still be able to partner with her at the Alzheimer's Association.

I had hoped to also announce her replacement at the time of sending this newsletter but realized there just is no such person to fill the same shoes. BUT- I am excited to introduce we have hired Brittany and Barrett, who bring new ideas and energy to Retirement Connection (all of these changes are noted below in the "On the Move" section). Cheers to the changes and growth to come!
Bailey and I are looking forward to seeing you at the upcoming resource fair, network meetings and a January Networking Happy Hour we are planning. (stay tuned for details)
DEC 21
9 AM
Southern Oregon Networking Association Resource (S.O.N.A.R.)
Asante Rogue Regional Medical Center, Smullin Center, Lecture Hall 2
2825 E Barnett Rd, Medford, 97504
Topic: White Elephant Gift Exchange
---
DEC
9:30 AM
Douglas County Senior Resource Coalition
No December Meeting!
DEC 20
11:30 AM
Asante Three Rivers Vendor Fair
500 SW Ramsey Ave, Grants Pass, 97527
ACOH (Asante Center for Outpatient Health) rooms 5
Register Online
FEB 1
ALL DAY
Save the Date!
Restorative Justice Facilitator Training (4-Day Training)
Resolve Center
1237 N. Riverside Ave #25, Medford, 97501

"The secret of change is to focus all of your energy, not on fighting the old, but on building the new. ~ Socrates

This year has brought a lot of change, and honestly, I was not ready or willing for most of it. But rather than dig my feet in and throw a tantrum, I have accepted and embraced what the new normal may look like. It has helped me stretch and grow in new ways, although at times, uncomfortable and exhausting. I am thankful that I did not resist. I can't wait to see what we build next!

~ Amy Schmidt
Retirement Connection
503-505-5865
amy@retirementconnection.com

---
Job Postings
The following positions have been posted in the last month. (Some position are outside the Southern Oregon area)
Senior Living Advisor
Client Care Manager
Client Care Coordinator
Community Relations Director
Sales Manager
Staff Coordinator

Apply or submit new positions online through Retirement Connection's Job Board.
---
Need More Guides?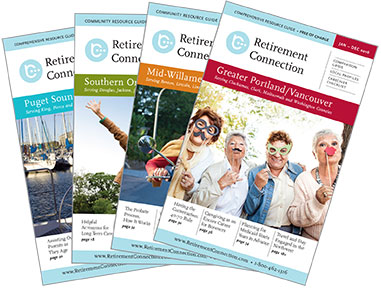 Additional copies of the Guide are available at no cost and are the perfect resource for health fairs, workshops and your marketing packets.
Guides are located at EVERY Senior Center, Hospital, Library and Meals-on-Wheels sites.
You can order as many as you need to serve the families in your community.
Add a label to the cover to highlight your business and use the guide as a giveaway.