Last year taught me a lot of things about dealing with loss and that I should stop focusing so much on "someday", but instead relish every moment of today. Old habits are hard to break, and I often still find myself in between waiting for something to happen and planning for something- both in my personal and business life. This is the advice I give myself, that may help you… when at a networking meeting enjoy the current conversation and make the most of that connection; when at an event be present and choose to enjoy the interactions; and simply be nice to people no matter how hostile they may seem- you never know what they are secretly managing. In the end, I can only manage- me!

As much as I want to only focus on right now and today, I am super excited about the guide going to print next week and planning for the Release Party next month. I hope you can join us to celebrate. The Release Party is our big opportunity to say thank you to everyone that makes our comprehensive guide possible. We expect over 150 people to attend on May 16th and hope you can be there.

RSVP now

, details below. If you know of any last minute updates please send those today so we are able to make changes prior to printing the annual guide.
APR 18
9 AM
Southern Oregon Networking Association Resource (S.O.N.A.R.)
Smullin Center
2825 E Barnett Rd, Medford, 97504
Topic: Identity, the barrier for discharge, and what can providers do to reduce readmissions

---
APR 25
9:30 AM
Douglas County Senior Resource Coalition
Adams House Assisted Living
121 SE Cordelia Dr, Myrtle Creek, 97457

Registration is now open for Southern Oregon Sponsors to reserve their CEU space. Space is limited and the event registration will close automatically once filled. At this time the registration is only open to Retirement Connection sponsors, and priority will be given to those presenting CEU poster content. Please register today.



APR 23
12 PM
Asante Rogue Regional Medical Center Resource Fair (FULL)
Asante Rogue Regional Medical Center
Carpenter Rooms
2825 E Barnett Rd, Medford, 97504

---
SEPT 17
11:30 AM
Providence Medford Medical Center Resource Fair
Providence Medford - Mary Norbert Hall
1111 Crater Lake Ave, Medford, 97504

---
OCT 15
11:30 AM
Providence Medford Medical Center Resource Fair
Providence Medford - Mary Norbert Hall
1111 Crater Lake Ave, Medford, 97504

---
NOV 19
12 PM
Asante Three Rivers Resource Fair
Asante Center for Outpatient Health (ACOH)
Rooms 5 & 6
537 Union Ave, Grants Pass, 97527

APR 6
12 PM
Parkinson's Disease Conference 2019
Hotel Eugene
66 East 6th Ave, Eugene, 97401

---
APR 6
3 PM
Grand Opening Celebration at Pear Valley
Pear Valley Senior Living
800 N Haskell St, Central Point, 97502

---
APR 30
4 PM
Way Out West Dinner and Dance
Pioneer Village
805 N 5th St, Jacksonville, 97530


---
MAY 16
3:30 PM
Save the date!
Southern Oregon Retirement Connection Guide Release Party
Edenvale Winery
2310 Voorhies Rd, Medford, 97501
RSVP

---
MAY 22
3:30 PM
Save the date!
Retirement Connection Roseburg Happy Hour
McMenamins Roseburg Station Pub & Brewery
700 SE Sheridan St, Roseburg, 97470
RSVP

Do you know someone that has recently changed positions? Send us an update to share in the monthly newsletter, helping everyone stay connected and informed about community changes.
"Live in the moment and be present in all that you do. Don't worry yourself with what happened yesterday or what's going to happen tomorrow. Stay focused with what's in front of you."
- Michael Trevino

I often don't enjoy right now enough, because I am busy planning for what comes next. What we thought may be on the horizon can always change- so relish every moment, especially the little things. When I enjoy the little things- the bigger things require less planning.

~ Amy Schmidt
Retirement Connection
503-505-5865
amy@retirementconnection.com

---
Job Postings
The following positions have been posted in the last month. (Some positions are outside the Southern Oregon area)
Memory Care Resident Services Director
Leasing Director
Sales and Marketing Manager
Director of Nursing Services
Senior Living Advisor

Apply or submit new positions online through Retirement Connection's Job Board.
---
Need More Guides?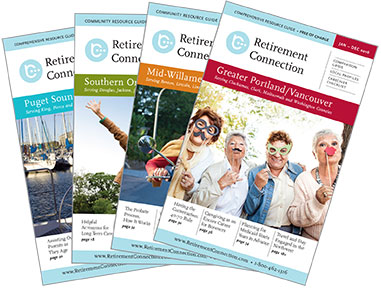 Additional copies of the Guide are available at no cost and are the perfect resource for health fairs, workshops and your marketing packets.
Guides are located at EVERY Senior Center, Hospital, Library and Meals-on-Wheels sites.
You can order as many as you need to serve the families in your community.
Add a label to the cover to highlight your business and use the guide as a giveaway.