Last year taught me a lot of things about dealing with loss and that I should stop focusing so much on "someday", but instead relish every moment of today. Old habits are hard to break, and I often still find myself in between waiting for something to happen and planning for something- both in my personal and business life. This is the advice I give myself, that may help you… when at a networking meeting enjoy the current conversation and make the most of that connection; when at an event be present and choose to enjoy the interactions; and simply be nice to people no matter how hostile they may seem- you never know what they are secretly managing. In the end, I can only manage- me!

As much as I want to only focus on right now and today, I am super excited about the guide going to print last week and planning for the Release Party next month. I hope you can join us to celebrate. The Release Party is our big opportunity to say thank you to everyone that makes our comprehensive guide possible. We expect over 150 people to attend on April 24th and hope you can be there.

RSVP

now, details below. If you're unable to attend or the drive is too far, join us the following day at the after party. Better yet— party and network with us both days!
APR 2
8:30 AM
Senior Care Coalition Seattle Meeting
Aegis West Seattle
4700 SW Admiral Way, Seattle, 98116

---
APR 16
8:30 AM
Senior Care Coalition Eastside Meeting
Aegis of Issaquah
780 NW Juniper St, Issaquah, 98027

---
APR 17
8:15 AM
South End Coalition
El Dorado Village Concepts in Burien
1010 SW 134th St, Burien, 98146

---
APR 26
9 AM
NW LGBT Senior Care Providers Network Meeting
Aljoya Mercer Island
2430 76th Avenue SE, Mercer Island, 98040

---
MAY 15
11:30 AM
Coordinators of Patient Services (COPS)
Maggiano's Bellevue
10455 Northeast 8th St, Bellevue, 98004

APR 4
8 AM
Aging and LTC Providers Network
Mid-County Community Center
10205 44th Ave E, Tacoma, 98446

---
APR 11
7:30 AM
Health Care Providers Council (HCPC)
Mountain View Funeral Home
4100 Steilacoom Blvd SW, Lakewood, 98499

APR 11
11:30 AM
ElderNet
Josephine Caring Community
9901 272ND Pl NW, Stanwood, 98292

MAY 9
8 AM
WMCMA Annual Spring Conference & Expo
Hotel RL Olympia
2300 Evergreen Park Dr SW Olympia, 98502
---
JUN 19
11:30 AM
Valley Medical Center-MAC E/F
Cascade Conference Room (Medical Arts Center (MAC)
400 South 43rd St, Renton, 98055
---
OCT 2
12 PM
Providence Regional Medical Center Everett Case Management Vendor Fair
Cascade Conference Room (Medical Office Building)
1700 13th St, Everett, 98201
APR 2
ALL DAY
Community Health and Wellness Fair
Sno-Valley Senior Center
4610 Stephens AveCarnation, 98014

---
APR 9
4:30 PM
Eastside Industry Professionals Networking Happy Hour
Overlake Terrace
2956 152nd Avenue NE, Redmond, 98052

---
APR 10
10:15 AM
Vet Benefits: Information and Resources
Center at Norpoint
4818 Nassau Ave NE, Tacoma, 98422

---
APR 11
9 AM
Coffee Time on the Eastside
Patriots Glen
1640 148th Ave SE, Bellevue, 98007

---
APR 12
9 AM
Coffee Time
Arbor Village
24121 116th Ave SE, Kent, 98030

---
APR 16
8 AM
East Pierce Providers hosted by CayCare presents, "3 Strategies to Up-Level your Personal Brand" with Lisa Fischer Styling
Puyallup Activity Center
210 West Pioneer Avenue Puyallup, 98371

---
APR 24
3:30 PM
Puget Sound Retirement Connection Guide Release Party
Mercer Island Community and Event Center
8236 SE 24th St, Mercer Island, 98040
RSVP

---
APR 25
3:30 PM
HCPC After Hours and Tacoma Retirement Connection Guide "After Party"
C.I. Shenanigans
3017 Ruston W, Tacoma, 98402
RSVP

"Live in the moment and be present in all that you do. Don't worry yourself with what happened yesterday or what's going to happen tomorrow. Stay focused with what's in front of you."
- Michael Trevino

I often don't enjoy right now enough, because I am busy planning for what comes next. What we thought may be on the horizon can always change- so relish every moment, especially the little things. When I enjoy the little things- the bigger things require less planning.

~ Amy Schmidt
Retirement Connection
503-505-5865
amy@retirementconnection.com

---
Job Postings
The following positions have been posted in the last month. (Some position are outside the Puget Sound area)
Memory Care Resident Services Director
Leasing Director
Sales and Marketing Manager
Director of Nursing Services
Senior Living Advisor

Apply or submit new positions online through Retirement Connection's Job Board.
---
Need More Guides?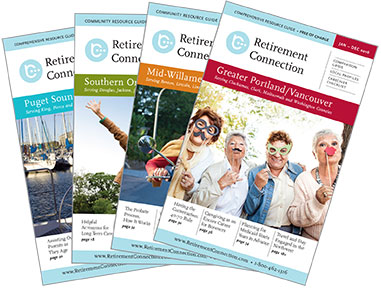 Additional copies of the Guide are available at no cost and are the perfect resource for health fairs, workshops and your marketing packets.
Guides are located at EVERY Senior Center, Hospital, Library and Meals-on-Wheels sites.
You can order as many as you need to serve the families in your community.
Add a label to the cover to highlight your business and use the guide as a giveaway.