Only TWO weeks remain before the next edition of the Retirement Connection Guide of Puget Sound goes into production. We have all hands on deck… Meghan on our team is confirming all ad placements for new and renewing sponsors; Becky is calling every listing to confirm changes; Barret is helping our housing and care sponsors activate their

CareAvailability.com

profiles with images and videos; Lyman is setting up individualized billing terms; Kyle is making sure all listings are updated online; Jill is working to increase our social media marketing, and Erin is helping us proof 200+ pages before print. BUT sadly… we have one awesome team member that is leaving our work family- Tabitha is starting a new chapter and has accepted a position in-home care that allows her to focus specifically on Pierce county and her new baby. We are excited that Tabitha will remain a sponsor of ours, and we can follow "our" baby boy as he grows up. Although we will miss her at team events, we are excited for her family.
The next guide will hit the streets on March 31st. During COVID times, my team and I have had to shift how we market and "sell", as I am sure you have. This month Retirement Connection and

CareAvailability.com

are adding social media and google advertising to increase our web traffic. With more families and providers working remotely and relying so heavily on computer connection, we felt this was the perfect time to explore these options. Social Media is NOT my forte, so I have hired a local company, Greatness Digital, to help us achieve our goals- their team will join us on our next Sponsor Breakfast call on March 18th, save the date!
Please continue to check our website for meeting and event updates! We are updating our website multiple times a day trying to help notify our contacts of cancellations and rescheduled meetings.



FEB 4
8 AM
Aging and LTC Providers Network
Online Meeting
Join the meeting online: https://piercecountywa.zoom.us/j/99521188402
Join the meeting by phone: 253-215-8782 or 888-788-0099 (toll free)
Webinar ID: 995 2118 8402
Press *9 to ask a question over the phone

---
---
---
FEB 4
9:30 AM
Transitions of Care Monthly Meeting Puget Sound
Online Meeting
Add this link to your calendar or share with others– https://us02web.zoom.us/j/89487535586

The goal of this meeting is to improve communication between case management and community providers, especially related to readmissions and start of care following a hospital visit. RSVP Here to help us plan the agenda and communications and ensure you receive any agenda updates or changes with the ZOOM link.

---
| | |
| --- | --- |
| | |
"You drown not by falling into a river, but by staying submerged in it."- Paul Coelho
---
Job Postings
The following positions have been posted in the last month. (Some position are outside the Puget Sound area)

Senior Move Assistant

Apply or submit new positions online through Retirement Connection's Job Board.
---
Need More Guides?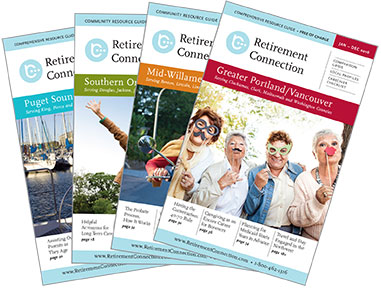 Additional copies of the Guide are available at no cost and are the perfect resource for health fairs, workshops and your marketing packets.
Guides are located at EVERY Senior Center, Hospital, Library and Meals-on-Wheels sites.
You can order as many as you need to serve the families in your community.
Add a label to the cover to highlight your business and use the guide as a giveaway.