We are excited to have scheduled more upcoming events with Samaritan Hospitals. Candy Sawyer and her staff will be the speakers tomorrow at the SSN-Linn Benton networking meeting, and we have also scheduled two additional case manager lunches and those registrations are now open. I also need to give a shout out to the communities that have logged onto
https://retirementconnection.com/availability
. We are beta testing the new features and filters and hope to see more communities reporting their availability- it is free after all.
FEB 4
9 AM
Senior Service Network (SSN-Linn/Benton)
Samaritan Albany General Hospital
Reimer Conference Room
1046 6th Ave SW, Albany, 97321
Topic: Case Management Panel
---
FEB 12
9 AM
Salem Senior Lifestyles Network
Applewood
309 Lancaster Dr NE, Salem, 97301

---
FEB 26
9 AM
Senior Service Network (SSN-Salem)
Salem Hospital-Creekside Dining Overflow- first floor
890 Oak Street SE, Salem, 97301
Topic: Understanding Credit

---
MAR 18
9:30 AM
NWSDS Senior Network
NWSDS Salem Office
3410 Cherry Ave NE, Salem, 97303

---
MAR 19
9 AM
Yamhill Network Meeting
Pacifica Memory Care
320 SW Hill Rd, McMinnville, 97128

FEB 24
12 PM
Corvallis Good Samaritan Case Manager Luncheon
Corvallis Good Samaritan
3600 NW Samaritan Dr, Corvallis, 97330

---
APR 14
11 AM
Legacy Meridian Park Resource Fair
Legacy Meridian Park Medical Center
19300 SW 65th Ave, Tualatin, 97062
CHEC (Community Health Education Center)

FEB 7
9 AM
LiveWell Method
DHS/APD
3406 Cherry Ave N Salem/Keizer 97303

---
Do you know someone that has recently changed positions? Send us an update to share in the monthly newsletter, helping everyone stay connected and informed about community changes.
"There are two ways of spreading light: to be the candle or the mirror that reflects it."
– Edith Wharton

I have been fortunate to receive praise at times simply for the proximity of excellence. I did not always directly accomplish myself but was part of a group. I try very hard to surround myself with people that are focused, motivated, and kind. It is much easier to be a mirror for that behavior. Of all the things that are in my "job description," I feel the most important is being the mirror to my team, so they shine.

~ Amy Schmidt
Retirement Connection
503-505-5865
amy@retirementconnection.com

---
Job Postings
The following positions have been posted in the last month. (Some position are outside the Mid-Willamette Valley area)

Registered Nurse RN Senior Move Manager
Apply or submit new positions online through Retirement Connection's Job Board.
---
Need More Guides?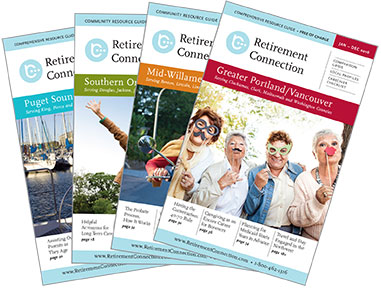 Additional copies of the Guide are available at no cost and are the perfect resource for health fairs, workshops and your marketing packets.
Guides are located at EVERY Senior Center, Hospital, Library and Meals-on-Wheels sites.
You can order as many as you need to serve the families in your community.
Add a label to the cover to highlight your business and use the guide as a giveaway.