It is September!?! How did that happen? For the first 6 months of COVID, I feel like I was pretty focused and remained positive. BUT- last week I answered a call from a family needing resources; and I was NOT excellent and I was NOT as patient and detailed as usual. I think I hit an emotional wall; and honestly, it would have been better if I just did not answer the phone that Saturday. I am reminded that everyone is dealing with "something". More importantly, not everyone has the same capacity or tools to manage it all. Please be kind, please give people the benefit of doubt, and if you screw up… own it and apologize! We need to support each other, so we can support the seniors we work with.
Our team is currently working on plans for Case Management week in October. We are coordinating "goodie bag" drops for more than 20 hospitals in Oregon and Washington, and coordinating no contact breakfast/lunches at several of these. I will be covering the details on our Sponsor Breakfast call next week on September 9th and will include a sign up during the call. If you are a sponsor, please make time to join us at 8:30 am, more details are below. For those that are not our advertisers /sponsors, we will make all remaining slots available the following week.
A few other reminders: Encourage all housing and home services you work with to update the availability in real-time for no charge on CareAvailability.com-  it is FREE. And BIGGEST NEWS the next edition for Mid-Willamette Valley will be sent to the printer next week and will hit the streets in October.
---
---
SEPT 9
9 AM
MEETING CANCELLED THIS MONTH!
Salem Senior Lifestyles

---
SEPT 17
9 AM
Yamhill County Network
Online Meeting
---
SEPT 23
9 AM
SSN – Salem
Online Meeting Topic: COVID's Effect on the Funeral Industry Speaker: Natasha Tjaarda, Weddle Funeral Service Add this link to your calendar or share with others– https://us02web.zoom.us/j/86758517640
---
SEPT 28
9:30 AM
NWSDS Senior Network
Online Meeting
OCT 14
12 PM
Corvallis Good Samaritan Case Manager Luncheon
Good Samaritan Regional Medical Center
3600 NW Samaritan Dr, Corvallis, 97330
HP/Starkeer Room

SEPT 9
8:30 AM
Virtual Retirement Connection Sponsor Breakfast

Agenda:
- Case Management week plans and sign up available during the call – Visits and feedback from a few case managers and how their jobs have shifted
– CareAvailability.com website needs and updates for sponsors (what and why)
– Delivery / mailing of the guides and changes
– quick updates from sponsors– using the chat box for introductions

RSVP- https://docs.google.com/forms/d/e/1FAIpQLSfif9nuu9ecqpeGf2giQLg9O_54m-Kg841SJFtZp1ZQZ7NX5g/viewform

Last week's analytics show:
928 Visitors

213 New Visits

Average user time 3.50

Bounce rate decreased by 6%

5,208 page views

247 visitors performed a direct search

Visitors who found the site through an organic search increased by 22%
We are pleased to see increased site visits and new users progressing quickly, while spending substantial time searching or updating availability.
Testimonia
l:
My staff and I love the site and use it daily for our patients. The site is easy to update and is free to providers to be listed and to update. I'd like to ask that all providers utilize CareAvailability.com to update your availability. Samaritan Hospitals utilize this tool more than ever during this time. We direct our patients and families to view this site and expect accuracy. This cannot be used properly when it's not being updated. I must press the issue that your company may be losing referrals if it is not up to date, as we are directing our team to reach out to those showing availability updated within the last 24 hours.
-
Candy Sawyer, Regional Manager-IP Case Management
Do you know someone that has recently changed positions? Send us an update to share in the monthly newsletter, helping everyone stay connected and informed about community changes.
"People cry, not because they're weak. It's because they've been strong for too long." -Johnny Depp

This weekend I had a minor (very, very minor) miscommunication with my husband about dinner, follwed by my uncontrollable crying. Needless to say, he was confused! I wasn't really crying over what was for dinner- as it may have seemed. Maybe… I was crying because cancer has altered so many of our other plans; or because COVID doesn't allow us to go to "our place" for our anniversary; or… who the hell knows. In reality, I was crying because I had kept it together long enough and it had to come out. Our feelings have to go somewhere, find a safe place for them. Thanks Lyman for being that safe place!

~ Amy Schmidt
Retirement Connection
503-505-5865
amy@retirementconnection.com

---
Job Postings
The following positions have been posted in the last month. (Some position are outside the Mid-Willamette Valley area)

Community Relations Director
Asante Lifeline Medical Alert Installer
Salaried Insurance Agent
RN/ Long-Term Care
Apply or submit new positions online through Retirement Connection's Job Board.
---
Need More Guides?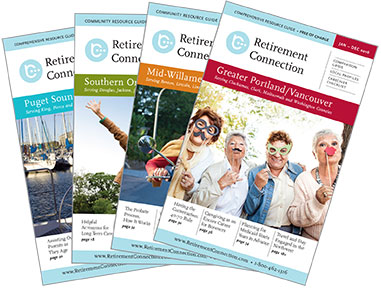 Additional copies of the Guide are available at no cost and are the perfect resource for health fairs, workshops and your marketing packets.
Guides are located at EVERY Senior Center, Hospital, Library and Meals-on-Wheels sites.
You can order as many as you need to serve the families in your community.
Add a label to the cover to highlight your business and use the guide as a giveaway.