Happy New Year! We are starting off the new year with a bang… the guide continues to grow, website traffic is increasing, and more providers are posting events and using

RetirementConnection.com

as a resource. We are down to the very last few boxes of the current guide, please let us know if you need to

order additional copies

and we will get those delivered quickly. I encourage you to add your label "compliments of…" to the cover of the guide and share it with the families you serve. Families really appreciate having a comprehensive guide of resources. We list EVERY housing and homecare resource in the area and hundreds of other helpful listings.



Retirement Connection of Puget Sound is printed annually, and the next one will be out in April. Please email me any additions or edits that you want to be included; I want your insight, so we can continue to grow and improve.
JAN 9
8:30 AM
Senior Care Coalition
The Bellettini
1115 108th Ave NE, Bellevue, 98004

---
JAN 17
8:15 AM
South End Coalition
Merrill Gardens
15020 5th Ave SW, Burien, 98166

---
JAN 17
11:30 AM
Coordinators of Patient Services (COPS)
Maggiano's Bellevue
10455 NE 8th St, Bellevue, 98004

JAN 11
7:30 AM
Health Care Providers Council (HCPC)
(Note- New Location )
Mountain View Funeral Home
4100 Steilacoom Blvd SW, Lakewood, 98499

JAN 11
11:30 AM
ElderNet
North Creek by Bonaventure
1907 201st Pl SE, Bothell, 98012

---
JAN 26
9 AM
NW LGBT Senior Care Providers Network Meeting
Quail Park of Lynnwood
4015 164th St SW, Lynwood, 98087

JAN 3
9 AM
SASH Coffee and Networking – Tacoma
La Quinta Inn Tacoma - Ports of Call Restaurant
1425 E 27th St Tacoma, 98421

---
JAN 5
9 AM
SASH – Snohomish County
Best Western Cascadia Inn
2800 Pacific Ave Everett, 98201

---
JAN 11
9 AM
SASH Coffee and Networking – Eastside Bellevue
Crossroads Shopping Ctr ( Community Rm)
600 E Smith St, Kent, 98030

---
JAN 12
9 AM
SASH Coffee and Networking – Kent
Kent Senior Activity Center
600 E Smith St Kent, 98030

---
JAN 19
9 AM
SASH Coffee and Networking – North King
Shoreline City Hall - 3rd Fl Conference Rm
17500 Midvale Ave N Shoreline, 98133

---
JAN 24
9 AM
SASH Coffee and Networking – Puyallup
Willow Gardens
4502 6th St SE Puyallup, 98374

---
JAN 26
9 AM
SASH Coffee and Networking – Federal Way
Marlene's Market & Deli
2565 S Gateway Center Plaza Federal Way, 98003

Do you know someone that has recently changed positions? We want to know… Each month we will share the updates in our monthly newsletter, helping you stay connected and keep informed about community changes." Click Here to send us any updates.
"Be strong enough to stand alone, be yourself enough to stand apart but be wise enough to stand together when the time comes."

It is challenging to be all of these, and an even bigger challenge to know when is the right time for each. It is incredibly gratifying when you have the courage to stand alone, then turn to see so many others standing with you.

~ Amy Schmidt
Retirement Connection
503-505-5865
amy@retirementconnection.com

---
Job Postings
The following positions have been posted in the last month. (Some position are outside the Puget Sound area)
Memory Care Associate Director
Scheduling Manager
Client Care Coordinator
Business, Community and Development Coordinator

Apply or submit new positions online through Retirement Connection's Job Board.
---
Need More Guides?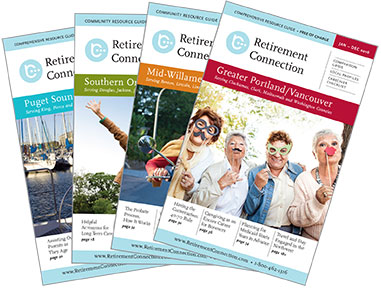 Additional copies of the Guide are available at no cost and are the perfect resource for health fairs, workshops and your marketing packets.
Guides are located at EVERY Senior Center, Hospital, Library and Meals-on-Wheels sites.
You can order as many as you need to serve the families in your community.
Add a label to the cover to highlight your business and use the guide as a giveaway.