During COVID times, my team and I have had to shift how we market and "sell", as I am sure you have. We are not able to meet in person and everyone has some zoom fatigue. We are working harder to get the same results, and the only upside is less drive time. It has made me wonder- Is it actually more difficult or just unfamiliar? To that end, we are embracing new marketing ideas to help our sponsors' visibility. This month Retirement Connection and
CareAvailability.com
are adding social media and google advertising to our efforts.
We have always relied heavily on word of mouth and organic search results, but with more families and providers working remote and relying so heavily on computer connection, we felt this was the perfect time to explore these options.
CareAvailability.com
has been embraced by the Samaritan Hospital system, but we want to see a jump in family users searching for care and housing. We also want to promote the great providers from Retirement Connection. Social Media is NOT my forte, so I have hired a local company, Greatness Digital, to help us achieve our goals- their team will join us on our next Sponsor Breakfast call on March 18th, save the date!
FEB 2
9 AM
Senior Service Network (SSN-Linn/Benton)
Topic: Parkinson's Resource of Oregon
Speaker: Kristi South, Parkinson's Resource of Oregon
Add this link to your calendar or share with others– https://us02web.zoom.us/j/85413616378
---
FEB 2
11 AM
Transitions of Care Monthly Meeting with Samaritan Case Management
Add this link to your calendar or share with others–
https://us02web.zoom.us/j/88391560194

Agenda:
- The updated Home Health orders per request by Home Health Agencies
- Addressing facilities that can't/won't accept patients on Friday or weekends
- ICF bed reporting on CareAvailability.com
- Dispersal of vaccinations for facilities and staffs
- COVID testing requirements for patients upon admission and discharge
- How to report if you do not have availability to help limit Case Manager calls

The goal of this meeting is to improve communication between case management and community providers, especially related to readmissions and start of care following a hospital visit.


---
---
MAR 22
9:30 AM
NWSDS Senior Network
Online Zoom Meeting- link to be sent out prior to meeting.
---
FEB 27
6pm
Plum Hill Benefit Concert for Parkinson's Resources of Oregon
Online Zoom Meeting
---
MAR 18
9 am
Save the Date!
Virtual Retirement Connection Sponsor Breakfast
Agenda- Social Media Advertising
Online Zoom Meeting
Do you know someone that has recently changed positions? Send us an update to share in the monthly newsletter, helping everyone stay connected and informed about community changes.
"You drown not by falling into a river, but by staying submerged in it."- Paul Coelho

I had hoped to swim out of the 2020 funk like an Olympic swimmer when the calendar flipped to a new year, but I may need to just "tread water". This is still better than drowning! We need to give ourselves and others a bit of grace, and take pride in the times we just tread water- it is better than the alternative. As Dory in Finding Nemo tells us… Just keep swimming!

~ Amy Schmidt
Retirement Connection
503-505-5865
amy@retirementconnection.com

---
Job Postings
The following positions have been posted in the last month. (Some position are outside the Mid-Willamette Valley area)

Senior Move Assistant

Apply or submit new positions online through Retirement Connection's Job Board.
---
Need More Guides?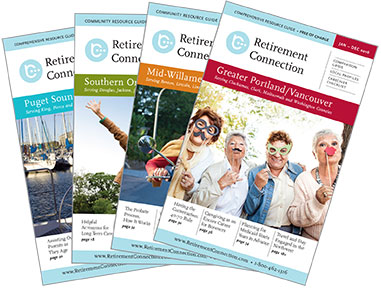 Additional copies of the Guide are available at no cost and are the perfect resource for health fairs, workshops and your marketing packets.
Guides are located at EVERY Senior Center, Hospital, Library and Meals-on-Wheels sites.
You can order as many as you need to serve the families in your community.
Add a label to the cover to highlight your business and use the guide as a giveaway.