I had a great time seeing so many friendly faces at the Release Party and after-hours events last week. Take a moment to view the photos on Facebook and tag yourself. One of our biggest announcements was the 10% Early Bird discount for reserving ad space in the 2020 edition. ad space and payment is not due until next year, but you can save by reserving your ad size this month. The newest edition of the guide is available at every hospital, library, and senior center. If you want more copies to share with those in your community, just let us know (link to the guide order request.)
In addition to the other announcements, I shared that my husband is currently going through Chemotherapy for Colon Cancer.  This is just a small bump in the road for us, but I wanted to let you know in case Lyman or I are not as visible in the upcoming months. We are very fortunate to have a very strong support system with our friends, family, and work peeps.
May 7
8:30 AM
Senior Care Coalition Seattle Meeting
Aegis of Queen Anne at Rodgers Park
2900 3rd Ave W, Seattle, 98119

---
May 15
8:15 AM
South End Coalition
Merrill Gardens at Renton Centre
104 Burnett Ave S, Renton, 98057

---
MAY 15
11:30 AM
Coordinators of Patient Services (COPS)
Maggiano's Bellevue
10455 Northeast 8th St, Bellevue, 98004

---
May 21
8:30 AM
Senior Care Coalition Eastside Meeting
Overlake Terrace AL Redmond
2956 152nd Ave NE, Redmond, 98052

---
May 24
9 AM
NW LGBT Senior Care Providers Network Meeting
Quail Park West Seattle
4515 41st Avenue SW, Seattle, 98116

May 2
8 AM
Aging and LTC Providers Network
Mid-County Community Center
10205 44th Ave E, Tacoma, 98446

---
May 9
7:30 AM
Health Care Providers Council (HCPC)
Mountain View Funeral Home
4100 Steilacoom Blvd SW, Lakewood, 98499

May 9
11:30 AM
ElderNet
Location: TBA

MAY 9
8 AM
WMCMA Annual Spring Conference & Expo
Hotel RL Olympia
2300 Evergreen Park Dr SW Olympia, 98502
---
JUN 19
11:30 AM
Valley Medical Center
Medical Arts Center (MAC)
400 South 43rd St, Renton, 98055
---
OCT 2
12 PM
Providence Regional Medical Center Everett
Medical Office Building
1700 13th St, Everett, 98201
May 1
6 PM
Add Some Colors and Bubbles to your life!
Aegis Living of West Seattle
4700 SW Admiral Way Seattle, 98116

---
May 2
10:30 AM
Boomer Plus Meeting – Ballard
Ballard Landmark
5433 Leary Ave NW Seattle, 98107

---
May 2
2 PM
Boomer Plus Meeting – Northgate
Aegis Ravenna
8511 15th Ave NE, Seattle, 98115

---
May 4
2 PM
Fraud Prevention Workshop for "The Circle of Friends" and any other Widows
Bethany Christian Assembly
2715 Everett Ave, Everett, 98201

---
May 10
9 AM
Sash – Coffee Time Kent
Arbor Village
24121 116th Ave SE, Kent, 98030

---
May 14
12 PM
Vicki Kind – Providing Culturally Sensitive Care in Senior Care
Aegis Gardens New Castle
13056 SE 76th St, Newcastle, 98056

---
MAY 16
10:30 AM
Boomer Plus Meeting – Bellevue
Mission Health Care
2424 156th Ave NE, Bellevue, 98007

---
MAY 17
9 AM
North End Coffee Time
Mountlake Terrace Plaza/MBK Senior Living
23303 58th Ave West, Mountlake Terrace, 98043

---
MAY 21
10:30 AM
Boomer Plus Meeting – Edmonds
Cedar Creek Memory Care
21006 72nd Ave W, Edmonds, 98026

---
MAY 22
2 PM
Boomer Plus Meeting – Kenmore
Sunrise Senior Living
7221 NE 182nd St, Kenmore, 98028

---
MAY 23
11 AM
Your Next Chapter Awaits: Real Estate for Seniors (Workshop)
CRISTA Senior Living (Cristwood Park-Shoreline, WA)
350 N 190th St, Shoreline, 98133

---
MAY 28
2 PM
Boomer Plus – West Seattle
Aegis of West Seattle
4700 SW Admiral Way, Seattle, 98116

"The difference between an opportunity and an obstacle is your attitude. Your faith has to be greater than your fear."

I honestly believe- "things happen, it is up to me to decide if they are good or bad." Sometimes through these challenges, we see new lessons: we see how strong we can be, we see support in people and places we never recognized, we see a new path and way of doing things, we learn new skills and habits, and we appreciate the small things more. It is up to us to see the opportunity.

~ Amy Schmidt
Retirement Connection
503-505-5865
amy@retirementconnection.com

---
Job Postings
The following positions have been posted in the last month. (Some position are outside the Puget Sound area)
Home Care Agency Operations Manager
Business Office Manager
RN Care Manager
Sales-Community Relations Director
Activities Assistant

Apply or submit new positions online through Retirement Connection's Job Board.
---
Need More Guides?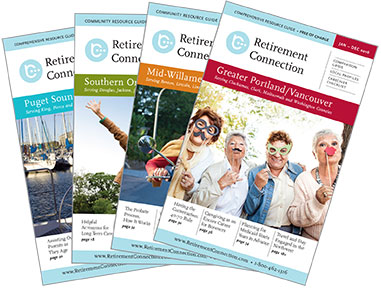 Additional copies of the Guide are available at no cost and are the perfect resource for health fairs, workshops and your marketing packets.
Guides are located at EVERY Senior Center, Hospital, Library and Meals-on-Wheels sites.
You can order as many as you need to serve the families in your community.
Add a label to the cover to highlight your business and use the guide as a giveaway.