Last month I was soooooooo excited about using ZOOM and having at least some "virtual connections" with my peeps; but now I think I have Zoom fatigue. I love seeing everyone's face and catching up, but now it seems I am on zoom calls all day long. However, there is one zoom call that I cannot wait for, it has been a long time coming! Next week we are launching our new look for
CareAvailability.com
and we have added many new features and additional levels of care that will go live on June 8th. We have been working for a year to add a tool for families to search real time availability and for Retirement Connection be an even greater resource for the area hospitals and area agencies on aging. I hope you can join us on the call, we already have 115 RSVPs to join us and have upgraded our zoom subscription to accommodate the higher number (more details are below).
In addition to our work on the new website roll out, we have increased our engagement with the 4 Samaritan Hospitals and I hope you can join us on their Care Transitions zoom meeting on June 2. Candy Sawyer and her case management teams are trying very very hard to get more housing, home care, home health and hospice to contribute to the call.
AUG 31
12 PM
Corvallis Good Samaritan Case Manager Luncheon
Good Samaritan Regional Medical Center
3600 NW Samaritan Dr, Corvallis, 97330
HP/Starkeer Room


JUN 8
11 AM
CareAvailability Launch Zoom Call
Save the date for the official "Launch" of the new and improved site for CareAvailability.com on June 8th at 11am. W'e're excited to share all the progress made for reporting your real-time availability. You do NOT have to be a sponsor of Retirement Connection to report your availability; EVERY housing, Skilled Nursing, homecare, home health and hospice can report your availability at no charge. Currently 10 hospitals in Oregon are using the beta test site and waiting for the new version.
Thank you for all your feedback, from communities to case managers and hospitals, we are ready to officially roll out the updated site!

Agenda:

1. Review of the New look
2. Addition of home health, homecare and hospice organizations
3. Feedback from several hospital case managers including: Virginia Mason, Valley Medical, Legacy and Samaritan hospitals 4. Provider log-in and claiming your listing
5. Updating your availability
6. Uploading your marketing resources to include photos, brochures and links
7. How we are communicating this to the public and other providers

June 8th, 2020, 11 a.m.
Add this link to your calendar and share with others-
Link: https://us02web.zoom.us/j/89055109633

We already have 110 people signed up to join us, please RSVP Here if you have not yet so we can better plan the zoom call rollout.

---
JUN 9
11 AM
Ethics in Hospice & Palliative Care
Online Seminar
Do you know someone that has recently changed positions? Send us an update to share in the monthly newsletter, helping everyone stay connected and informed about community changes.
"Losers quit when they fail. Winners fail until they succeed."
– Robert Kiyosaki

This quote seemed very fitting as we launch CareAvailability.com. Our team started work on this project quite a while ago and had to adjust course along the way. I am proud that the website we are releasing next week has more features and customization than we initially planned. We did not give up on bringing the idea to fruition and it shows. 

~ Amy Schmidt
Retirement Connection
503-505-5865
amy@retirementconnection.com

---
Job Postings
The following positions have been posted in the last month. (Some position are outside the Mid-Willamette Valley area)

In Home Care Agency Manager
Medical Sales Executive
PRN
CNA
RN Client Care Manager

Apply or submit new positions online through Retirement Connection's Job Board.
---
Need More Guides?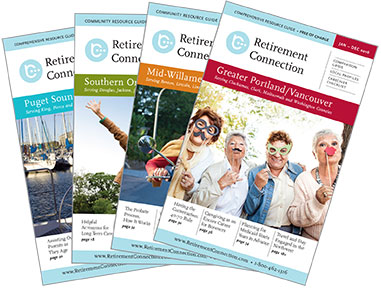 Additional copies of the Guide are available at no cost and are the perfect resource for health fairs, workshops and your marketing packets.
Guides are located at EVERY Senior Center, Hospital, Library and Meals-on-Wheels sites.
You can order as many as you need to serve the families in your community.
Add a label to the cover to highlight your business and use the guide as a giveaway.